Ceviche – the new "in" food of the beginning of the 21st century is actually an old world dish from South America called Ceviche. It has been one of South America's best-kept secret for centuries, but Ceviche is becoming a popular appetizer and will be gaining popularity as the century progresses.
What is Ceviche? It is often spelled seviche or cebiche, depending on which part of South America it originates from. Ceviche is seafood prepared in a centuries old method of cooking by contact with the acidic juice of citrus juice instead of heat. The preparation and consumption of ceviche is practically a religion in parts of Mexico, Central, and South America, and it seems as though there are as many varieties of ceviche as people who eat it. It can be eaten as a first course or main dish, depending on what is served with it.
The chemical process that occurs when the acid of the citrus comes in contact with the fish is similar what happens when the fish is cooked, and the flesh becomes opaque and firm. Indeed, many people refer to the juice as "cooking" the fish, although that is just plain wrong!
Latin American flavors first found a place on Florida menus with South Florida's "New World Cuisine" in the late 1980's. This cuisine comes from the diverse cooking styles and tropical ingredients of the Caribbean, Latin America, Central, and South America. They became fascinated by the tempting flavors of exotic tropical fruits and vegetables. From this fascination, many versions of Ceviche were developed.
Ceviche is easy to make and can be prepared as a meal or as a fabulous appetizer for your next dinner party. Ceviche can be quite beautiful on a serving platter. Line a large glass dish or individual serving cup (a wide mouthed martini glass makes an excellent impression) with a few lettuce leaves. Spoon in the ceviche and then garnish with one or more colorful ingredient such as thin rings of red onion, one-quarter of an avocado sliced and fanned, assorted bell peppers finely diced. The possibilities are endless.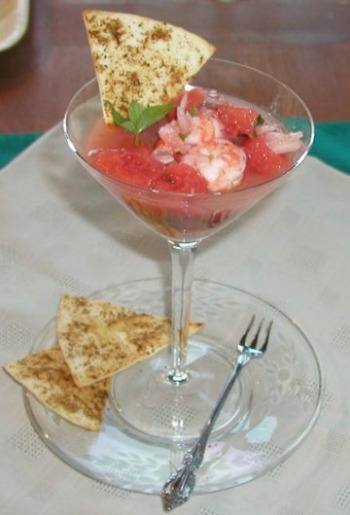 Linda's favorite and easy-to-make ceviche recipe: Shrimp Martini Ceviche with Chili-Cumin Chips
History of Ceviche, Seviche, or Cebiche: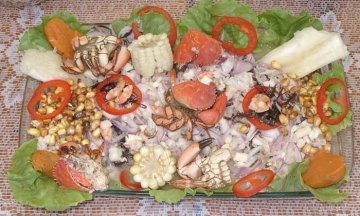 Ceviche's birthplace is disputed between Peru and Ecuador, and as both countries have an amazing variety of fish and shellfish, it could easily have come from the ancient Inca civilizations of Peru and Ecuador. Every Latin American country has given seviche/ceviche its own touch of individuality by adding its own particular garnishes.
In Peru, it is served with slices of cold sweet potatoes or corn-on-the-cob.
In Ecuador, it is accompanied by popcorn, nuts, or corn nuts. It is also served in a large crystal bowl with the guests helping themselves, either by spearing it with toothpicks or filling the pastry shells.
In Mexico, seviche is accompanied by slices of raw onions and served on toasted tortillas.
Comments from Readers:
Diana Nuz de Smolij, also sent me the following interesting information on Ceviche. Thank you Diana!
There is ceviche in some countries of Latin America, but the recipes change. There is ceviche in Chile, but you know, Chile made an occupation of the city of Lima for about 4 years, because of the war of 1879. Then they learned about Pisco (grape alcohol liquor) and of course Pisco Sour, and ceviche.
There is a theory that pre-Hispanic peoples cooked fish with a fruit called "tumbo." The Inca's ate salted fish and a chicha-marinated fish dish. The Spanish contributed the Mediterranean custom of using lemons and onions.
There are other historians that believe that Ceviche's origin is Arabian, imported to Peru by Arabian immigrants and re-interpreted by the Peruvians of the coastal areas.
The other version is that some English-speaking people, who watched fishermen on the coast of Peru eating their fish directly from the sea with just lemons and salt, said "See the beach." Since this is a phrase that the locals could not repeat well, they instead pronounced it "Ceviche."
There is ceviche in Equator, where I live now. The most popular is the shrimp ceviche which includes ketchup and some lemon and oil (like a salad). The ceviche of fish has lemon, but the fish is previously lightly cooked in water. The Lobster ceviche includes "Golf Sauce" which is a mix of mayonnaise and ketchup. Personally I like it very much, the only problem for me was the fist time I asked for a ceviche here, because I was waiting something else. This unknown preparation took me by surprise.
The ceviche in Mexico has the onions and tomato cut in small squares.
In Peru, my favorite, the ceviche is always cooked in lemon. Just the shrimps ceviche demands a little cooking in water, but then it is finsihed by lemon. Our recipes has been being modified lately by sophisticated chefs, in some kind of contest, or competitive spirit, between the "cevicherias" (specialized in Ceviche restaurants). The traditional ingredients include fish or shellfishes, shrimp. Other ingredients include orange sweet potatoes, corn, salad leaves, thin cut onions (these ingregients are washed with water added to the top of the Ceviche at the last minute before serving.
Another Peruvian version uses an exquisite Peruvian hot pepper called "aji amarillo." The fish or shellfish is immersed into a blend of lemon, salt, aji amarillo peppers, ground pepper, and sometimes including sour orange juice and garlic (but garlic is better when spread with salt over the fish, 30 minutes before mixing with lemon).
As I said before, nowadays chefs have experimented by searching for their special version of the Ceviche that will distinguish their recipe from others. They have added other ingredients in the lemon blend, such as celery, drops of soy sauce, sugar or even milk (this last one added just before putting the blend over the fish or shellfish).
The most important ingredients of the Peruvian Ceviche is the Peruvian lemon (a cousin of the Key Lime), which is not so sour but strong, and the aji amarillo pepper, which is not only hot, but very tasty (be careful when using a small piece of a red, round vegetable called "rocoto pepper." It is sometimes put over the dish as a decoration when serving. Because you could take it to be a tomato and it is a very, very, very hot big red pepper.
Tiger milk is the juice that stays in the plate after eating the fish. Perfect after a "resaca", the way we call that miserable feeling we have after drinking too much the night before. It is not a misbehavior if you raise the plate with your hands and put it in your mouth to drink it. But you can also put it in a glass, alone or with some vodka or Pisco, if you like.
That is some of the things I know about this dish that has turned me on since I was a 6-year old kid and my mom took me to the market place. I remember I ate it with tears in my eyes, because of the hot "ajies" and rocotos". I hope these long explanations to be useful for you.
Royce Morris of New London, CT send me his comments on eating ceviche when he lived in Tijuana, Mexico from 1990 to 1995. Thank you Royce!
I didn't even realize that ceviche was a big hit outside of Latin communities, but it has always been a favorite of mine. My ex-wife and I used to frequent Las Playas (the beach) a lot and when we went a fisherman friend of mine would bring me fresh fish that he caught. One time, he was eating some stuff on a tostada. I'd never seen it before but was really interested in it because it smelled wonderful. He let me sample some & told me that it was "ceviche". Talk about love at first bite!
The way the fishermen made it was usually one of the following ways:
The first would be made at home with the day's catch of black sea bass, yellowfin tuna, swordfish, or any combination of these. The meat is flaked off and soaked in a strong potion of lime juice, chili powder, onions, garlic, cilantro, and a little sea salt. They threw this in the fridge, covered before bed, and tossed in some chopped tomatoes in the morning on their way to the boat. Then they'd have it for lunch or a quick snack with some hard fried tortillas.
The other way was (usually with fish just caught) was without refrigeration, leaving the covered mix in sunlight, like on the boat's upper outside deck to help the acidic action.
Another fisherman used to bury his wrapped ceviche mix just under the sand and, at lunch, would come back to shore to get his (he was a boat captain and owner).
I've had both and don't have a true preference. They were all very delicious! Thank you for hearing my tale!
Comments and Reviews