Cheese curds, a uniquely Wisconsin delicacy, are formed as a by-product of the cheese-making process.  Most cheese curd (at least the ones made in Wisconsin) are a cheddar cheese product.  Some can be made from mozzarella, Colby, or Monterey jack cheeses.
The people of the state of Wisconsin love their cheese so much that they even wear funky Styrofoam cheese hats at Green Bay Packers football games.  They call themselves "cheese heads" and like to nibble on deep-fried cheese curds.  Every restaurant, bar, and bowling alley in Wisconsin seems to serve them.  They are usually a monster-sized appetizer, and they compete with French fries as a side order with sandwiches. They are also a favorite at local fairs, festivals, and fishing lodges. It is said that the folks in Wisconsin crave their curds.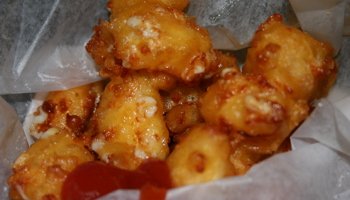 History:  Cheese curds are little-known in locations without cheese factories, because they should ideally be eaten absolutely fresh, within hours of manufacture. They have about the same firmness as cheese, but have a springy or rubbery texture. They are usually orange in color and are little nubs of cheese, roughly the size of peanuts, which, if very fresh, squeak when you bite down on them.  The "squeak" is a very high-pitched sound.  Unlike aged cheese, curds lose their desirable qualities if refrigerated or if not eaten with a few days.  The squeak disappears, and they turn dry and salty.  If you find them in supermarkets, they are probably a few weeks old and inedible.  Cheese curds have become so popular that many Wisconsin cheese factories make the curds daily to meet the demand of cheese curd lovers.
Wisconsin is the leading producer of cheese in the United States, with much of Wisconsin's cheese made at small, family-owned and operated cheese factories.  Cheese making began in Wisconsin around 1840, when word of Wisconsin's rich farmland spread throughout Europe and the United States.  Settlers from the eastern dairy states of New York and Ohio, as well as immigrants from Switzerland, Germany, and other countries in Europe, brought their traditions of cheese making and secret recipes to Wisconsin.  By 1922, there were more than 2,800 cheese factories in the state. Wisconsin produces over 2 billion pounds of cheese per year, and it's cheese is considered among the best in the world.
Quebec, Canada, has their own popular way of eating cheese curds called Poutine. Poutine is a French-Canadian recipe in which French fries are topped with cheese curds and gravy.  Other ways of eating cheese curds is by sprinkling them with different seasonings such as garlic, jalapeno, Cajun, chipotle, pesto, paprika, pepper and then serving and eating them like potato chips.  Some people even eat them with ketchup, just like you would French fries.
Deep-Fried Cheese Curds Recipe:
Keyword:
Cheese Curds History, Deep-Fried Cheese Curds Recipe
Instructions
In a deep fryer or large pot, heat vegetable oil (375 degrees to 385 degrees F).

In a medium bowl, combine egg, 1 tablespoon vegetable oil, and milk or beer until well blended. Add flour, sugar, salt, and baking powder; mix until smooth. Drop cheese curds in batter. Using a spoon, turn cheese curds to coat thoroughly.

A few at a time, drop the coated curds into the hot oil; fry approximately 1 minute or until brown and puffed, turning to coat all sides (do not overcook, or the cheese curds will begin to melt and ooze through the coating. Remove from hot oil and drain on paper towels. Allow fried cheese curds to cool a couple of minutes before eating.
Recipe Notes
*  Use enough vegetable oil to completely cover cheese curds while frying.
Comments and Reviews