In the early 1800s, people from the Bahamas began migrating to the Keys.  These immigrants were called conchs because of the sea snail they like to eat of the same name that was their staple food.  By 1891, it is estimated that a third of the Key West population was Bahamian.  This explains why the word conch is so much a part of the area's heritage.  Natives of Key West, Florida, and the Bahamas proudly call themselves Conchs.
Did you know:  The name "conch,"  pronounced "conk" is widely used in the Florida Keys to refer to a lifelong resident of the Keys.  Native people born in Key West and the Bahamas call themselves conchs.  In times past, proud parents in Key West placed a conch shell on a stick in the front of their house to inform neighbors of a new born infant.  People who take up residence in the Keys are humorously referred to as freshwater conchs.  Politicians sometimes issue certificates to people active in community interests declaring them "honorary conchs".  Locals like being called conchs and take pride in the appellation.  Source: Florida Keys Best.
Conch Meat:  Conch meat was a staple food of the early settlers in the Keys.  It is not only the Florida Keys most famous shell, but has become a symbol of the Keys as well.  All parts of the conch, of course except the shell, is edible.  Today, the meat of conchs is eaten raw in salads, or cooked, as in fritters, chowders, gumbos, and burgers.
Conch Chowder History:
The first conchs were British sympathizers.  Some accounts indicate they were given the name of conch after escaping to the Bahamas during the American Revolution and announcing that rather than go to war they'd eat conch.  Another explanation indicates they were called conch because of the great quantity of conch in their diet and because they used the shell as a signaling trumpet.  When Florida became a territory of the United States in 1821, Bahamians who wanted to continue the business of wrecking had to move the Keys.  They brought their love of conch with them.
Writer Slyvia Sunshine in her book Petals Plucked from Sunny Climes in explained the origin of the term in 1880:
"Conchs were the original English settlers of this place, who came here from New Providence and the adjacent islands of the Bahama group.  "Couch" is not, as many suppose, a term of contempt, but a local distinction.  When the first regiment of colonial militia was organized at Nassau, they adopted the figure of a conch-shell in gold, with a blue field, for their regimental colors, thereby declaring the protection of their natural position; from this the term is applied more particularly to those from that city.  They are a temperate, frugal, industrious class of persons, accustomed for generations to procuring a living from the sea; but many of them on this island have turned their talents in other directions, controlling a large part of the commercial business of the place.  The greater portion of them are engaged in wrecking, sponging, or fishing for the Havana market, many owning fine vessels, and being men of respectability, although belonging to those classes whose names, to one not acquainted with them, appear an equivalent to buccaneers or pirates."
In 1985, the harvesting of the conch was banned, and it is now illegal to take live conch in U.S. waters, where they are an endangered species, so most conch now comes from the various Caribbean islands, including the Bahamas (where it is sometimes called 'hurricane ham').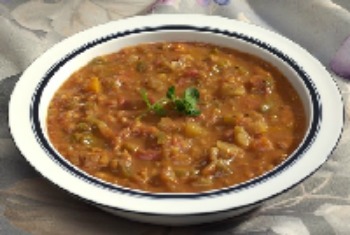 Conch Chowder Recipe:
This recipe was generously shared with me by Jan Knowles Myers, formerly of Key West, Florida. This history and recipe were in my second cookbook called I'll Have What They're Having.
Jan says, "My hometown is Key West, and I am a 4th generation Key West native or "conch" and a 5th generation Florida native. Back when I was young, Key West was a quaint little fishing village with no where near the level of tourism that currently exists. I truly loved my childhood and growing up in Key West. This chowder recipe was my father's. He was George Irving Knowles, Jr. (1915-1984), a 3rd generation Key West native. Much of my family came to Key West from the Bahamas, arriving as early as the 1840s, although my French great-great-great-grandfather, Odet Philippe, had traveled to the city in the 1820s."
Keyword:
Conch Chowder History, Conch Chowder Recipe
Servings
:
6
to 8 servings
Ingredients
3

 onions,

finely chopped

2 to 3

cloves

garlic,

minced

1

green bell pepper,

cored, seeded, and finely chopped

1

(14 1/2-ounce) can

whole tomatoes,

undrained and cut up*

2 1/2 to 3

pounds

conch meat,

cleaned and ground**

2

potatoes,

peeled and finely chopped

2

quarts

water

(approximately)

Salt and freshly-ground black pepper

to taste
Instructions
In a large, heavy pot over medium-high heat, add onions, garlic, bell pepper, and tomatoes; cook until vegetables are soft.

Reduce heat to low; add ground conch meat, potatoes, and enough water to make it soupy but not watery. Let simmer 1 hour. Add salt and pepper to taste.

Remove from heat and serve in individual soup bowls.
Recipe Notes
* To easily prepare the tomatoes, use a sharp knife and cut the tomatoes while still in the can.
** Because conch meat is very tough, you must grind it using a meat grinder or food processor.  Conch meat can be extremely tough, even if you dice it very small, so it needs to go through the medium-fine plate of a grinder.  Also cut away any orange flaplike meat if that has not already been removed.  Conch meat can usually be found in the frozen food section of your store.
Comments and Reviews