Cobbler – Crisps – Crumble – Brown Betty – Buckle – Grunts –

Slumps –
Bird's Nest Pudding – Sonker – Pandowdy
Cobblers have been and are still called by various names such as cobbler, tart, pie, torte, pandowdy, grunt, slump, buckles, crisp, croustade, bird's nest pudding or crow's nest pudding.  They are all simple variations of cobblers, and they are all based on seasonal fruits and berries, in other words, whatever fresh ingredients are readily at hand.  They are all homemade and simple to make and rely more on taste than fancy pastry preparation.
Early settlers of America were very good at improvising.  When they first arrived, they bought their favorite recipes with them, such as English steamed puddings.  Not finding their favorite ingredients, they used whatever was available. That is how all these traditional American dishes came about with such unusual names.
Early colonist were so fond of these juicy dishes that they often served them as the main course, for breakfast, or even as a first course. It was not until the late 19th century that they became primarily desserts.
Now what is the history of all this? From everything I have read, cobblers seem to be a variation of the "pie" or "pye."  The pie was a development from the Roman idea (2nd Century B.C.) of sealing meat inside a flour and oil paste as it cooked.  For additional history of the pie, click HERE.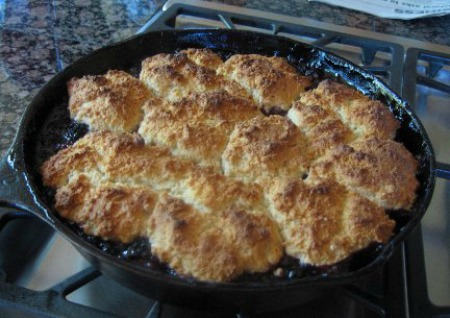 Types of Cobblers:
All of these cobblers have some common element.  Nearly every one involves fruit, butter, sugar and flour in one way or another.
Cobbler – Cobblers are an American deep-dish fruit dessert or pie with a thick crust (usually a biscuit crust) and a fruit filling (such as peaches, apples, berries).  Some versions are enclosed in the crust, while others have a drop-biscuit or crumb topping.
Crisps and Crumbles – Crisps are baked with the fruit mixture on the bottom with a crumb topping.  The crumb topping can be made with flour, nuts, bread crumbs, cookie or graham cracker crumbs, or even breakfast cereal.  A Crumble is the British version of the American Crisp.
Betty or Brown Betty – A Betty consist of a fruit, most commonly apples, baked between layers of buttered crumbs.  Betties are an English pudding dessert closely related to the French Apple Charlotte.  Betty was a popular baked pudding made during colonial times in America.
According to The Oxford Companion To Food, by Alan Davison:
The name seems to have first appeared in print in 1864, when an article in the Yale Literary Magazine listed it (in quotation marks, implying that it was not then a fully established term) with tea, coffee, and pies as things to be given up during 'training'.  That author gave brown in lower case and Betty in upper case: and, in default of evidence to the contrary, it seems best to go along with the view that Betty is here a proper name.

According to The American History Cookbook, by Mark H. Zanger:
Brown Betty (1890) – This recipe was part of the winning essay for the $500 American Public health Association Lomb prize on practical, Sanitary, and Economic Cooking Adapted to persons of Moderate and Small Means, which became a book of the same title by Mrs. Mary Hinman Abel.  It was part of a series of menus to feed a family on thirteen cents a day.  Mrs. Abel may have carried the recipe into use the the New England Kitchen, an experimental Boston restaurant aimed at "improving" the food choices of the poor.
Grunts or Slump – Early attempts to adapt the English steamed pudding to the primitive cooking equipment available to the Colonists in New England resulted in the grunt and the slump, a simple dumpling-like pudding (basically a cobbler) using local fruit.  Usually cooked on top of the stove.  In Massachusetts, they were known as a grunt (thought to be a description of the sound the berries make as they stew).  In Vermont, Maine, and Rhode Island, the dessert was referred to as a slump.
Buckle or Crumble – Is a type of cake made in a single layer with berries added to the batter.  It is usually made with blueberries.  The topping is similar to a streusel, which gives it a buckled or crumpled appearance.
Pandowdy – It is a deep-dish dessert that can be made with a variety of fruit, but is most commonly made with apples sweetened with molasses or brown sugar.  The topping is a crumbly type of biscuit except the crust is broken up during baking and pushed down into the fruit to allow the juices to come through.  Sometimes the crust is on the bottom and the desert is inverted before serving.  The exact origin of the name Pandowdy is unknown, but it is thought to refer to the deserts plain or dowdy appearance.
Bird's Nest Pudding – A pudding containing apples whose cores have been replaced by sugar.  The apples are nestled in a bowl created by the crust.  Also called Crow's Nest Pudding.
Sonker – A sonker is an Appalachian term for a deep-dish pie similar to a cobbler served in many flavors including strawberry, peach, sweet potato, and cherry.  I have also read this same dish is called zonker (or sonker) in Surry County, North Carolina.  It seems to be a dish unique to North Carolina.
The community of Lowgap at the Edwards-Franklin House, holds an annual Sonker Festival.  The festival honors the distinctive Appalachian deep-dish fruit or sweet potato pie called "sonkers." Sponsored by the Surry County Historical Society' the event benefits the preservation of the two-hundred-year-old Edwards-Franklin House.
Check out What's Cooking America's favorite cobbler and crisp recipes:
Blackberry Cobbler
This cobbler is especially good using the fresh wild blackberries. When I am really lazy or in a hurry, I'll substitute a buttermilk baking mix, such as Bisquick, for the biscuit topping in this recipe.
Buttery Cinnamon Blackberry Cobbler
This buttery batter forms a crunchy crust around the edge of the dish that is very delicious.
Blackberry Crisp with Sweet Sour Cream
The peak of summer means grocery debut of plump, juicy blackberries popping up all over farmer's and local markets. They are at their season's best for ripeness filled with sweet bursts of anti-oxidant juice!
Comments and Reviews