Country Ham and Red Eye Gravy
Learn how to make this Country Ham and Red Eye Gravy recipe. These are very popular in the South, anybody unfamiliar is really missing out!
Virginia hams or Smithfield hams are universally recognized to be the country's finest, and serving these hams with red eye gravy is a regional specialty.
Red Eye Gravy:  When coffee was added to gravy in the southern states, it was called Red Eye Gravy.   The gravy is also called bird-eye gravy, poor man's gravy, red ham gravy, and muddy gravy.  Red Eye Gravy is well known in the South, but little known in the rest of the United States.   These hams are very salty and the gravy, made from drippings and black coffee, packs a punch.  Why is it called Red Eye Gravy?  When coffee was added to gravy, the ham appeared like a red eye starting up from the plate.  It is continually debated in the southern states as to whether the best red eye gravy is made with water or black coffee.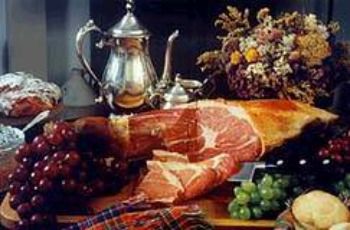 Check out Ham 101 to learn all about cooking hams and more great Ham and Pork Recipes.
Country Ham History:
The pig dates back 40 million years to fossils which indicate that wild pig-like animals roamed forest and swamps in Europe and Asia.  By 4900 B.C. pigs were domesticated in China, and were being raised in Europe by 1500 B.C.  The curing of pork dates back hundreds of years.  Exactly when the first pork was cured and who cured it no one really knows.  History traces the first attempts to the ancient Gauls who are purported to have salted, smoked and dried pork.
1539 – Hernando de Soto (1469-1542), a Spanish explorer and wealthy captain,  introduced hogs to North America when he brought a small herb of 13 pigs to Florida.  In the spring of 1540, DeSoto's forces left Florida with their herd of hogs headed into Georgia.  Upon his death, his estate auctioned off 700 hogs, all the descendants from the original, not including the ones his troops had consumed.
1608 – Hams have been produced in America since the settling of Jamestown in the early 1600s.  Pigs were not native to the Jamestown area, but were brought to the colonies of Virginia from and England and Bermuda to raise for food and the sport of wild boar hunting.  The climate of Virginia was so perfect for raising pigs, that they multiplied and became so plentiful that they became a nuisance to the settlers.  The settlers rounded the pigs up and transported them to an island in the James River.  This island became known as "Hog Island."  These wild pigs were the principal food for new settlers, as well as the Indians, because they were available all the year and more easily caught than wild game and fish.  Since the Native Indians had been curing venison by smoking long before the settlers arrived in Jamestown, they taught them to cure meat with salt or "magic white sand."  Their methods of salting, smoking and aging venison were adapted by the white man to preserving the meat of the plentiful razorback hog.
1902 – Smithfield, Virginia's most famous resident is a ham.  The Isle of Wight Museum located in Smithfield, Virginia is home to the "World's Oldest Smithfield Ham."  Originally cured in 1902, this ham somehow escaped shipping and turned up several years later.  Since this ham has never been under refrigeration, P.D. Gwaltney, dealers in groceries, dry goods, and general merchandising, decided to keep it and see how long it would last.  This pet ham became Gwaltney's mascot and was featured in "Ripley's Believe It or Not" as the worlds oldest ham in the 1900s and again in 2003.  Gwaltney even insured it for $1,000 by Lloyds of London.
According to the account on the Smithfield Collection website:
Mr. Gwaltney had a brass collar placed around the hock that read, 'Mr. Gwaltney's Pet Ham,' and in 1934 he took the 'Pet Ham' to Washington with him to the American Bankers Association Convention.  Quite a stir was created when he asked the desk clerk at the hotel to put his suitcase in the hotel vault.  The desk clerk inquired as to what was in the suitcase, and Mr. Gwaltney explained that it was his 'Pet Ham' which was insured for five thousand dollars.  The next day a Washington paper carried the story about Mr. Gwaltney and his 'Pet Ham.'"
1926 – The Virginia General Assembly passed a law that said only peanut-fed hogs, cured and processed in the town of Smithfield, could be called Smithfield hams.  It was the practice to let pigs roam the peanut fields, foraging for peanuts missed during harvesting.  Later the peanut feed stipulation was dropped and the hogs are fed a variety of grains.  Today, there are only four companies that can legally sell their products as Smithfield hams.  All others are called country hams.
Country Ham and Red Eye Gravy Recipe:
According to legend and not necessarily facts, Andrew Jackson (1767-1845), 7th President of the United States, who was an American General at the time, called his cook over to tell him what to prepare. The cook had been drinking "moonshine" corn whiskey the night before and his eyes were as red as fire. General Jackson told the cook to bring him some country ham with gravy as red as his eyes. Some men nearby heard the general and from then on, ham gravy became "Red Eye Gravy."
Keyword:
Country Ham and Red Eye Gravy History, Country Ham and Red Eye Gravy Recipe
Ingredients
Country ham,

cured and sliced about 1/4-inch thick

Butter

or fat left from frying the ham

Pan juices from frying the ham

1/2

cup

strong black coffee

Worcestershire Sauce
Instructions
Make a cut in the layer of fat around the ham about every three inches. This will help keep the ham slice from curling badly while it cooks. Some people like to remove the "rind," or outer skin layer, from the ham prior to cooking. Your choice as this is entirely up to you.

In a large skillet or cast-iron frying pan, melt the butter. Add the ham slice and fry, turning the ham slice after about two minutes and let it cook until the fat around the edge is translucent and the ham is golden. Do not overcook the ham – it can get really tough and dry if you do. Remove the ham from the pan and set aside and keep warm in a low-temperature oven.

Deglaze the frying pan with the coffee, scraping all bits and pieces loose from the bottom of the pan. Some ham maybe too dry to have any pan juices after frying. In this case, before adding the coffee, add 1/3 cup hot water. Then add the coffee to do the deglazing. Increase heat to high and let mixture boil approximately 2 to 3 minutes or until reduced in half an thickened. Season with pepper and Worcestershire to your taste.

Pour Red Eye Gravy over cooked ham slices.

Serve with fried eggs, grits, and biscuits, if you like.
SOURCES:
7000 Years of Pork Domestication, Missouri Agricultural Statistics Service, Missouri Farm Facts.
Ham It Up In Smithfield, Virginia, Virginia Wind, an internet web site.
Hernando de Soto, Virtualogy, A Virtual Education Project, an internet web site.
History of Virginia Country Hams: From Jamestown to World Renown.
Smithfield Ham Timeline.
Comments and Reviews