Fajitas History:
Texans would probably like to lay claim to the fajita, but history gives credit to Mexican ranch workers living in West Texas (along the Rio Grande on the Texas-Mexico border) in the late 1930s or early 1940s.  When a steer was butchered, the workers were given the least desirable parts to eat for partial payment of their wages.  Because of this, the workers learned to make good use of a tough cut of beef known as skirt steak.  In Spanish, fajita is a form of the word "faja" which translates to "belt" or "girdle" in English.
The fajita is truly a Tex-Mex food (a blending of Texas cowboy and Mexican panchero foods).  The Mexican term for grilled skirt steak is arracheras, and its American counterpart is fajitas.  Today, the term fajita has completely lost its original meaning and has come to describe just about anything that is cooked and served rolled up in a soft flour tortilla.  The only true fajitas, however, are made from skirt steak.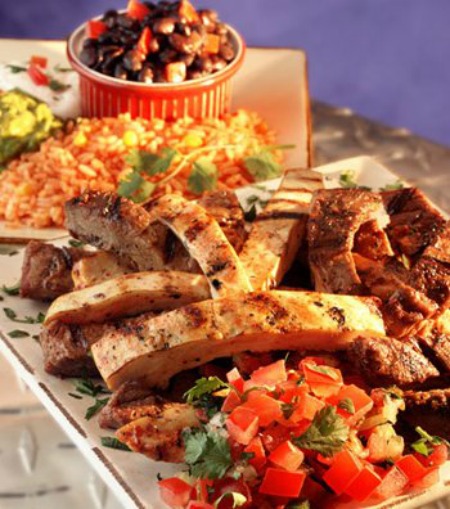 Sonny Falcon, meat market manager of Guajardo's Cash Grocery, liked to experiment with ideas for using the tough skirt steak in recipes.  According to the article The Return of the Fajita King in an interview with Sonny Falcon, by Virginia B. Wood, in the Austin Chronicle, March 4, 1995:
"I looked at that cut of meat and said to myself, 'It looks jut like a belt'. "The first fajitas I every saw, I made myself right here in the 1960s."  
According to Falcon's version of fajita history, he figured his new creation would popularize an affordable cut of meat and attract more business to the family store – if he could just get people to taste it.
"Anytime dad would cook fajitas in the backyard, all our friends would ask to come over." recalls son John Falcon. "Dad knew he'd come up with something great."
In 1969, Sonny set up a concession both at a week long outdoor event in Kyle, Texas.  He also went to rodeos, fairs, and outdoor festivals on nights and weekends selling his fajita taco to the crowds of appreciative people.  Sonny became personally identified with the dish by the late 1970s.  An Austin reporter christened him "The Fajita King," and the name stuck.  Sonny now owns the trademark on that term.  He also tried to trademark the word "fajita," but was turned down.
In 1948, Ninfa Rodriguez Laurenzo, and Mexican-American woman, and her Italian-American husband, Tommy Laurenzo, open opened a tortilla and pizza dough factory in Houston.  The factory wasn't succeeding, so they borrowed money and opened a Mexican restaurant called Ninfa's.  Because the restaurant became so popular, they closed down the tortilla factory and concentrated on the restaurant.
Around 1973, Nifa's version of the fajita was created at the suggestion of a customer who had just returned from a trip to Mexico City and asked the staff to slice a piece of steak into thin strips so he could make an upscale taco.  Once the accompaniments were added – cilantro, onion, tomatoes, chilies, sour cream, and cheese – the new fajita dish became a house specialty.  Originally called "tacos al carbon," it was later trademarked as "tacos a la Ninfa."  Later the restaurant begin to use the term "fajitas."
In 1982, Chef George Weidmann, chef of the Hyatt Regency in Austin, TX,  in 1982, recognized the commercial potential of a popular local Tex-Mex dish.  He put "sizzling fajitas" on the menu of the Hyatt's La Vista restaurant, and soon sales of that signature dish made it the most profitable restaurant in the Hyatt chain.
Fajitas Recipe - How To Make Fajitas:
Keyword:
Fajitas History and Recipe, How To Make Fajitas
Servings
:
4
to 6 servings
Ingredients
Fajitas:
1 1/2

pounds

skirt steak

or flank steak

1

green or red

bell pepper,

cored, seeded, and thinly sliced

1

small

onion,

thinly sliced

3 to

tomatoes,

chopped

Cheddar cheese,

shredded

Sour cream
Lime Marinade:
Juice

of 4 to 5 fresh-squeezed limes

1/4

cup

red wine vinegar

1

tablespoon

soy sauce

1

tablespoon

light molasses

1

tablespoon

cilantro

leaves, chopped

2

cloves

garlic,

minced

1/2

teaspoon

ground cumin

1/2

teaspoon

black pepper
Instructions
Fajitas Instructions:
Prepare Lime Marinade (see below); set aside.

Lay the skirt steak on a cutting board and remove the outer membrane (grab the membrane with one hand and slide the knife beneath it, cutting as you go). Using a sharp paring knife, make a number of slits in the meat, cutting both with and against the grain of the meat (this cuts the muscle fiber and reduces any toughness.)

In a large plastic bag with the Lime Marinade, add skirt steak; reseal and marinate in the refrigerator at least 1 hour or overnight, turning steak occasionally.

Remove steak from refrigerator and bring to room temperature before cooking.

Drain steaks, reserving marinade. Place steaks on the hot grill and spoon some of the reserved marinade over the steak. Close barbecue lid, open any vents, and cook 3 to 5 minutes for medium-rare (120 degrees F. on your meat thermometer). Remove from grill and transfer to a cutting board; cut on the diagonal into thin strips.

Preheat oven to 350 degrees F. Wrap stacked flour tortillas in aluminum foil and heat in oven 15 minutes or until hot. To microwave, wrap a stack of flour tortillas lightly in paper towels and warm on high for 6 or 7 seconds per tortilla.

While the shirt steak is cooking, grill the green pepper and onion slices 1 to 2 minutes or until soft; remove from grill and place on a serving platter. Place cooked steak strips onto the same platter.

For each fajita, fill a warm flour tortilla with cooked steak strips and desired amounts of green pepper and onion slices. Add tomatoes, cheddar cheese, sour cream, guacamole, and salsa as desired; roll up like a burrito and enjoy.
Lime Marinade Instructions:
In a large re-sealable plastic bag, combine lime juice, vinegar, soy sauce, molasses, cilantro, garlic, cumin, and pepper; set aside.

I get many readers asking what cooking/meat thermometer that I prefer and use in my cooking and baking. I, personally, use the Thermapen Thermometer. Originally designed for professional use, the Super-Fast Thermapen Thermometer is used by chefs all over the world.  I only endorse a few products, on my web site, that I like and use regularly.
You can learn more or buy yours at: Super-Fast Thermapen Thermometer.
Sponsored Content
Comments and Reviews