Fresh Tomato Salsa is a delicious uncooked chunky tomato sauce known as Pico De Gallo or Salsa Fresca in Mexico where all the vegetables are chopped instead of blended.  Using only fresh vine-ripened tomatoes from your garden or your local Farmer's Market is the absolute best way to make and enjoy this fantastic salsa.  Using salsa out of a jar just does not compare to fresh tomato salsa.  This salsa is Mexican cooking at its most beguiling!
You can develop a real passion for tomato salsa since it is low in calories and very flavorful.  There are no hard-and-fast rules in making salsa.  Add or delete ingredients according to your taste.  This salsa is low calorie, but if you eat too many corn chips, then it is not low in calories!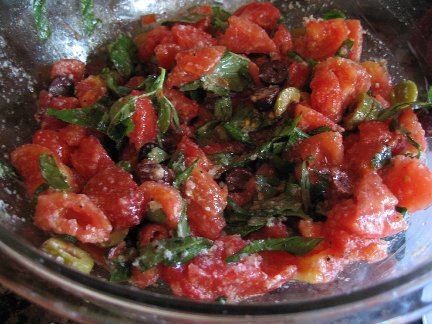 For more great Low Fat Recipes, Low Calorie Recipes, Low Carbohydrate recipes, and Diabetic Recipes, check out my
Diet Recipe Index
.  Also check out my
Nutritional Chart
for fat grams, fiber grams, and calories for all your favorite foods.
Fresh Tomato Salsa Recipe:
Fresh Tomato Salsa Recipe
Ingredients:
6 to 7 medium-size fresh tomatoes, diced
1 large onion, diced
1 bunch fresh cilantro, finely chopped
6 cloves garlic, minced
1 jalapeno chile pepper (stems, ribs, and seeds removed), very finely diced*
Juice of 1 lime
Coarse salt to taste
Corn chips
* How hot you make your salsa depends on the kind of chilies and the amount you use.
Instructions:
In a large bowl, combine tomatoes, onion, cilantro, garlic, chile pepper, salt, and lime juice. If your salsa is too hot, add some additional chopped tomato. If not hot enough, carefully add a little more chile pepper.
Let sit for 1 hour for the flavors to combine. If too much tomato juice settles at the bottom, just pour some off before serving.
Serve with corn chips, tortillas, tacos, burritos, tostadas, etc.
Serves many.
https://whatscookingamerica.net/Appetizers/salsa.htm
Comments and Reviews