A French Dip Sandwich is a hot beef sandwich consisting of tender thin slices of beef layered a long white French roll that is dipped into a flavorful sauce made from the pan juices.  American menus often describe the pan juice as "au jus (pronounced oh zhoo')."  Au jus is a French expression, which means "with broth" or "with juice."
French Dip sandwiches have become a common menu item at a wide range of restaurants, sandwich shops, and fast food outlets.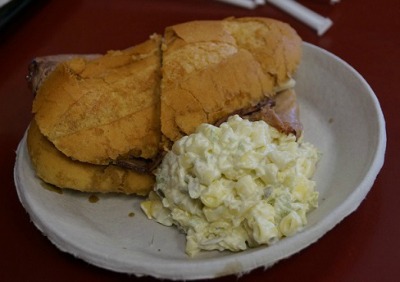 History of French Dip Sandwich:
1918 – Although the French Dip Sandwich is not French, the inventor, Philippe Mathieu was.  In 1918, Philippe owned the still existing delicatessen and sandwich shop called Philippe the Original in Los Angeles.  It is considered one of Los Angeles' oldest restaurant still in business today.
According to the story at the restaurant, Philippe was preparing a sandwich for a policeman and accidentally dropped the sliced French roll into the drippings of a roasting pan.  The policeman liked the sandwich and came back the next day with some friends to order the sandwich dipped in the meat pan.  From that day on, a new sandwich was born.
1951 – Because of the 101 Freeway construction in 1951, Philippe's moved to its current location on Alameda across from Union Station.  Not much has changed since – the saw dust on the floors, cafeteria style dining and the hot mustard are still the same.
Matt Weinstock, then a reporter for the Los Angeles Daily News wrote:
". . . Philippe's was something special.  It had sawdust on the floor and cracks in the wall but you didn't care. Y ou went there for the luscious French-dipped sandwich, the boiled eggs, the hot mustard, the potato salad, the cole slaw, the immense hunks of pie, the always hot mugs of coffee.  You also woke up at night, maybe thousands of miles away, yearning for one of those sandwiches."
Philippe's is still in the location they were in 1951, at a machine shop with a hotel on the second floor.  Today, Philippe's "French Dipped Sandwich" is the specialty of the house and consists of either roast beef, roast pork, leg of lamb, turkey or ham served on a lightly textured, freshly baked French roll which has been dipped in he natural gravy of the roasts.  Swiss, American, Monterey Jack or Blue cheese may be added.
French Dip Sandwich Recipe:
Keyword:
French Dip Sandwich History, French Dip Sandwich Recipe
Ingredients
French Dip Sandwich:
1

(4-pound)

beef rib eye,

sirloin, or tenderloin roast

1/2

cup

black pepper,

coarsely-ground

8

French rolls*
Dipping Sauce Ingredients
Beef juices from cooking pan

1

(10.5 ounce) can

beef stock

of beef broth

1/2

cup

water

Salt

and pepper to taste
Instructions
French Dip Sandwich Instructions:
Preheat oven to 425 degrees F.

Place beef roast onto a rack in a shallow baking pan; firmly press pepper onto roast. Bake, uncovered, 30 to 45 minutes or until a cooking thermometer, in the thickest part of roast, registers 135 degrees F. Remove from oven and transfer onto a cutting board; let stand 15 minute before carving; slice beef thinly.

Reserve the beef juices and pour into a medium saucepan. Prepare Dipping Sauce.

For each sandwich: Cut French rolls in half. Toast and butter each French roll. Layer about 1/2 pound of sliced beef on bottom slice of each roll; place remaining tops of rolls on top of the beef.

Slice sandwiches in half and serve on individual plates with a small bowl (1/4 cup) of hot Dipping Sauce.
Dipping Sauce Instructions:
In a medium saucepan, add beef juices, beef broth, water, salt, and pepper; bring just to a boil. Turn off the heat, cover saucepan, and let site 10 minutes before serving.
Recipe Notes
* Always use a fairly dense bread only.
Comments and Reviews