Hot Brown Sandwich, sometimes know as a Kentucky Brown, is an open-faced turkey sandwich with turkey, bacon, pimientos, and a delicate Mornay sauce. The sandwich is place under the broiler to melt the cheese.
Kentucky is know for more than the Kentucky Derby, it is also famous for the classic Hot Brown Sandwich.  It is said that the hotel restaurant sells more than 800 of these delicious sandwich each week during the regular season.  During the Kentucky Derby, held in May each year, that number increases to around 1,200 Hot Brown Sandwiches.  Now that's a lot of sandwiches!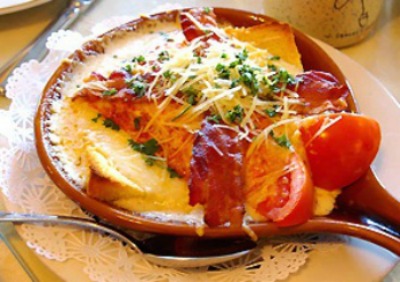 History of Hot Brown Sandwich:

1926 – Chef Fred K. Schmidt at the Camberley Hotel in Louisville, Kentucky, created the Hot Brown Sandwich in 1926.  In the 1920s, the Brown Hotel drew over 1,200 guests each evening for its dinner dance.  The band would play until late, and when the band took bread, around midnight; people would retire to the restaurant for a bite to eat.  Bored with the traditional ham and eggs, Chef Schmidt, delighted his guests by creating the Hot Brown.
The following story, about the creation of the Hot Brown sandwich, by Rudy Suck, hotel manager during the 1920s, was given to me by the Camberley Brown Hotel:
The Hot Brown was developed three or four years after the hotel opened when the supper dance business was falling off.  The band would play from 10:00 p.m. until 1:00 a.m.  When they took a break, around midnight, people would order food.  It was usually ham and eggs.
We decided we needed something new.  The chef, Fred K. Schmidt, said, "I have an idea for an open-faced turkey sandwich with Mornay sauce over it."  At that time turkeys were only used at Thanksgiving and Christmas, and they had just started selling them year-round:
I said, "That sounds a little flat."
The chef said, "I'm going to put it under the broiler."
The maitre d' said, "It should have a little color, too."
So Schmidt said, "We'll put two strips of bacon on top of it."
I said, "How about some pimiento."
That's how the Hot brown came to be.
Today the Hot Brown sandwich is still a Louisville favorite and still the signature dish of the Camberley Brown Hotel.  A visit to Louisville is not complete without tasting this wonderful sandwich.
---
Hot Brown Sandwich Recipe:
Keyword:
Hot Brown Sandwich Recipe
Ingredients
6

tablespoons

butter

6

tablespoons all-purpose

flour

3

cups

milk

1/2

cup

Pecorino cheese

or Parmesan Cheese (Parmigiano-Reggiano), freshly grated

1

egg,

room temperature and beaten

Salt

and black pepper to taste

1/2

cup

whipped cream,

prepared

8

slices

white bread,

toasted with the crust trimmed off

1

pound

turkey breast,

cooked and thinly sliced

Parmesan Cheese,

grated (for toppping)

1

(2-ounce) jar

pimientos,

diced and drained

8

bacon

slices, fried crisp
Instructions
In a large saucepan over medium heat, melt butter. Gradually add flour, stirring constantly, until smooth and free from lumps. Gradually stir in milk until sauce comes to a gentle boil, stirring constantly; remove from heat. Add cheese and stir until melted and well blended.

In a small bowl, beat egg. Gradually add 1 cup of hot sauce, 1/3 cup at a time, to the egg, stirring constantly.

Gradually add egg mixture to remaining sauce, stirring constantly until well blended; add salt and pepper to taste. Fold in whipped cream.

To Serve: For each Hot Brown sandwich, place two slices of toasted bread on a metal (or flameproof) dish. Cover the toast with a liberal amount of turkey. Pour a generous amount of sauce over the turkey. Sprinkle with additional Parmesan cheese. Place entire dish under a broiler, approximately 4 to 5 minutes or until the sauce is speckled brown and bubbly. Remove from broiler, sprinkle with diced pimientos, cross two pieces of bacon over the top, and serve immediately.

NOTE: This sandwich is best eaten with a knife and fork so that you get a piece of each ingredient in every bite.

Makes 4 servings of two open-faced sandwiches each.
Source:  Photos and recipe courtesy of the Camberley Brown Hotel in Louisville, Kentucky.
Comments and Reviews