According to Philadelphians, you simply cannot make an authentic Philadelphia Cheese Steak sandwich without an authentic Philadelphia roll.  The rolls must be long and thin, not fluffy or soft, but also not too hard.  They also say that if you are more than one hour from South Philly, you cannot make an authentic sandwich.  The Philadelphia cheese steak is truly one of the most delightful and beloved foods available in Philadelphia, Pennsylvania.  It is said by most Philadelphians that if a restaurant offers something called a "Philly Cheese Steak" then it is not authentic.
A cheese steak sandwich is not really a steak sandwich,  it is a sandwich made with chipped steak (steak that has been frozen and sliced really thin) and cooked on a grill top.  Locals think in terms of steak sandwiches with or without cheese.  Without cheese, the sandwich is referred to as a steak.  With cheese, it is a cheese steak or "cheesesteak."  Cheeze Whiz is the topping of choice for serious steak connoisseurs.  However, you can also use provolone cheese.
Residents and tourists who come for paper-wrapped Philly cheese steaks and sodas can study the wall of celebrity photos before taking seats at the no-frills picnic tables.  For the uninitiated, a sign explains the drill:
specify provolone, American or Cheez Whiz
go to the back of the line if you make a mistake
History of Philadelphia Cheese Steak Sandwich:
1930s – During the 1930s in the Italian immigrant section of South Philadelphia, brothers Harry Olivieri (1916-2006) and Pat Olivieri sold hot dogs and sandwiches.  Tired of hot dogs, Pat suggested that Harry go to a store and buy some beef.  Harry brought it back, sliced it up and grilled the beef with some onions.  The brothers piled the meat on rolls and were about to dig in when a cab driver arrived for lunch, smelled the meat and onions and demanded one of the sandwiches.  Pat never got a bite because a cab driver drove by, smelled the sandwich, and asked how much?  He didnt know what to charge, so he charged a nickel.  The cab driver supposedly said,  Hey . . . forget about those hot dogs, you should sell these.  It was not until 20 years later that cheese was added to the sandwich by a longtime employee, Joe Lorenzo, who was tired of the usual sandwich and added some cheese.
1940s – In 1940, the brothers opened Pat's King of Steaks at 1237 East Passyunk Avenue.  The business has been there ever since, open 24 hours a day.  Cheez Whiz was added to the steak and onions starting in the 1960s, and provolone, American cheese, and pizza sauce later became options in the concoction along with various condiments, and side dishes.
1970 – In 1970, Pat Olivieri quit and went to southern California.  A dispute over ownership broke out with Pat's lawyer son, Herbert, on one side and Harry and his children, Frankie and Maria, on the other.  In 1974 Pat died, and later Frankie bought the business out.
Philadelphia Cheese Steak Sandwich Recipe:
This is a very filling sandwich, great to make ahead of time and keep warm in the oven for a football party or any other time.
Keyword:
Philadelphia Cheese Steak History, Philadelphia Cheese Steak Sandwich Recipe
Ingredients
2

tablespoons

vegetable oil

2

medium

onions,

sliced as thin as possible and rings separated*

1/2

cup

mushrooms,

sliced

12

ounces

chipped steak

(very thin-sliced eye of round, rib eye, or sirloin tip roast cut into 1-inch slices)**

Salt and coarsely-ground black pepper

Cheese Whiz

or provolone cheese slices

1

(8-inch long)

Italian loaf,

hoagie roll, or French baguette

Dill pickle spears
Instructions
In a large frying pan over high heat, add olive oil and heat so that a drop of water will sizzle when you drop it in the oil; lower heat to medium. Add onions and mushrooms, stir and cook until mushrooms darken and onions start to look transparent. Add steak slices and cook for approximately 3 minutes or until meat is lightly browned. Add salt and pepper to taste.

Heap cooked meat mixture in a long length-wise pile across the frying pan. Lay cheese slices over meat until melted. If using Cheese Whiz, melt in a double boiler or in the microwave.

Slice bread lengthwise. Using a spatula, scoop 1/2 the meat mixture and cheese and lay on bread with cheese on top. If using melted Cheese Whiz, ladle it on top. If you're using Cheez Whiz, do not use too much or it can overpower the sandwich's taste. Use remaing meat mixture to make another sandwich.

Slice sandwich into 2 or 4 pieces, and serve with a dill pickle.

Each sandwich makes 2 servings.
Recipe Notes
* Learn how to make Baked Caramelized Onions. This is a quick and easy way to caramelize a large amount of onions. 
** Freeze steak before slicing. With a sharp knife, slice the meat paper thin.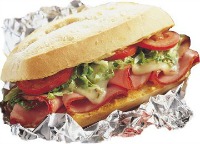 Also learn about Philadelphia's Hoagie Sandwich.
The Hoagie was declared the "Official Sandwich of Philadelphia" in 1992.  The Hoagie was originally created in Philadelphia.  There are a number of different versions to how the Hoagie got its name, but no matter what version is right (historians cannot seem to agree on the correct version), all agree that the Hoagie Sandwich started in Philadelphia or the towns' suburbs.
Comments and Reviews