Cheve Wraps are so very easy to make, serve, and eat.  Great for your next gathering of family and friends.
Jane ButelI created these Chevre Wraps for a light luncheon, while consulting for Conrad's Restaurant, named for Conrad Hilton, the former owner of the historic landmark hotel where our cooking school was located.  To display these wraps attractively,  I make every other cut on an angle and then arrange the longer angular side of each cut toward the outside and arrange them in fours, making them look like flowers, especially when centering each wrap with a piece of tomato.
This recipe and photo are courtesy of Jane Butel and her website Jane Butel Southwest Cooking.  Also check out Science of Chile Peppers.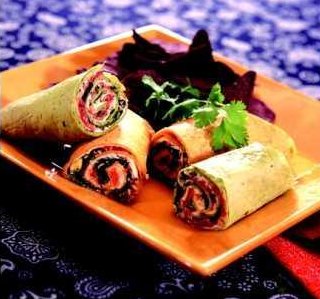 Chevre Wraps Recipe:
Keyword:
Chevre Wraps Recipe
Servings
:
1
to 2 servings
Ingredients
1

(12-inch)

spinach wheat flour tortillas

or sun-dried tomato wheat flour tortillas

2

tablespoons

herbed chevre

(goat cheese) low-fat or non-fat

2

tablespoons

salsa 

(either homemade or store bought)

1/2

cup loosely-packed

salad greens

1

tablespoons

basil pesto

or cilantro pesto
Instructions
Lay the tortillas flat. Spread each tortilla with the chevre cheese followed by the salsa, salad greens, and cilantro pesto to within 1/2-inch of the edges.

Roll up tightly. Note: Keep tortilla-rolled sandwiches in plastic wrap until ready to serve as the tortillas dry out quickly.

When ready to serve, cut and arrange as stated above. Garnish with the tomatoes, pins, and salsa, if desired.
Comments and Reviews