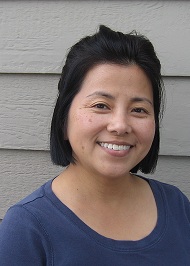 Shrimp Pork Wontons were shared with me by Kim Kono of Portland, Oregon.  Kim tutored us in the art of making and folding wontons.  She was very patient with us. We had a lot of fun preparing and eating these tasty little Shrimp Pork Wontons together.  Thank you Kim!
These wontons were easy to make and tasted so delicious!  The making of them was a little time consuming, but well worth the effort.  Give then a try.
Shrimp Pork Wontons Recipe:
Course:
Appetizer, Main Course, Side Dish
Keyword:
Shrimp Pork Wontons Recipe
Ingredients
1

pound

shrimp,

shelled, deveined, and finely chopped

1/2

pound

lean ground pork

1/2

cup

green onions

(scallions), both green and white parts finely-chopped

1

can

water chestnuts,

drained and finely chopped

1

cup fresh

Shitake mushrooms,

chopped (or 10 dried Shitake mushrooms)*

2

teaspoons

salt

1

teaspoon

sugar,

granulated

1

teaspoon

cornstarch

1/4

teaspoon

white pepper

2

tablespoons

soy sauce

1 to 2

tablespoons

ginger

root, minced

1

tablespoon

peanut oil

2

packages

wonton wrappers**

Chicken stock

or broth
Instructions
In a large bowl, add the shrimp, ground pork, green onions, water chestnuts, mushrooms, salt, sugar, cornstarch, white pepper, soy sauce, ginger root, and peanut oil. Using your hands, combine all the ingredients; set aside.

Filling makes enough for a large amount of wontons.

Filling and Folding Wontons:

Unwrap wonton wrappers and keep covered with a moist cloth.

Fill wontons one at a time. Lay one wonton wrapper in front of you so it forms a diamond shape.

Place about 1 teaspoon pork/shrimp filling and place a little off-center on the wrapper.

Using your finger, moisten the lower two edges of the wrapper with water.



Fold the wrapper in half diagonally so that it completely encases the filling and forms a triangle. Using your finger, work out any air between the wrapper and the filling

Press your finger on top of the wrapper edges to seal the two pieces together.

Bring the top two (2) side corners of the triangle down and gently pull them together and press firmly.

Using your thumb, press the corners of the wonton wrapper together to seal.



Place the completed wontons on parchment paper-lined baking sheets. Repeat procedure with the remaining filling and wonton wrappers until completed.

How To Cook Wontons:


Boiling Wontons: To cook, add the wontons to a large pot of boiling water or chicken stock, making sure there is enough room for them to move about freely. Let the wontons boil for approximately 5 to 8 minutes, until they rise to the top and the filling is cooked through. Remove from the pot with a slotted spoon.

Deep-frying wontons: Heat about 2 inches of vegetable oil to 360 degrees F. Add wontons in small batches and fry, turning occasionally, approximately 2 to 3 minutes or until golden brown. Remove with a slotted spoon and drain on paper towels. Serve hot with your favorite dipping sauce.

Freezing uncooked wontons: To freeze uncooked wontons, lay them on a baking sheet so they don't touch and put the baking sheet in the freezer until the wontons are frozen solid. Once frozen, the wontons can be transferred to a freezer bag for storage.
Recipe Notes
* If using dried mushrooms, place mushrooms in a small heatproof bowl and cover with boiling water.  Let stand for 15 minutes.  Drain and squeeze excess liquid from mushrooms.  Trim and discard stems.  Finely chop mushrooms.
** Available in the refrigerated or frozen foods sections of Asian specialty grocers or better supermarkets.
Comments and Reviews