Basil Pesto with Pistachio Nuts Recipe is a little different in that it uses pistachio nuts instead of pine nuts.  As far as I am concerned, pistachio nuts are the best tasting nuts on the planet – hands down!  This pesto has a flavor that is bright and fresh for summer.  Simple, sophisticated, and takes less than 10 minutes to put together.
Pesto is really easy to make and can elevate so many dishes.  Use this delicious pesto with pasta, roasted chicken or lamb, on sandwiches, fresh veggies, pizza, and especially on your fresh vine-ripened garden tomatoes.  This pesto is also beautiful on the fabulous gold and yellow tomatoes from your garden or Farmer's Market.  I recommend that you make a large batch of pesto to freeze and use later.
This outstanding pesto recipe, comments, and photo were shared with my by Karen Calanchini, Food Stylist and Photographer, of Redding, CA.
Check out these delicious Pesto Recipes:  Italian Basil Pesto and Sun-Dried Tomato, Basil, and Almond Nut Pesto.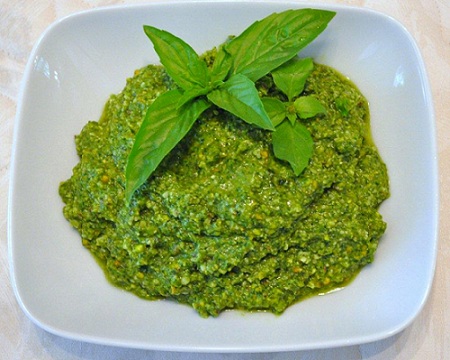 Basil Pesto With Pistachio Nuts Recipe:
Keyword:
Basil Pesto with Pistachio Nuts Recipe
Ingredients
2

cups

basil

leaves, fresh, slightly-packed

4

cloves

garlic,

peeled and sliced

1/2

jalapeno chile pepper,

seeded and sliced

1/2

cup

olive oil,

extra-virgin, fruity

1/2

cup

pistachio nuts,

unsalted, shelled and roasted*

3/4

cup

Parmesan Cheese

(Parmigiano Reggiano)

1/4

cup

lemon juice,

fresh-squeezed

Sea salt

and freshly-ground pepper to taste
Instructions
Wash the basil leaves, discard the stems, and dry thoroughly. Also peel off any thick spines from any larger basil leaves. NOTE: I use my salad spinner for washing and drying the basil leaves.

In a food processor fitted with steel blades, add basil leaves, garlic, and Jalapeno chile pepper; process until basil and garlic are finely chopped.

With the machine on, drizzle in the olive oil to create a thick paste. If needed, take the lid off the processor and scrape down the sides of the processor bowl and the lid using a rubber spatula.

Add pistachio nuts, Parmesan cheese, and lemon juice to the basil mixture and process 1 to 2 minutes or until the pesto is well mixed. Some people like their pesto a little chunky, but I like mine smooth (your choice).

Season to taste with salt and pepper and pulse a few more times. Taste again and adjust seasonings, if needed.

Makes approximately 1 1/2 cups.
Recipe Notes
*  How to roast pistachio nuts:  Preheat your oven to 350 degrees F.  Shell the nuts.  Spread the pistachios on a rimmed cookie sheet, in a single layer for even roasting.  Roast approximately 6 to 8 minutes, stirring halfway through, or until the pistachios are fragrant and lightly browned.  Remove from oven, set aside until cool.
Storing Pesto:
The pesto will keep for up to 4 weeks in a covered container in the refrigerator.  Pour a thin film of olive oil on top of the pesto to prevent discoloration.  For longer storage, do not add the Parmesan cheese until ready to use. Below are some ideas on how to freeze pesto.
Press plastic wrap against the surface of the pesto to minimize any exposure to air and subsequent browning.  Refrigerate, tightly covered, for up to two weeks.  Before using, leave at room temperature for about 15 minutes.
Spoon the pesto into a foil-lined custard cup; cover tightly with foil and freeze.  Once frozen, remove the foil-wrapped packet and store in a freezer bag for up to 2 to 3 months.  To use, thaw in the refrigerator overnight, or remove from the foil and thaw quickly in the microwave.  Add Parmesan cheese just before serving.
Freeze in ice cube trays. I like to spray an ice cube tray with non-stick spray and fill each space with the pesto.  When frozen, remove each cube to a freezer bag.  You will be able to take out as many of the pesto cubes as your need.  Usually one (1) cube is enough for adding flavor a a red pasta sauce or a pot of soup.
Comments and Reviews