I got a bit creative with this Clod Tenders with Bell Peppers and Beans Recipe adding new seasoning and it turned out amazing.  I read up a bit on star anise and found it is great in chili dishes.  Who would have thought star anise would be good with chili bean paste in the same recipe – It is wild!
If you have not discovered Clod Tenders yet, you are in for a pleasant surprise!  This wonderful cut of beef comes from the shoulder area and is also known as Petit Tender, Shoulder Clod, and Clod Heart Roast.  It is an excellent cut of meat for a quick meal that has intense beef flavor and is a convenient size.  The beef clod is one of the cheapest cuts of beef available.  Clod Tenders are not highly marbled, so care must be taken to avoid overcooking.  Sear it quickly and leave it very pink in the middle for this dish.  It is also great for grilling or roasting and can be marinated . It is already a tender cut of meat and should not be overcooked.
More delicious Beef Recipes using various cuts of beef.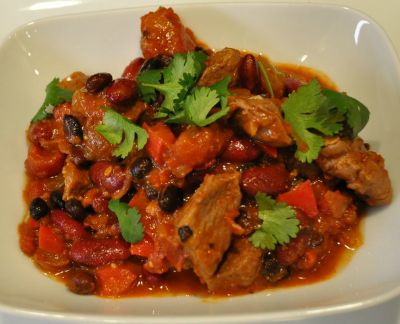 Clod Tenders with Bell Peppers and Beans Recipe:
Keyword:
Clod Tenders with Bell Peppers and Beans Recipe
Servings
:
4
to 6 servings
Ingredients
1

tablespoon

grape seed oil

or other neutral oil

2

pounds of

beef clod tenders,

cut into bite-size cubes

1 1/2

teaspoons

red powdered Chipotle pepper

1 1/2

teaspoons

sweet paprika

Coarse salt

and freshly-ground pepper to taste

1

onion,

chopped (about 1 cup)

1/2

red bell pepper

(white pith cut out and discarded), seeded and chopped

1/2

orange bell pepper

(white pith cut out and discarded), seeded and chopped

2

stalks

celery,

sliced

1

jalapeno chile pepper

(red or green), seeded and diced (leave seeds in if you want the added heat)

4

cloves

garlic,

finely chopped

1

(15-ounce) can

red kidney beans,

drained and rinsed

1

(15-ounce) can

black beans,

drained and rinsed

1

(14.5-ounce) can

stewed tomatoes

with mild chili and Mexican seasoning (break up tomato slices with your hands)

1

(14.5-ounce) can

diced tomatoes,

fire roasted

1 to 2

teaspoons

Williams Chili Seasoning

(used to be Grandma's Spanish Seasoning powder)*

1

whole

Star Anise**

Chili Bean Sauce

(Toban Djan)***

Fresh

cilantro

for garnish
Instructions
Using paper towels, dab the moisture off of the cubes of meat so they will sear well. Place the dried cubes of meat in large bowl; add the Chipotle Powder and Sweet Paprika and toss well.

Heat a large Dutch oven to medium-high; add half of the seasoned clod tender cubes in a single layer. Brown the beef cubes on one side, then turn the beef cubes and add salt and pepper to taste, and brown, leaving the center of the meat on the rare side. This meat is already tender and will cook a bit more when you had it to the other ingredients.

With a slotted spoon, remove the browned meat cubes to a bowl. Continue browning the rest of the meat. Remove the browned meat to a bowl and set aside.

If needed, add some additional oil to the Dutch oven. Add the onions and cook until light golden in color. Then add the celery and bell peppers and chili peppers, sautfe or about 5 minutes. Add garlic and cook about 1 minute. Add both cans of tomatoes (with their juice}, Williams chili seasoning, star anise, and Chili Bean Sauce.

Turn to low heat and simmer for approximately 30 minutes, check and stir once. If it is a little dry, add some beef broth. Continue to cook until the vegetables are cooked through. Add the meat, stir well, and cook just until meat is heated through.

Taste and adjust seasonings to your taste. Chop fresh cilantro and tender stems and sprinkle over individual servings.
Recipe Notes
* You could also use your favorite chili seasoning.


** Star Anise - Named for its distinctive shape. Star anise is the dried fruit of an evergreen tree that is a member of the magnolia family and grows wild in southern China. In cooking, the dried star and seeds can be ground up as seasoning or simmered whole in liquid mixtures to enhance broths and syrups. It is a key ingredient in Chinese five-spice powder. Star Anise can be found in the herbs and spice section of your local grocery store.
*** The Chili Bean Paste adds another dimension to the already complex flavors of this dish. This Sichuan style chili sauce is made from a special blend of chilies and fermented beans.  Can be found in Asian markets and also at What's Cooking America's Amazon Store: Chili Bean Sauce (Toban Djan).
Comments and Reviews