Red Russian Kale with Tomatoes and Onions Recipe is so tender and so delicious!  This kale is in season autumn through spring and is abundance right now.  Their stems are a beautiful purple, leaves are flat, toothed, and dark blue-green with reddish-purple veins.  The plants mature at medium tall and the leaves are tender compared to other kales.   It is so jam-packed with nutrients that it is often dubbed a "super food."  It is a low-calorie, low-carb, and low-fat food that also supplies protein.   I like that it does not take a long cooking time to become tender.  It is always amazing how much a large bunch of kale shrinks into a small amount during cooking.   The very young, short leaves can be used raw in salads.
This delicious Red Russian Kale recipe, comments, and photos were shared with my by Karen Calanchini, Food Stylist and Photographer, of Redding, CA.
Also check out Karen's wonderful Smoked Turkey, Bean and Kale Soup and Lemony Braised Lacinato Kale using Kale and also more delicious Vegetable Recipes.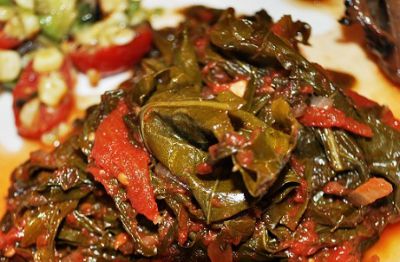 Braised Red Russian Kale with Tomatoes and Onions Recipe:
Keyword:
Braised Red Russian Kale with Tomatoes and Onions Recipe
Ingredients
2

tablespoons

olive oil

1

yellow onion,

chopped

1

teaspoon

crushed red pepper flakes

5 to 6

cloves

garlic,

diced (or to taste)

2

bunches of

Kale,

prepared*

1

(28-ounce) can of

whole peeled tomatoes

(I prefer San Marzano tomatoes)

Coarse salt

or Kosher salt and freshly-ground pepper to taste

1/2

cup

chicken stock**
Instructions
Wash your kale under running water, as this is the best way to remove bugs or debris clinging to the leaves. Shake the water from the leaves, then holding a leaf by the stem end in one hand, run the other hand from the stem end down the stalk to remove the leafy parts.

The stem will snap right off. Discard stems, put leaves in a pile and run a very sharp knife through the pile about three times.

Heat olive oil in a large pot over medium-high heat. When hot, add onions and saute until softened, about 4 minutes. Add red pepper flakes, garlic, stir, and let cook for about one minute until the garlic becomes fragrant. Add kale, salt and pepper, cook for three minutes. Pour in the can of tomatoes, and with your clean hands, crush the whole tomatoes gently, (they may splatter if you do it too quickly) adding all the juice from the can, and then add the chicken stock. Using a metal spatula, turn kale to mix in with all the other ingredients.

Turn heat to medium, cover the pot and continue to cook for about 15 to 20 minutes or until kale is soft and silky. If you like it crunchy kale, reduce the cooking time. I usually take the lid off turning the last few minutes to allow some of the liquid to simmer off.

When finished, you may add fresh lemon juice, or red vinegar to taste. If you prefer not to add lemon or vinegar, try a little nutmeg. Stir, and adjust seasonings as you desire.
Recipe Notes
* If picking kale from your garden, about 12 ounces of prepared leaves.  You may also use curly kale, or Lacinato, which will take longer to cook to a tender leaf.
** Learn how easy it is to make delicious homemade Chicken Stock - Basic Chicken Stock.
Comments and Reviews