Cantaloupe and Cucumber Salad is a healthy and refreshing salad to make and enjoy in the spring or summer.  This salad pairs extremely well with any spicy dish that you would like to prepare.  It is a delicate salad that lets the cool crispness of the cucumbers and the sweet juiciness of the melon really shine through.  This unexpected combination is such a pleasant surprise!  Melons and cucumbers just seem to be naturals together and complement each other beautifully.  This salad is perfect to serve for a light lunch served over cottage cheese or even for an easy snack.
This very refreshing Cantaloupe and Cucumber Salad recipe and photo were shared with my by Karen Calanchini, Foo Stylist and Photographer, of Redding, CA.
More wonderful Cantaloupe Recipes and Cucumber Recipes.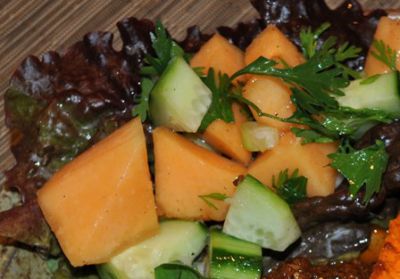 Cantaloupe and Cucumber Salad Recipe:
Keyword:
Cantaloupe and Cucumber Salad Recipe
Ingredients
1/4

cup

lime juice,

freshly-squeezed

Salt

and freshly-ground black pepper to taste

1/2

large

English cucumber,

peeled in alternating strips and coarsely chopped

1

ripe

cantaloupe,

coarsely-diced*

3

green onions

(scallions), thinly sliced

1/4

cup

cilantro

leaves, fresh, chopped**
Instructions
In a small bowl, whisk together the lime juice, salt, and pepper; set aside.

In a large bowl, add the prepared cucumber, cantaloupe, green onions, and cilantro.

Add the lime juice mixture, a little at a time so as not to overdress the beautiful produce.
Recipe Notes
* The fruit widely known as "cantaloupe" throughout the U.S. is actually a muskmelon. The cantaloupe you purchase must be very flavorful. The best way to pick out a cantaloupe to puschase is by smell.  The cantaloupe should have a sweet, slightly musky scent.  A good cantaloupe feels heavy for its size, has a rind that resembles raised netting, and has a stem end that yields slightly when pressed with your thumb.
** Could substitute chopped mint leaves, if desired.
Comments and Reviews