Creamy Seafood Casserole dish is great to serve your company with its rich and creamy goodness in every bite!  The additions of fennel, leek, garlic, and fresh herbs add a delightful depth of flavors to this dish.  It is easy to prepare and so good!
This delicious seafood casserole recipe, comments, and and photos were shared with me by Karen Calanchini, Food Stylist and Photographer, of Redding, CA.  Karen likes to serve this dish with Spinach Salad with Mandarin Oranges.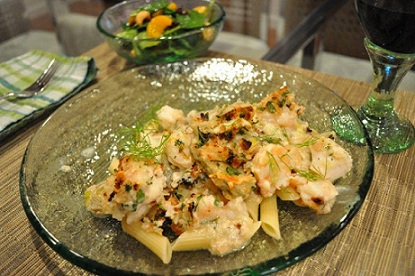 Creamy Seafood Casserole Recipe:
Keyword:
Creamy Seafood Casserole Recipe, Seafood Cheese Sauce Recipe
Ingredients
Creamy Seafood Casserole:
1

tablespoon

olive oil

2

tablespoons

butter,

unsalted

1

cup

leeks,

thinly-sliced

1/2

cup

fennel bulb,

thinly-sliced (reserve some of the fennel fronds)

1/4

teaspoon

coarse salt

or sea salt

1/2

teaspoon

black pepper,

freshly-ground

4

garlic

cloves, diced

1

pound medium-size

shrimp,

raw, tail off and deveined

12

ounces

halibut,

raw, cut into 1-inch pieces

10

ounces

sea scallops,

raw, tough outer muscle removed and cut in half

1

(9-ounce) box

artichoke hearts,

thawed

1/2

cup

parsley,

chopped

1/2

cup

crusty artesian bread,

made into crumbs

1/2

cup

Paramigiano Reggiano cheese,

freshly-grated

Penne

or Penne Rigate pasta**

Thick slices of

bread

Lemon wedges

(for garnish)
Instructions
Creamy Seafood Casserole Instructions:
Preheat oven to 350 degrees F. Butter a 3-quart baking dish or a 9- by 13-inch casserole dish.

In a large non-stick frying pan over medium heat, heat the olive oil and butter. Add leeks, fennel, salt, and pepper; saute approximately 5 minutes. Add garlic and saute an additional 1 minute more. Remove from heat and transfer to a large bowl; set aside.

Prepare the Cheese Sauce.

Mix the leek/fennel mixture into the prepared cheese sauce until combined. Gently stir in the shrimp, halibut, sea scallops, and artichoke hearts. Pour the mixture into the prepared baking dish.

In a small bowl, combine the parsley, bread crumbs, and Parmesan cheese. Sprinkle this mixture evenly over the top of the casserole.

At this point, you may cover the casserole and refrigerate until ready to cook (up to 6 hours). When ready to cook, remove from refrigerator 1 hour prior to cooking to allow casserole to come to room temperature.

Cook seafood casserole approximately 30 minutes or until heated through and bubbly. Then turn your oven to broil and broil the top of the seafood casserole for approximately 1 minute until golden brown. Remove from oven.

While the seafood casserole is cooking, prepare your pasta.

Serve over egg noodles. Depending on your seafood, they may have lots of broth. Serve with a crusty slice of thick bread to sop up the juices. Serve with lemon wedges on the side.
Seafood Cheese Sauce Instructions:
In a medium-size saucepan over medium heat, melt butter. Add flour and whisk until the butter and flour are well combined. Cook the mixture for approximately 1 minute, whisking the entire time.

Add the bouillon cube, whisking until it dissolves. Slowly add the milk and half and half cream, continuing to whisk. Add the nutmeg, pepper, and salt; whisk until the sauce becomes creamy and thick.

Whisk in the sherry wine. Remove from heat and add the parmesan cheese, stirring well until combined.
Comments and Reviews