Grilled Ginger Tuna, an Asian-inspired meal, always makes a wonderful presentation – this is simplicity at its best.  Ahi Tuna, also known as Yellowfin tuna is always delicious when grilled.  It is a simple, delicious, and an elegant dish to serve your family and friends.  If you tuna correctly, they look a little like a filet mignon steak cooked rare.
Great entree for your next dinner party or afternoon summer barbecue.  I like to serve this very simple and easy to make tuna dish on a bed of steamed fresh spinach or sometimes creamed spinach, with an array of beautiful sliced fresh tomatoes.  Try this simple Grilled Ginger Tuna recipe for a seafood dinner that is fast, easy, healthy, and delicious.
Recipe and photo were shared with my by Karen Calanchini, Food Stylist and Photographer, of Redding, CA.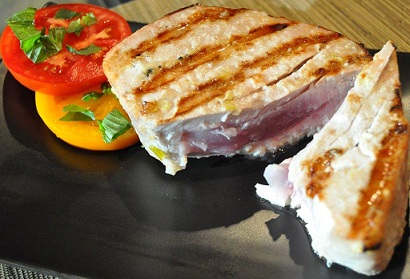 Grilled Ginger Tuna Recipe:
Keyword:
Grilled Ginger Tuna Recipe
Ingredients
1/8

cup (2 tablespoons)

olive oil,

extra-virgin

1

tablespoon

sesame oil,

toasted

Juice

from 2 limes

1

green onion

(white and green parts), sliced

1

tablespoon

ginger,

fresh, grated

1

thick cut sushi-grade

Ahi Tuna

filet (about 1-inch thick)*

Lemon wedges

(for garnish)
Instructions
In a deep dish, large enough to hold the tuna filet, whisk together the olive oil, sesame oil, lime juice, green onions, and ginger; set aside in the refrigerator.

Approximately 1 hour before you are ready to grill the tuna, place the tuna in the marinade, spooning some marinade on top of the tuna. Let sit for 30 minutes, turn, and repeat another 30 minutes.

Preheat barbecue grill (oil hot grill to help prevent sticking).

Place the marinated tuna filet over direct heat, and cook only until grill marks form. As soon as you see grill marks on the tuna, turn the tuna filet over and move the tuna to indirect heat.

Do not overcook the tuna or the meat will become dry and lose its flavor. It will have a white ring around the edges, but the center will be very pink when done. Remove from grill and serve immediately.
Recipe Notes
* Ahi Tuna, also known as Yellowfin Tuna, is a Hawaiian word for tuna.  To obtain the best quality of fresh tuna, purchase tuna frozen or tuna that was defrosted no earlier than that morning that you purchase it.   If you sear them correctly, they look a little like a filet mignon steak cooked rare.  Do not overcook this fish - as it cooks, it quickly hardens, so make sure the center is red (or pink).
Comments and Reviews