Grilled Cedar Plank Salmon is great for your summertime barbecuing. Grilling salmon on a soaked wood plank imparts a delicate smokiness to the flavor of the fish. It also keeps the salmon moist, and it is so simple to do! This beautiful piece of salmon steak was enough for 3 or more people. If you can not get a large, fresh caught salmon steak, use two smaller salmon steaks.
This delicious Grilled Cedar Plank Salmon recipe, comments, and photos were shared with my by Karen Calanchini, Food Stylist and Photographer, of Redding, CA. The salmon is excellent served with Karen's Broccoli Salad with Cashews and Trombocino Squash with Tomatoes.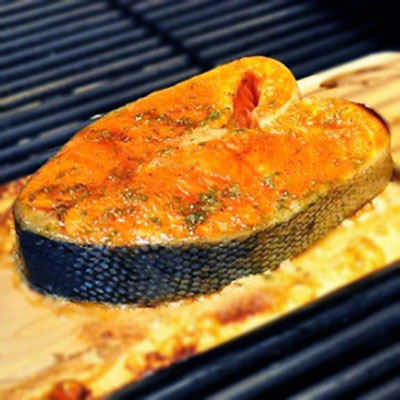 More delicious Salmon Recipes and also How To Select, Buy, and Cook Fish. Learn about the interesting Story of Pacific Salmon.
Grilled Cedar Plank Salmon Recipe:
Keyword:
Grilled Cedar Plank Salmon Recipe
Instructions
Prior to grilling, soak an untreated cedar plank, submerged in water, for 2 hours. It is important to soak the cedar plank in water for at least a couple hours to prevent the wood from catching fire on the grill. Also the water from the wood will help keep the fish moist.

In a small bowl, prepare a dry rub by combining the brown sugar, salt, pepper, and lime zest. Place the salmon steak into a large dish. Using your hands, rub the prepared dry rub all over the salmon. Cover and refrigerate for 2 hours.

When ready to grill, take the salmon steak out of the refrigerator and let sit for approximately 30 minutes to come to room temperature before grilling.

Preheat your barbecue grill.

With a paper towel, rub the sides of the soaked cedar plank with some olive oil. Place the salmon steak on top of the cedar plank.

Place the plank (with the salmon steak) on the grill. Using the indirect heat method, cook for approximately 10 to 15 minutes or until a meat thermometer registers an internal temperature of 140 degrees F. (salmon will be slightly opaque in thickest part). Watch the salmon closely so you do not overcook.

Remove salmon from grill to a cutting board, cover with aluminum foil, and let rest for about 5 minutes. NOTE: During this time the salmon continues to cook (meat temperature will rise 5 to 10 degrees after it is removed from the grill) and the juices redistribute.

I get many readers asking what cooking/meat thermometer that I prefer and use in my cooking and baking.  I, personally, use the Thermapen Thermometer. Originally designed for professional use, the Super-Fast Thermapen Thermometer is used by chefs all over the world.  I only endorse a few products, on my web site ,that I like and use regularly.
You can learn more or buy yours at: Super-Fast Thermapen Thermometer.
Sponsored Content
Comments and Reviews