Grilled Fish with Potatoes & Asparagus is delicious and offers fresh and bright flavors that are pleasing to the palate.  This is a quick and easy recipe to prepare.  What more can you ask for?
This grilled fish recipe, comments, and photo were shared with my by Karen Calanchini, Food Stylist and Photographer, of Redding, CA.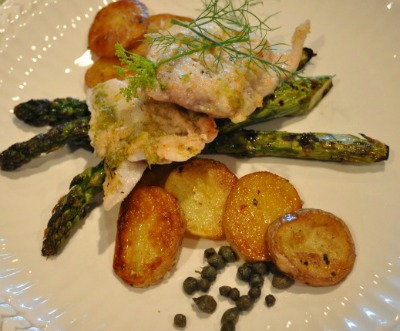 More great Halibut Recipes and also How To Select, Buy, and Cook Fish.
Grilled Fish with Baby Potatoes & Asparagus Recipe:
Keyword:
Grilled Fish with Baby Potatoes and Asparagus Recipe
Instructions
Grilled Fish Instructions:
In a small bowl, combine lime juice, olive oil, salt, and pepper.

Place fish (of your choice) into a large dish and brush with lime juice mixture about 20 minutes before grilling; set aside until ready to grill.

Preheat barbecue or gas grill. Oil grilling rack, and adjust height to between 4 to 6 inches from heat.

While the fish is marinating and the grill is preheating, prepare the asparagus for grilling and start cooking the Baby Potatoes.

Grill fish approximately 5 minutes on each side or until a meat thermometer registers an internal temperature of 140 degrees F. (fish will be slightly opaque in thickest part). Remember the fish continues to cook after it is removed from the heat source. Carefully remove the fish from the grill and transfer onto individual serving plates.

Divide the cooked Baby Potatoes and Grilled Asparagus with the cooked fish on the serving plates. Garnish with fresh dill leaves and capers.

Optional: Have lemon wedges on the side for squeezing over the plated food. Try using smoked salt on the fish and asparagus for a nice touch.
Grilled Asparagus Instructions:
In a bowl, combine olive oil, lemon zest, lemon juice, salt, and pepper.

Brush asparagus with the lemon mixture. Place the asparagus alongside the white fish on the grill. Cook until nice grill marks have formed and asparagus is still on the crisp side; remove from the grill.
Baby Potatoes Instructions:
While the fish and asparagus are grilling, cook the potatoes.

Heat a non-stick pan to medium high, melt some butter with olive oil and cayenne pepper. Add potatoes and cook, turning several times until nice and golden. Season to taste with salt and pepper.

I get many readers asking what cooking/meat thermometer that I prefer and use in my cooking and baking. I, personally, use the Thermapen Thermometer. Originally designed for professional use, the Super-Fast Thermapen Thermometer is used by chefs all over the world.  I only endorse a few products, on my web site, that I like and use regularly.
You can learn more or buy yours at: Super-Fast Thermapen Thermometer.
Sponsored Content
Comments and Reviews