Omelet with Buttermilk, Sun-Dried Tomatoes, and Fresh Salsa Recipe is great served with an array of seasonal fresh, colorful fruits.  Omelets are so easy to make and can be served anytime of the day you desire.  A well-made omelet is a thing of joy!  It is soft, custard-like, and melts in your mouth.  The addition of buttermilk, instead of regular milk, gives the omelet a more richer flavor.
This delicious Omelet recipe and photo were shared with my by Karen Calanchini, Food Stylist and Photographer, of Redding, CA.
More great Egg Recipes, Brunch and Breakfast Recipes, and lots of Southwest-Style Recipes.
Omelet with Buttermilk, Sun-Dried Tomatoes, and Fresh Salsa Recipe:
Keyword:
Fresh Tomato Salsa Recipe, Omelet with Buttermilk, Sun-Dried Tomatoes, and Fresh Salsa Recipe
Ingredients
Omelette with Buttermilk:
5

eggs

(preferably very fresh organic eggs)

1/4

cup

2% buttermilk,

shake well

Salt

and freshly-ground pepper, to taste

4 to 5

drops of

Tabasco Sauce

or your favorite hot sauce

1

tablespoon

butter,

divided

1 to 2

green onions

(scallions), sliced (use white and green parts)

1/4

cup

sun-dried tomatoes

in olive oil, drained and rough chopped

1/4 to 1/3

cup

Parmesan Cheese

(Parmesan Reggiano cheese), grated
Fresh Tomato Salsa:
1

very small

red onion

or Torpedo onion, chopped to small dice*

2

cloves

garlic,

peeled and chopped to small dice

1/2

jalapeno chile peppers,

seeded and cut to small dice

1

medium-size

red tomato,

chopped to medium dice

1

medium-size

yellow tomato

or gold tomato, chopped to medium dice

1/8

cup

cilantro

leaves and stems, fresh, chopped, or to taste**

Lime zest

from 1 small lime

Lime juice

from 2 small limes

Coarse salt

or smoked salt, to taste

Pepper,

freshly-ground, to taste
Instructions
Omelette with Buttermilk Instructions:
Prepare the Fresh Salsa (see recipe below) in advance. Refrigerate until ready to serve.

Place the eggs, buttermilk, salt, pepper, and Tabasco Sauce into a large bowl and whisk well to blend; set aside.

Using a two-sided omelet pan (see photo on right), place the pan over medium-high heat. Add 1/2 tablespoon of butter to each side of the pan. When the butter has melted and covers the bottom of the pan, using a pastry brush, brush some of the melted butter up and around the sides of the omelet pan.

Add sliced greens onions to the bottom side of the pan; saute for a few minutes until the onions begin to soften (do not allow the onions to brown). Reduce the heat to medium-low at this point.

Pour 1/2 of the egg mixture into one side of the pan. Pour the other 1/2 of the egg mixture into the other side of the pan. As the egg mixture begins to solidify, using a spatula, move the mixture towards the center which will allow the still runny eggs to fill that space.

Add the sun-dried tomatoes and parmesan cheese to the bottom part of the pan. Flip the top lid over the bottom lid. Reduce the heat to low and cook another 3 to 4 minutes.

Using a oven glove, open the top lid. If the omelet has puffed up nicely, it is done. If not, close the lid and cook for a few additional minutes. When the omelet is done, carefully remove the omelet pan from the stove. Open the lid, place a serving dish over the entire omelet pan, and invert the omelet onto the serving dish.

Cut the omelet in half and served with fresh salsa over the top.
Fresh Tomato Salsa Instructions:
Check out more delicious Salsa Recipes and Tomato Recipes for more great cooking ideas. The success of this salsa is that everything should be fresh from the garden or your local Farmer's Market.

As you finish chopping each of the above ingredients, place into a large bowl. After adding all the ingredients, mix together well. Taste and adjust seasonings if desired (adding additional salt, pepper, and/or cilantro as needed).

Store the salsa in the refrigerator until ready to serve. Leftover salsa will keep for 2 to 3 days in the refrigerator. Fresh Salsa is great with chips, meats, on sandwiches, added to tacos, or any Tex-Mex dish.
Recipe Notes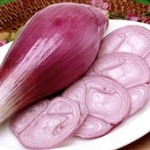 * The Red Torpedo Onion is an Italian heirloom variety.  The skin is reddish-purple in color and it is elongated in shape (the bulbs resemble a torpedo or spindle).  They are on average about 4 to 6 inches long and about 2 or 3 inches in diameter.  The flesh is sweet, mild, and tender with light rose colored rings.  These onions can be found in some specialty markets and also at local Farmer's Markets. Photo of the Red Torpedo Onion is from Melissa's Produce.
** Fresh parsley may be substituted for the cilantro.
Comments and Reviews