My inspiration for this lovely Spicy Parmesan Omelet was a leftover in my refrigerator – grilled asparagus.  I added a combination of fresh herbs and fresh vine-ripened tomatoes that I collected from my garden.  As you can see, it is so easy to prepare this show stopper breakfast in no time.  We have eaten this omelette for dinner and breakfast several times.  For dinner, I usually serve the omelet with a cooked vegetable, such as asparagus and a tossed salad.  Some French bread is is also good.
This delicious Parmesan Omelet recipe, comments, and photos were shared with my by Karen Calanchini, Food Stylist and Photographer, of Redding, CA.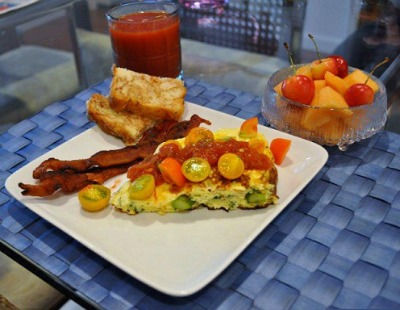 More great Egg Recipes, Brunch and Breakfast Recipes, and lots of Southwest-Style Recipes.
Spicy Parmesan Omelet with Fresh Herbs Recipe:
Keyword:
Spicy Parmesan Omelet with Fresh Herbs Recipe
Ingredients
4

eggs,

organic

1/4

cup

milk,

low-fat

Tabasco Sauce,

to taste

Sea salt

and freshly-ground pepper, to taste

1 1/2

tablespoons

parsley,

Italian flat-leaf, freshly chopped

2

teaspoons

Thyme,

french

2

teaspoons

Summer Savory*

2 to 3

asparagus

spears (depending on size) cut into bite-sized lengths

Parmesan Cheese

(Parmigiano-Reggiano), to taste

Salsa

(either store bought or homemade salsa)**

Cherry tomatoes,

chopped
Instructions
Use a two-sided omelet pan (see photo on right). Using a paper towel, rub butter or a butter substitute on both sections of your omelet pan, making sure to get into the corners and up the sides well.

Crack the eggs into a 2 cup measuring cup; add milk, Tabasco Sauce to taste, salt, and pepper. Whisk until eggs are blended well.

Heat the omelet pan, over medium heat.

Add equal portions of egg mixture to each side of the hot pan. When the edges start to solidify, use a spatula to lift the edge, tilting the pan so the egg mixture runs behind the lifted part. Add the prepared herbs, and continue with the lifting until the mixture is almost set but still a bit runny in the center. Add the asparagus to the bottom section of the pan, and sprinkle Parmesan cheese on both sides. If needed, reduce your heat a little. Close the top side of the pan over the bottom, center the pan over the heat and continue to cook until the omelet has puffed up nicely.



Remove from heat to counter, and using oven gloves, place a dinner plate over the open omelet pan and invert the omelet onto the plate. Cut in half with a metal spatula and place onto serving dishes.

Drizzle with your favorite salsa and sprinkle with the cherry tomatoes.

Serve with crispy fried bacon, cinnamon bread, and a bowl of fresh summer fruit.
Recipe Notes
* Use any fresh herb that you prefer such as; sweet basil, tarragon, and/or chives. Choose herbs that have fresh-looking leaves without brown spots.  Fresh herbs do not last long, so buy (or pick) only as you need them.  Thoroughly rinse fresh herbs under cool water.  Blot dry with paper towels or use a salad spinner. 
** Check out some delicious Salsa Recipes.
Comments and Reviews