Pesto and Cheese Omelet with Balsamic Tomatoes recipe is a beautiful and healthy protein-packed dish to make, especially at the end of summer when fresh basil and tomatoes are at their peak.  It is full of summer goodness, lots of flavor layers, and so easy to make.  Perfect for a weekend brunch.
I served this omelet with my homemade Basil Pesto with Pistachio Nuts and a bit of fresh lemon. This pesto is a little different in that it uses pistachio nuts instead of pine nuts.  As far as I am concerned, pistachio nuts are the best tasting nuts on the planet – hands down!  This pesto has a flavor that is bright and fresh for summer.  Simple, sophisticated, and takes less than 10 minutes to put together.  Use can actually use whatever pesto you have on hand or your favorite creation.
This delicious Pesto and Cheese Omelet with Balsamic Tomatoes recipe, comments, and photos were shared with my by Karen Calanchini, Food Stylist and Photographer, of Redding, CA.
More great Egg Recipes, Brunch and Breakfast Recipes, and lots of Southwest-Style Recipes.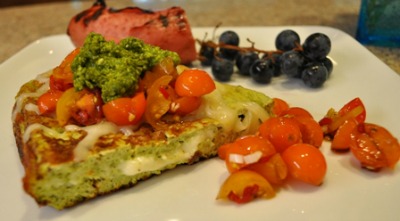 Pesto and Cheese Omelet with Balsamic Tomatoes Recipe:
Keyword:
Pesto and Cheese Omelet with Balsamic Tomatoes Recipe
Ingredients
1

large ripe

tomato

(I used red and yellow cherry tomatoes), diced

1

red

Serrano chile pepper,

diced

1

small

green onion

(scallion), diced

1

teaspoon

Balsamic Vinegar

(approximate)

Coarse salt

or sea salt and freshly0ground pepper, to taste

4

eggs

2

tablespoons

buttermilk

(shake well before measuring)*

4

tablespoons

Pesto

(homemade or store-bought), divided

1/2

cup

pepper jack,

sharp cheddar, or mozzarella cheese (or whatever you have on hand), shredded
Instructions
Place the diced tomato, Serrano chile pepper, and green onion into a bowl. Add just enough Balsamic Vinegar to coat (you do not want them swimming in vinegar). Add salt and pepper to taste. Gently stir and then set aside.

In a large bowl, whisk together the eggs, buttermilk, 2 tablespoons pesto, salt, pepper, and some of the grated cheese; set aside.

Using a frying pan or a two-sided omelet pan, using a paper towel, rub butter or a butter substitute on both sections of your omelet pan, making sure to get into the corners and up the sides well. Heat the omelet pan over medium heat.

Add equal portions of egg mixture to each side of the hot omelet pan. Sprinkle a little of the grated cheese onto both sides of the pan and proceed making your omelet. When the edges start to solidify, use a spatula to lift the edge, tilting the pan so the egg mixture runs behind the lifted part but still a bit runny in the center. If needed, reduce your heat a little.

Close the top side of the pan over the bottom, center the pan over the heat and continue to cook until the omelet has puffed up nicely.

Remove the omelet pan from the heat to counter, and using oven gloves, place a dinner plate over the open omelet pan and invert the omelet onto the plate. Cut in half with a metal spatula and place onto serving dishes.

Sprinkle the remaining grated cheese on top of each omelet, then the marinated tomatoes, and then a little pesto.

I served this dish with seedless red grapes from our Farmer's Market and a grilled Ring Bologna.

Ring Bologna can also be cut into coins and fried in butter or olive oil until it is golden and crisp. Some people prefer to remove the casing prior to cutting, however the casing is edible.
Comments and Reviews