Risotto Alla Milanese is the classic Italian risotto with Parmesan Cheese and Saffron.  This is a creamy rice dish that gets its vivid color and flavor from the saffron.  This risotto recipe is absolutely fantastic!
Saffron is the stigma of the crocus flower, which originally came from Asia Minor.  Saffron is called "zafran" in Spanish.  Pure saffron is made up of tiny, bright-red threads. The redder the saffron, the higher the quality.  The tips of the threads should be a slightly lighter orange-red color.  This will show that it is not cheap saffron that has been tinted red to look expensive.
Risotto Alla Milanese is wonderful served with Beef Braised In Barolo Wine and Lemony Braised Lacinato Kale.
This delicious Risotto Alla Milanese recipe, comments, and photos were shared with me by Karen Calanchini, Food Stylist and Photographer, of Redding, CA.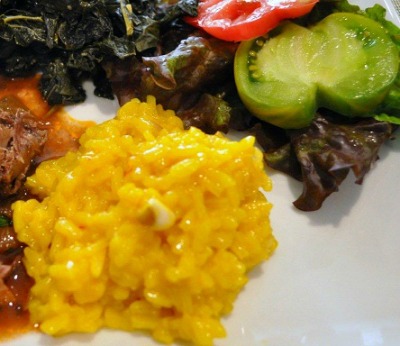 Risotto Alla Milanese Recipe:
Before making risotto, please read the web page on Making Perfect Risotto. Lots of hints and tips to help you.
Keyword:
Risotto Alla Milanese Recipe
Servings
:
6
main course servings
Instructions
In a large pot over medium-high heat, heat chicken stock to a slow, steady simmer (the liquid should stay hot but not simmer).

Heating the broth or liquid: All the flavors that the cooking liquid starts out with become more concentrated and intense as it evaporates. Bearing that in mind, when the recipe requires broth, you will use a fine, mild chicken stock or broth. It is always better to use homemade broth or stock, but if you do not have the time (like most of us), do not worry! Swanson's Organic Chicken broth is great for making risotto.

In a large heavy saucepan or skillet over medium heat, melt butter; add shallot and saut stirring occasionally, until translucent. Sprinkle the saffron threads into the pan, cook and stir for approximately 1 minute.

Add rice and cook 1 to 2 minutes making sure all the grains are well coated (toasting the rice in melted butter keeps it from getting mushy).

Add wine and cook, stirring constantly until wine has been completely absorbed by the rice or evaporated.

Ladle approximately 1 1/2 cups of the hot chicken stock into the rice (just enough to barely cover rice). Cook over medium heat, stirring frequently, until broth has been absorbed. Continue cooking, adding a little bit of hot chicken broth (1/2 cup at a time), stirring frequently, until the chicken broth is absorbed and until the rice is tender (but still firm to the bite), about 20 to 25 minutes. NOTE: Risotto doesn't need constant attention during its cooking time. You will just need to check on the pan every few minutes, give the rice a stir to keep it from sticking, and add more chicken stock.

When the risotto is done, remove from heat, and stir in the Parmigiano-Reggiano cheese. Add salt to taste.



Makes 6 main course servings.
Comments and Reviews