Roasted Pork Loin and Vegetables come together quickly and is great for a week night dinner.  The herb/spice mix adds flavor to the roasted meat and the balsamic vinegar adds a bit of zip to the colorful vegetables.  This is one of the most delicious roasted pork loin recipes in my recipe files.  My husband and family loves it.
Roasted Pork Loin and Vegetables recipe, comments, and photos were shared with my by Karen Calanchini, Food Stylist and Photographer, of Redding, CA.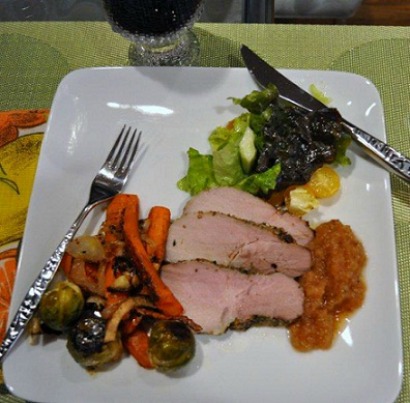 Roasted Pork Loin and Vegetables Recipe:
Keyword:
Roasted Pork Loin and Vegetables Recipe
Servings
:
4
to 6 servings
Ingredients
1

(3 pound)

pork loin,

boneless

1

teaspoon each of dried

herbs and spices

(see below)*

10 to 15

Brussel Sprouts,

dried ends cut off (remove any loose leaves)**

6

carrots,

peeled, cut in half and thick end cut into half vertically**

2

medium-size

onions,

peeled and cut into 8 wedges

1 to 2

tablespoons

olive oil,

extra-virgin

Coarse salt

or sea salt and freshly-ground black pepper

Balsamic Vinegar

(good-quality)
Instructions
Preheat oven to 325 degrees F. Prepare a roasting pan by rubbing the bottom with olive oil.

Pat dry the pork roast with papers towels; then rub the herb/spice mixture all over the sides and ends of the roast; set aside.

Place the prepared Brussels Sprouts, carrots, and onions on the bottom of the prepared roasting pan. Sprinkle with salt and pepper to taste. Drizzle the olive over the top of the vegetables.

Place the roasting pan rack over the top of the vegetables. If necessary, adjust the vegetables until the rack sits solidly in the roasting pan. Place the prepared pork roast on the center of the rack; lightly tent with a piece of aluminum foil.

Bake approximately 1 hour or until a meat thermometer inserted into thickest part of the roast registers 140 degrees F. to 145 degrees F.

Remove the aluminum foil during the last 1/2 hour of cooking to let the roast brown. Remove from oven to your cutting board and cover with aluminum foil; let sit approximately 10 minutes. Check the vegetables for doneness, stir, and return to oven to finish cooking, if needed. If they are cooked to your liking, turn off oven, and let stay in the oven to keep warm. When the vegetables are done cooking, drizzle a little balsamic vinegar over the top and mix together.

To serve, slice the pork roast and transfer to a serving platter. Add vegetables to the platter.

Excellent served with homemade applesauce and a simple green salad.
Recipe Notes
* Use any herbs and spices that are your favorite and will compliment the pork (such as Turkish thyme, tarragon, freshly-grated black pepper, sea salt, red pepper flakes, garlic powder, etc).  Place into a small bowl and mix together.
** Use very fresh vegetables that are in season.  You may also use bell peppers (cut into large chunks) and sweet potatoes or Yukon Gold potatoes (cut into bite-size chunks).

I get many readers asking what cooking/meat thermometer that I prefer and use in my cooking and baking.  I, personally, use the Thermapen Thermometer. Originally designed for professional use, the Super-Fast Thermapen Thermometer is used by chefs all over the world.  I only endorse a few products, on my web site ,that I like and use regularly.
You can learn more or buy yours at: Super-Fast Thermapen Thermometer.
Sponsored Content
Comments and Reviews