Here is a refreshing winter green salad featuring oranges. The salad is drizzled with a sweet and spicy sweet chili vinaigrette dressing.  A great side dish to enjoy with dinner or lunch!   The vinaigrette is an unusual combination of Thai flavors mixed with Dijon mustard.  The flavors come together so well.  This is an adaptation of her salad with a couple of twists!"
This refreshing and delicious salad recipe and photo were shared with my by Karen Calanchini, Food Stylist and Photographer, of Redding, CA.  Karen says, "I saw this salad on Pranee's Thai Kitchen.  A beautiful presentation, cool, refreshing, and just perfect for a light lunch."
More wonderful Salads and Salad Dressing Recipes.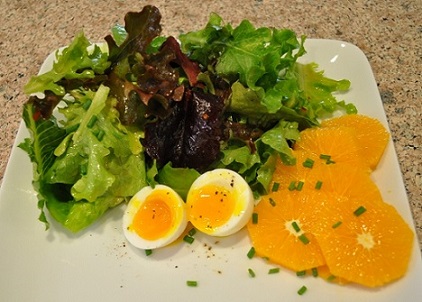 Lettuce Salad with Oranges and Sweet Chili Vinaigrette Recipe:
Keyword:
Lettuce Salad with Oranges and Sweet Chili Vinaigrette Recipe
Ingredients
Salad with Oranges:
1 or 2

handfuls of mixed garden

lettuce,

washed and torn into bite-size pieces*

1

navel orange,

peeled and cut into slices (can also use the orange segments)

1

egg,

soft-boiled (run under cold water to cool, then peeled and carefully cut in half)

Chives,

snipped
Sweet Chili Vinaigrette:
2

tablespoons

Sweet Chili Sauce

2

tablespoons

lime juice,

fresh-squeezed

1

tablespoon

aged white wine vinegar

1

tablespoon

Oyster Sauce

1/8

teaspoon

coarse salt

or sea salt

1/4

teaspoon

black pepper,

freshly-ground

2

teaspoons

Dijon-style mustard

2

tablespoons

toasted sesame oil

2

tablespoons

olive oil,

extra-virgin
Instructions
Salad with Oranges Instructions:
Prepare Orange and Sweet Chili Vinaigrette. Shake or stir well just before serving.

Place prepared lettuce greens into a bowl. Toss with a little Sweet Chili Vinaigrette, enough to coat lightly. Too much salad dressing will weight down the salad ingredients and mask their flavors. The dressing's role is to highlight not to overpower the salad ingredients.

Place lettuce on an individual salad plate, and arrange orange slices and egg on the plate. Sprinkle the chives around on the plate, and sprinkle the egg with a little salt and pepper if you prefer.
Sweet Chili Vinaigrette Instructions:
Put all the ingredients into a salad dressing container with a tight lid and shake well to emulsify the dressing


Store, covered, in the refrigerator. Serve at room temperature. Shake or stir well just before serving.

Makes 1/2 cup vinaigrette.
Recipe Notes
* Can also use whatever lettuce looks good to you from the market.  Try to use a combination of colors and leaf textures.
** Learn how to make perfect Soft-Boiled Eggs.  A soft-cooked egg has a firm white and runny yolk.
You Might Also Like:
Orange and Avocado Salad
This salad is yummy, especially the dressing.  I often use Hazelnut oil, as well.  In winter, ruby grapefruit is nice.  We have some great tangelos out right now and that is what I used last night.  I cook what is in season…mostly!
Orange and Radish Salad with Cinnamon Vinaigrette
This is my adaptation of a salad recipe I found on an Egyptian tourist site.  A complexity of flavors, freshness from the oranges, and a bit of heat from the warm spices and radish, made this a wonderful compliment to the grilled halibut.
Comments and Reviews