This is not your usual salsa. This Smoky Arbol Salsa, also known as Guajillo Salsa, is a rusty red, very spicy, and perfect for drizzling over tacos, eggs, or anything cooked on your grill.  Try serving this delicious and unusual Arbol salsa with pork tenderloin rubbed with salt, pepper, and chile powder (such as Chipotle, Ancho, Pasilla, etc.), and then grilled.
This delicious Smoky Arbol Salsa recipe, comments, and photos were shared with me by Karen Calanchini, Food Stylist and Photographer, of Redding, CA.
Smokey Arbol (or Guajilla) Salsa Recipe
Keyword:
Guajilla Salsa Recipe, Smoke Toasted Arbol Salsa Recipe
Ingredients
2

tablespoons

vegetable oil

16

(1/4 ounce total) dried

Arbol chile peppers,

stemmed or 2 (1/2 ounce total) dried guajillo chiles*

3

whole

garlic

cloves, peeled (can use more if desired)

4

medium (about 8 ounces)

tomatillos,

husked, rinsed and cut in half

1/4

cup

water

Juice

from 1 fresh lime
Instructions
Warning: Put on a pair of latex gloves before beginning this recipe. Always wear gloves when working with hot chile peppers (fresh, dried or roasted chiles). Never touch your eyes when working with chiles. Please don't learn this lesson the hard way!

Roll the arbol chiles between your fingers to loosen the seeds, then break the chiles in half and shake out as many seeds as will come out easily. If using grajillos chile peppers, tear them open and sweep out the seeds with your fingers.

Measure the vegetable oil into a large (10-inch) skillet and set over medium heat. Lay all the prepared chile peppers in the hot oil. Cook and turn constantly until the chiles are aromatic and have changed color slightly, about 30 seconds. Using a slotted spoon, scoop the chile peppers into a blender jar, leaving behind as much of the oil as possible; set aside.

Wipe out the oil from your skillet (no need to wash it), and set the skillet back over medium heat. Place the garlic cloves and tomatillos (cut side down) in the pan. When the tomatillos are browned, turned everything over and brown the other side. Remove from the heat and place the tomatillos/garlic mixture into the blender jar with the chile peppers. Add the 1/4 cup water and lemon juice. Add salt and pepper to taste. Blend until nearly smooth.

Pour salsa into a bowl and let cool before serving (best if made 1 day ahead).
Recipe Notes
*  Chiles de arbol or arbol chile (ARE-bowl) are narrow, curved chiles that start out green and mature to a 3-inch to 5-inch bright red pod. T he arbol chile is very hot, and related to cayenne pepper.  These chiles register around 50,000-65,000 on the scoville heat unit scale (or about 7-8 on a 1-10 scale).  These chile peppers are found Mexican Food Stores and in most hispanic food sections of grocery stores.  If you can not find arbol or guajilla chile peppers, substitute dried cayenne chile peppers.
Source:
Recipe was adapted from the cookbook,
Mexican Everyda

y, by Rick Bayless with Deann Groen Bayless.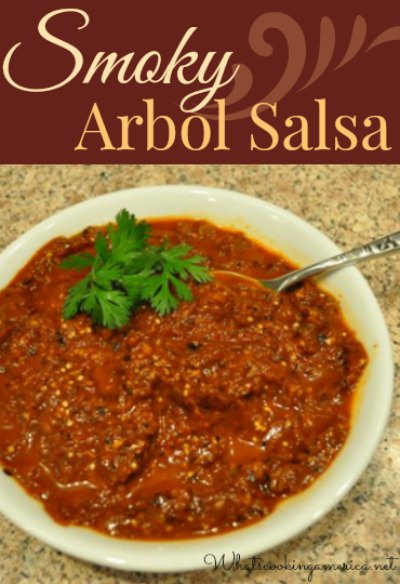 Comments and Reviews