This decadent Stuffed Flank Steak with Spinach and Feta recipe is filled with spinach, feta cheese, mushrooms, onions and bread crumbs.  It is perfect to prepare for a special occasion dinner.  When you purchase your flank steak, you can request to have the butcher butterfly the steak.  They can also split the meat down the center to help it lay flat as another option.  Trust me when I tell you that pre-slicing the meat can be a huge time saver.
This delicious recipe was shared with me my by Dina Calanchini of Sacramento, CA.  Dina belongs to a Ladies Dinner Group in the Sacramento area, and they have lots of fun creating and cooking many different types of foods.  Dina likes to serve this delicious flank steak with her Oven-Roasted Asparagus.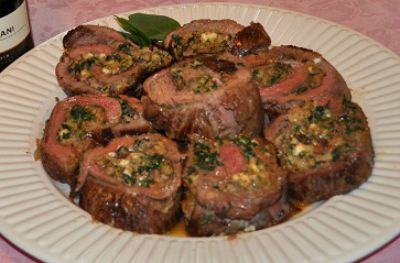 Stuffed Flank Steak with Spinach and Feta Recipe:
Keyword:
Stuffed Flank Steak with Spinach and Feta Recipe
Ingredients
1/2

of a

yellow onion,

finely diced

1/2

cup of

mushrooms,

finely-chopped

1

(10-ounce) package frozen

spinach,

chopped (defrosted and drained)

1/3 to 1/2

cup

feta cheese

1

egg

1/2

cup

Italian seasoned bread crumbs

Red pepper flakes

(optional)

1

(2 to 2 1/2 pound)

flank steak*

Garlic powder

Salt

and pepper

1

cup

Beef stock

or broth

2 to 5 1/2

tablespoons

butter,

cut into tablespoon sizes
Instructions
Preheat oven to 350 degrees F.

In a large frying pan over medium-high heat, sautthe onions and mushrooms until tender; remove from heat an let cool.

In a large bowl, mix together the spinach, feta cheese, egg, bread crumbs, red pepper, and onion/mushroom mixture.

Sprinkle the flank steak with garlic powder, salt, and pepper. Spread and press the stuffing mixture onto the flank steak to approximately 1/2 to 1 inch from the border, all the way around.

Begin rolling up the flank steak with the edge closest to you and roll away from you (the steak should be rolled parallel to the grain so that once you cut into the steak, you are cutting against the grain). Once rolled, tie the flank steak roll up with cooking string every 2 inches or so. Sprinkle the roll with salt and pepper.

In an oven-proof skillet, heat approximately 1 tablespoon of vegetable oil on medium to medium-high heat. Once hot, place the roll in the pan and sear each side of the roll, approximately 2 to 3 minutes per side.

Once the stuffed flank steak roll is seared on all sides, place the skillet with the steak in your preheated oven and bake for approximately 20 to 40 minutes (depending on the size of the roll) until flank steak is medium rare or until the internal temperature reaches desired temperature on your meat thermometer (see below). NOTE: This steak is best cooked rare to medium rare.

Once cooked, remove the stuffed flank steak from the over and place on a separate plate. Cover with aluminum foil and let rest for approximately 5 minutes before cutting.

While the steak is resting, place the same cooking skillet back on the stove on medium-high heat and add approximately 1 cup of beef broth. Continue cooking until the broth has reduced by 1/2. Turn off the heat and allow broth to cool (at least until the bubbling stops). Add tablespoons of butter, one at a time, and stir continuously until each tablespoon of butter is melted before adding more. Continue to add butter and stir until all the butter is incorporated.

Slice the rested flank steak into individual rolls and place on a serving platter. Drizzle the rolls with the prepared beef broth sauce and serve.
Recipe Notes
* Either have your butcher butterfly the flank steak or split the meat down the center so it lays flat and then break down the tough fibers by running it through his meat tenderizer.  You can also tenderize the flank steak with a meat mallet.
Comments from Readers:  
This was delicious!!!  Flank steak has always been a family favorite. So versatile. I've prepared one with blue cheese and spinach and it was meh (to me) as the kids say. The family loved it but it didn't grab me.  Your recipe was excellent.
Because this was spur of the moment, I used fresh spinach, no time to thaw any.  I wilted it in some EVOO and minced garlic and followed the rest of the recipe except that I subbed in chicken stock which I had opened the day before.  Still delicious!!  We love caramelized onions, so when I sauteed the minced ones.  I also cooked one med/lg. sliced sweet onion to serve on the side.
Tonight we loved the leftovers which I reheated in a frying pan with a smidge of EVOO.  Hard to believe but it was every bit as good, juicy and rich with flavor.
During the past two days, I have shared the link with my grown daughters and the gals at the office.  All of these ladies have sung the praises of feta for years.  Now I don't know whether I'm brave enough to eat it on its own, yet.  But it's something I may start to ponder.  This will most definitely be in my A-game rotation.
Thank you for sharing this. – Barbara Lawton (A happy, happy fan).
Source:  Photo is courtesy of Karen Calanchini, Food Stylist and Photographer, of Redding, CA.
Comments and Reviews