Weeknight Porchetta Recipe
Although, not made in the traditional Italian way, this delicious dish comes together quickly for a satisfying weeknight dinner.  I have adapted this Bon Appetite recipe for weeknight porchetta to include sweet banana peppers, which I had frozen from our summer crop.  You could substitute another pepper of your choice, use some onions, or even carrots if you wish.  It is delicious, and filled with wonderful flavors, and beautiful to serve.  It is a garlic and rosemary lover's dream!  This is a complimentary and delicious dish for my Cabbage Gratin Recipe.
This Weeknight Porchetta recipe, comments, and photos were shared with my by Karen Calanchini, Food Stylist and Photographer, of Redding, CA.  Recipe was slightly adapted from Bon Appetit magazine, January 2015, by Alison Roman.
More great Pork Recipes.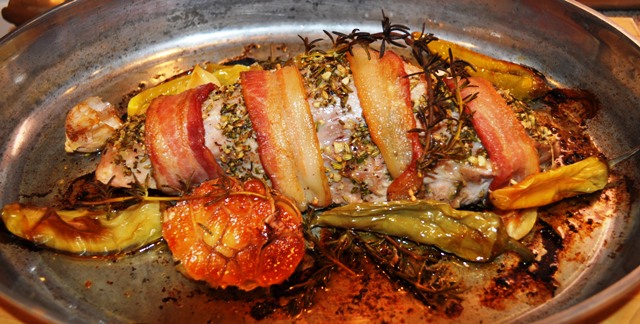 Weeknight Porchetta Recipe:
Keyword:
Weeknight Porchetta Recipe
Ingredients
4

garlic

cloves, finely chopped

1

or 2 heads of

garlic,

cut crosswise (this means horizontally, not through the base)*

1

tablespoon

rosemary,

fresh, coarsely chopped, plus 4 sprigs of rosemary

1/2

tablespoon

fennel seeds,

coarsely chopped

1 1/2

teaspoons

kosher salt

2

tablespoons

olive oil,

divided

Black pepper,

freshly ground, to taste

1

(1 1/2 pound)

pork tenderloin roast**

2

slices

bacon

(use a good brand of bacon cut into thick slices)

4 to 5

sweet

banana chile peppers***
Instructions
Trim the tenderloin roast of fat and silver skin. Silver skin is a silvery-white connective tissue. It doesn't dissolve when the tenderloin is cooked, so it needs to be trimmed away. If the silver skin is not trimmed off, it will cause the tenderloins to curl up into the shape of a quarter moon. Using paper towels, dry the pork tenderloin; set aside.

Mix together the chopped garlic, rosemary, fennel seeds, salt, and 1 tablespoon oil in a small bowl and season with pepper.

Rub the prepared garlic mixture all over the pork roast. Scatter rosemary sprigs in a roasting dish that is large enough to hold the meat and other ingredients. Place the pork roast on top of the rosemary sprigs.

Take a slice of bacon and stretch is out a little, and then cut in half. Do the same with the second slice. Lay the bacon slices on top of the tenderloin and secure the ends of the bacon with toothpicks to keep it in place.

Place the halved garlic heads up against the tenderloin roast, cut side down. Then lay the peppers around the garlic. Drizzle remaining 1 tablespoon of oil all over the ingredients in the pan. If you do this in the morning, cover the roast and put it into the refrigerator for the day. If you prepare the meat in the morning, you will need to bring it down to room temperature prior to cooking, by placing it on the counter for about 30 minutes.

If you are cooking the roast right away, preheat oven to 425 degrees F. and place roast into oven, uncovered.

Cook roast for approximately 30 to 45 minutes or until a meat meat thermometer inserted into the thickest part of the roast registers an internal temperature of 140 degrees F. to 145 degrees F. for medium rare. Transfer to a cutting board and let rest for 10 minutes before slicing.

Serve roasted garlic heads alongside the roast so everyone can squeeze out the delicious, golden cloves.
Recipe Notes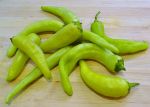 * A head of garlic is the bulb, from which you break off individual garlic cloves.
** Pork tenderloin comes in a package with 2 small roasts.  Cook both of them if you need to, but then double the other ingredients.  If you cook only one, rewrap the second tenderloin for freezing.
*** Also known as yellow wax pepper and banana chili.  It's name comes from the fact that its shape and color resemble a banana.  Most banana chile peppers are typically yellow, but they can also be orange or red.  It's flavor varies from mild to moderately hot depending on the maturity of the pepper, with the most ripe being sweeter than younger chiles.  Yellow peppers are generally served pickled.

I get many readers asking what cooking/meat thermometer that I prefer and use in my cooking and baking. I, personally, use the Thermapen Thermometer. Originally designed for professional use, the Super-Fast Thermapen Thermometer is used by chefs all over the world.  I only endorse a few products, on my web site, that I like and use regularly.
You can learn more or buy yours at: Super-Fast Thermapen Thermometer.
Sponsored Content
Comments and Reviews