This Zucchini Pizza Crust recipe is gluten-free and flavored with savory herbs of thyme and oregano. The flavor and texture of the pizza crust was an unexpected surprise! It works perfectly, is very tasty, and you can use what you have available in your refrigerator to use for the pizza toppings. This crust cooks at a high temperature, 550 degree F. which produces a crispy crust. The toppings came out perfect too.
This delicious Zucchini Pizza Crust recipe, comments, and photos were shared with me by Karen Calanchini, Food Stylist and Photographer, of Redding, CA.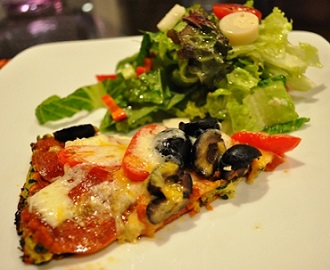 Pizza Recipes, Squash Hints, Tips, and Information, and more delicious Squash Recipes.
Zucchini Pizza Crust Recipe:
Keyword:
Zucchini Pizza Crust Recipe
Servings
:
2
to 3 servings
Instructions
Preheat oven to 550 degrees F.

Place the pizza stone, if using, in the oven to preheat. A pizza stone should be placed on a oven shelf and preheated with the oven. Preheat the stone to the temperature you'll be cooking the pizza at BEFORE you put the pizza dough on the stone. Pizza stones need at least 20 minutes to heat up fully. Once pre-heated, the stone evenly transfers intense heat to the food being cooked, ensuring a particularly crisply baked base.

Place shredded zucchini into a large bowl with the 1 teaspoon of salt and mix well. Let sit for 20 minutes. Put zucchini into a piece of cheese cloth and, using your clean hands, squeeze the excess moisture out of the zucchini; discard the water. Place the zucchini back into the bowl, and using your hands, mix in the cheese, almond flour, garlic, oregano, thyme, egg, and additional 1/4 teaspoon salt. Pat it down thoroughly as you want it tightly formed together.

Either use a parchment-lined baking sheet or use a sheet of parchment paper on your pizza peel (this is what I did). Place the zucchini crust mixture onto the parchment paper. Using your hands spread the mixture to form a circle about 12 inches in diameter, keeping the crust about 1/2-inch thick. Pinch the edges up so that it forms a nice edge. Transfer the crust on the parchment paper to the preheated oven and place on the preheated pizza stone.

Using Pizza Peel: Slide the zucchini crust (with the parchment paper) onto your hot pizza stone. Once cooked to your liking, remove the baked zucchini crust (along with the parchment paper) from the oven and let cool before adding your toppings.

Using Baking Sheet: If using a parchment-lined baking sheet, place it on the oven rack of the hot oven. Once cooked to your liking, remove the baking pan with baked zucchini crust (along with the parchment paper) from the oven and let cool before adding your toppings.

Pre-bake the Zucchini Pizza Crust for approximately 8 minutes or until the crust begins to brown at the edges. Using a gloved hand, remove from the oven (leaving the pizza crust on the pizza peel or baking pan) and transfer onto a solid surface.

Now you can build your pizza: As a suggestion, I used homemade Tomato Sauce that I had made from frozen Slow-Roasted Tomatoes that I had roasted last summer. You may use any commercial pizza sauce you like, or tomato sauce heated and cooked with oregano). I also added thinly-sliced red onions, halved plum tomatoes, turkey pepperoni, fresh minced garlic, shredded cheddar and Havarti cheese, and halved black olives. Be creative and use what you have in your pantry and refrigerator.

Once you have created your toppings, transfer the pizza back to the oven and bake for an additional 4 to 5 minutes or until the cheese is melted and pizza looks heated through.

Remove pizza from oven (using your gloved hand), and transfer to a solid surface. Add any additional toppings that you desire. Let rest a minute or two before cutting into serving sizes.
Recipe Notes
* Almond Flour is made from blanched almonds.  It is low in carbohydrates and is a good source of protein, fiber, Vitamin E, and magnesium.  You can substitute all-purpose flour, but then the crust will not be gluten-free.
** Pizza Topping Ideas:
Tomato sauce, Marinara sauce, or salsa
Pepperoni
Sliced avocados or guacamole sauce
Grated cheese (of your choice - such as cheddar, mozzarella, parmesan, etc.)
Roasted bell peppers, thinly sliced or chopped
Assorted roasted vegetables
Caramelized onions
Olives
Fresh tomatoes, sliced or chopped
Shredded lettuce
Basil Leaves for garnish
Source:  This recipe has been adapted from the website, My Humble Kitchen, by Diana Bauman.
Comments and Reviews