Killer Shrimp Appetizer is an appetizer treat that your family and guests will definitely love!  A finger-food shrimp appetizer that is served warm with some French bread to soak up the delicious sauce.  This Killer Shrimp appetizer is so easy to make and serve to your guests, in fact this appetizer is sure to impress everyone you serve it to.  You will also love the sauce.
Etiquette of eating shrimp:  If large shrimp are served on a platter with sauce and no fork, pick up with your fingers, dip into sauce and put to your mouth.  When eating shrimp with the tail still on, hold the shrimp by the tail and dip it into the sauce once.  Eat it in one bite if it is not too large.  Otherwise, eat it in two bites.  Do not dunk the second bite into the sauce!  Then discard the tail as you would olive pits or toothpicks.  So, be prepared and have plenty of napkins on hand.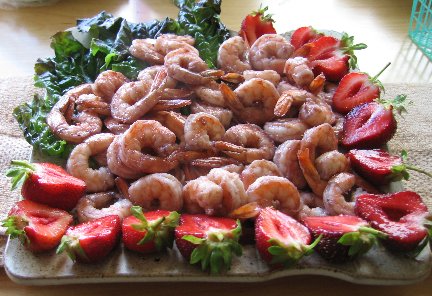 Check out my Appetizer Recipes for more great cooking ideas.
Also check out Purchasing, Deveining, Cooking, Brining, and Etiquette of Shrimp.
Killer Shrimp Appetizer Recipe:
Keyword:
Killer Shrimp Appetizer Recipe
Ingredients
1/4

cup

butter

1

tablespoon

olive oil

1

tablespoon

chili sauce

2

tablespoons

Worcestershire sauce

2

teaspoons

lemon juice,

freshly squeezed

1/2

lemon,

sliced with peel

4

large cloves

garlic,

minced

1

teaspoon

parsley,

chopped

1

small

Anaheim chile pepper,

chopped (optional)

1

tablespoon

crushed red pepper flakes

1

teaspoon

oregano, 

dried

1

tablespoon

Tabasco

pepper sauce (or your favorite hot sauce)

1

pound large

shrimp

with tails, peeled and deveined, uncooked

French bread

for dipping
Instructions
In a large saucepan over medium heat, simmer butter, olive oil, chili sauce, Worcestershire sauce, lemon juice, lemon, garlic, parsley, Anaheim chile, red pepper flakes, oregano and Tabasco until well blended. Remove from heat and let cool.

Place sauce in a zip-lock bag; add the prepared shrimp. Refrigerate at least 8 hours or overnight.

Preheat oven to 350 degrees F.

Place sauce and shrimp in a large shallow baking pan; bake approximately 10 to 15 minutes or until shrimp are opaque in center (cut to test). Remove from oven.

Place shrimp mixture in shallow bowls and serve with a crusty French bread for dipping in sauce (this dish is eaten with your fingers).
Recipe Notes
* Learn how to prepare Shrimp.
Comments and Reviews