A bit of organization makes for tasty meals for two
Hit the market and it sure seems like everyone is cooking for a crowd.  Everything seems to be in such large packages.
In reality, there are a lot more folks cooking for one or two than you might think.  There are of course those seniors and empty nesters.  But there are also the newlyweds, the college kids, the single parent and child, and others, like my daughter and her roommate and all those other young professionals.
It does take a bit of organization to make cooking for two a pleasurable experience.  With some organization, you will not find yourself eating goulash leftovers for an entire week.
Here are some organizing ideas for cooking for just two: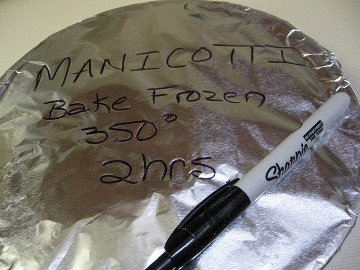 Purchase storage bags.  Purchase a supply of freezer  bags, plastic wrap, foil, plastic dishes and a permanent marker. This way you can be prepared for those too-large-for-you portions.
Label everything.  Sure you think you'll remember but once frozen, it is often hard to tell which dish is which.  Use your marker to write on the foil or bag.  I have found sticky notes work in the freezer too.  You can use one on the top of your plastic lids so that you can reuse the dish many times.
Use a marker.  Frozen food all start to look alike.  Use a marker to write on the dish.  Adding the cooking temperature and time will save you from looking it up later.
Perhaps your recipe needs only half of a can. Place the
remaining half of the can in a small freezer bag or plastic container, label and freeze for another day or use.
Most recipes seem to serve four, six or eight.  However, you do not need to divide the recipe in two.  This often results in less than satisfactory results.  Instead, prepare the dish but divide it in two.  Have half for dinner and place half in the freezer.  For casseroles, you can freeze them unbaked.  For soups or stews, cook the dish and freeze half after it is cooked.
Individual casserole dishes are a great gift to you. Dishes, such as lasagna, chicken tetrazzini and tuna casserole, can be prepared and divided among the small casseroles. Freeze the extras and pull out one or two, as needed, on a busy night.
Prepare favorite dishes.  When cooking for two, still prepare your favorite family-sized dishes, like this manicotti. Instead of baking one 9×13-inch casserole and eating leftovers, divide the ingredients into two smaller dishes.  Cook one and freeze the other for another day.
Shop in smaller quantities.  When cooking for two, the big box discount stores are probably not your friend.  You will surely tire of the five pounds of anything before it is consumed.  You might think you are saving money but if you end up wasting some of what you bought, then you haven't saved anything.
Dividing meat packages.  Continue to buy the meat you enjoy but divide the package into smaller portions and place some in the freezer.  When buying something larger, like a roast, you can ask at the meat counter for them to split into two pieces for you.
Not into leftovers?  Reuse the leftovers in a new way so they have a fresh taste.  Roll the leftover baked chicken in a tortilla and top with enchilada sauce and cheese.  Add the leftover macaroni to a can of chili for instant chili-mac.
Purchase frozen vegetables in plastic bags. This allows you to pour out just the right serving for two and reseal the bag to preserve the rest. Rubber bands are great for this purpose.
Dry goods.  For dry goods, such as pastas, beans and rice, use what you need and then reseal the container. Sometimes, you can just place the entire box in a quart or gallon plastic bag and zip it shut to keep it fresh.
Desserts for two pose a special challenge.  While you can make a whole cake or pie, you might not want to be tempted by having the entire cake on that kitchen counter.  Follow your favorite dessert recipes but in small portions. Turn that cake recipe into cupcakes, freezing some of them.  Turn the pie recipe into tarts.  Look for dessert mixes that make an 8 x 8-inch size pan rather than a 9 x 13-inch pan.  It is also possible to make half of a cake mix.  Use half of the mix with half of the listed ingredients and pour into only one cake pan.  Seal the bag with a twist tie for another day.  When making desserts, such as brownies or cookies, divide them into individual portions and wrap them separately. This way they are easy to grab and go.
Using salad bars.  When making a casserole that calls for half-cup of green pepper or a few ribs of celery, head to the salad bar.  Instead of an entire head of celery going bad in the refrigerator drawer, you can scoop up just the portion you need.
Fresh produce bags.  Check out Getting ahead with your lettuce – Using fresh bags, produce preservation bags, and green bags.  If you have trouble using fresh produce before it can go bad, try some of the fresh produce bags, sometimes marketed as "green" bags.  These extend the life of produce.
---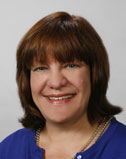 Author Lea Schneider, a columnist for What's Cooking America, is a freelance writer and organizational expert whose organizing ideas have been published in many magazines including Woman's Day, Better Homes and Gardens Kitchen and Bath Ideas, Family Circle, Parents Magazine, as well as numerous newspapers and websites.  She is a member of the Association of Food Journalists.
Getting organized is all about living simpler and making things easier.  The bonus is it often leads to saving money.  Lea Schneider's kitchen organizing columns tell you how to organize the many things that relate to kitchens, menus, meals, and special food events.
Check out all of Lea Schneider's helpful home and kitchen columns at Organizing Kitchens, Pantries, Menus and Meals.
Comments and Reviews