Winter's the perfect time to make a clean-break with kitchen grime
Even the tidiest of kitchens needs a "good going over," as my mother used to say.  Winter is a great time to tackle this traditional spring-cleaning chore.  After all, when beautiful spring days arrive, you will not want to spend them cleaning!
With an organized cleaning routine, you will zip through this in no time.
1. Work from the top down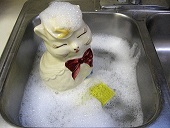 Cleaning high spaces is bound to shake loose some dust.  You do not want to re-clean the countertops or floors so start at the top
Remove any home dor from the tops of cabinets, if they are the open-top style.  Dust or wash the décor.  Rinse artificial plants of dust and set aside to dry.
Vacuum dust bunnies from the cabinet tops.  Replace décor.
Wipe down the outside of upper cabinets with mild, soapy warm water.
Clean the top of the fridge.

2. Check out the walls
Clean off any splatters on walls or fingerprints on door jams.
Use glass cleaner to clean any framed pictures or clocks.  You will find they may have a thin film of grease on them.
Use clean soapy water to wash backsplashes.  If you have tile, you might need a soft brush to clean in the grout areas. Dry with a soft towel.
3. Hit the appliances
Clear the clutter from the outside of the fridge.
Wipe all the appliances first with warm, soapy water to remove food and grease.  Begin with the stove hood followed by the stove.  You can then follow this with an appropriate stainless steel polish or for other finishes; a glass cleaner will give you a shiny finish.
If needed, this is a great time to turn on your self-cleaning oven and wipe out the microwave.
Begin your microwave cleaning by heating a cup of water so that the steam from it softens any splatters.

4. Finish up
Continue your cabinet cleaning by washing the face of the lower cabinets.
Wipe off baseboards.
Clean the inside and outside of the trash can.
Do counter tops last to insure they remain sanitary.  Clear the clutter and then wipe off counter tops, making sure to use clean water, clean sponge or a bit of disinfectant of your choice.
Sweep and then mop the floor.
---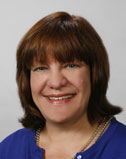 Author Lea Schneider, a columnist for What's Cooking America, is a freelance writer and organizational expert whose organizing ideas have been published in many magazines including Woman's Day, Better Homes and Gardens Kitchen and Bath Ideas, Family Circle, Parents Magazine, as well as numerous newspapers and websites.  She is a member of the Association of Food Journalists.
Getting organized is all about living simpler and making things easier.  The bonus is it often leads to saving money.  Lea Schneider's kitchen organizing columns tell you how to organize the many things that relate to kitchens, menus, meals, and special food events.
Check out all of Lea Schneider's helpful home and kitchen columns at Organizing Kitchens, Pantries, Menus and Meals.
Comments and Reviews