Prepare for the Holidays – Head Back to Basics in Organizing 
With the holidays fast approaching, you could probably use a little help in making your kitchen tidy and getting it organized.  Getting organized in the kitchen means getting down to the basics.  Organizing for holiday entertaining is easy using this basic formula for kitchen organization, based on a recent kitchen over-haul I did.  Use these basic ideas to get organized for all the holiday cooking and company coming your way: 
1.  Go for space:  Clear the counter tops as much as possible in order to have room to prepare and serve food.  Use a basket to corral papers, pens, and mail.  Use another basket to hold bread, pastries, and open snacks.  Limit appliances to the few used daily and stow away the rest.  Find homes for all of the miscellaneous items your counter has attracted.
2.  Location:  Put things close to where you use them.  In this kitchen, the dishes were located as far from the dishwasher as possible.  My first fix was to move plates, cups, and bowls to the cabinet over the dishwasher.
3.  Convenient:  Place items near or next to each other so each project is easy.  In this case, we located preparation items for coffee, tea, and hot chocolate over the microwave and coffee pot.  Grab a mug and you are ready to go.  The cabinet originally had the dishes in it but were far away from the dishwasher.  The coffee, tea, sugar, and other items were left out on the counter because they didn't have a home.
4. Think like a chef:  A good chef loves their kitchen tools and gadgets.  Just like out in the garage, you always want to grab the right tool for the job.  Group together your tools such as graters, measuring cups, slicers, rolling pins, and more.The before cabinet had a hodge-podge of items.  Now the tools are handily together.
5.  Go Vertical:  Make good use of vertical spaces, such as we did with this pantry door.  An over-the-door organizer gave use added space and meant no more hunting for cooking oils, vinegars, and sauces.  This door was empty.  Now it is a great storage area.
6.  Divide and Conquer:  In the pantry, divide goods into use or type of item.  Put all your breakfast food together, your rice and pasta together, your snacks together, and so on.  Baskets can help you create divisions in your pantry.
7.  Keep it organized:  Label!  Label the shelves and the baskets to help keep things organized.
---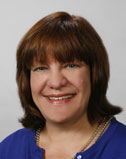 Author Lea Schneider, a columnist for What's Cooking America, is a freelance writer and organizational expert whose organizing ideas have been published in many magazines including Woman's Day, Better Homes and Gardens Kitchen and Bath Ideas, Family Circle, Parents Magazine, as well as numerous newspapers and websites.  She is a member of the Association of Food Journalists.
Getting organized is all about living simpler and making things easier.  The bonus is it often leads to saving money.  Lea Schneider's kitchen organizing columns tell you how to organize the many things that relate to kitchens, menus, meals, and special food events.
Check out all of Lea Schneider's helpful home and kitchen columns at Organizing Kitchens, Pantries, Menus and Meals.
Comments and Reviews