Is it really a good deal when you spouse offers to cook if you clean up?  Well, that depends on how messy they are!  I heard someone brag the other day that they rarely cook dinner because they do the clean-up.  I was thinking that there was no way to picture if that was super easy or super hard.  It also got me to thinking about no-mess cooking.  Also known as the clean-as-you-go method.  When you clean as you go, there is very little mess to clean-up post dinner.
Every time I cook, I begin the same way, by running some hot water and making a few inches of soapy water.  My daughter commented one day "Mom, you are the only person I know who does this besides me."  She had a friend ask her why she was making soapy water when there was not anything to wash and that launched our conversation on the clean-as-you-go method.
If you dread walking into a kitchen with sticky countertops, messy mixing bowls and dishes piled high in the sink, then this organizing tip list is for you.
Organizing No Mess Cooking or Clean-As-You-Go

Of course, if it impossible to end up with a fairly clean kitchen if you start cooking in a messy one.  You're just adding mess to mess and it piles higher.  So, sad but true, you have to clean up to clean up (even if it isn't your mess!)
 Put Away:  Delay cooking by five minutes to tidy up first.  Empty the dishwasher, if need be, and load it with dishes in the sink or on the counters.  Put away clean dishes left in the drainer to dry.  Empty the trash can if you are out of room.
2.  Prepare:  Run some hot water.  Add soap for clean dishwasher.  You don't need a sink full of hot water, just a few inches.
3.  Be Sanitary:  Use your hot, soapy water to wipe off kitchen surfaces before getting out food.
4.  Get It Together:  Gather all your ingredients at one time to save yourself multiple trips to the pantry, freezer, and refrigerator.  This is called Mise en Place and you can read more about that at our article.
5.  Get A Scrap Bowl:  Instead of moving back and forth between your food prep and the disposal or trash can, keep a scrap bowl by your cutting board.  Make just one trip at the end and put the bowl straight into the dishwasher.  One trip in a container is much less likely to create any drips or messes than  moving things by hand.
6.  Stop Messes:  Place a spoon rest, small bowl, or plate by the stove to hold cooking utensils and prevent sticky, dried on messes before they start.
7.  Wipe Up:  Grab your soapy sponge and wipe up spills or messes as you go.
8.  Move the Trash:  Either pull out your under-the-counter trash can or slide over your trash can so that it is near where you are working.  The same applies to a recycle bin.  This means you can immediately toss in boxes, wrappers, and trash as you open products.  If you recycle out of the kitchen, use a large bowl or tub on the counter to collect recyclables and contain any messes.  Make one trip.
9.  Load as you go:  As you finish a cooking step, such as a saute pan, load the skillet or dish into the dishwasher.
10.  Wash as you go:  If you have something that does not go in the dishwasher, such as wooden handle chef knife, wash it in your soapy water and stow it away when done.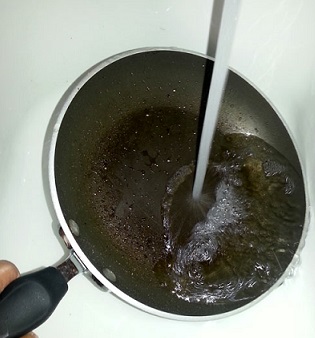 11.  Soak:  If anything needs soaking before washing, fill with soapy water before dining so it will be easy to clean up later.
12.  Tidy Up:  Just before announcing dinner is ready, take a moment to return ingredients to their home, load any last dishes into the dishwasher and wipe up spills.
At this point, the only dishes remaining are those holding your food and those that you will eat on.  Loading those in the dishwasher or hand washing won't take long at all!
In addition to using the easy, clean-as-you-go method, organization can help you keep the kitchen cleaner and for longer.  Having a clearly defined and labeled home for tools and ingredients makes it much easier for family members to find and return items.  If you would like to get those cabinets, drawers and pantry in order, turn to Organizing Kitchens, Pantries, Menus and Meals columns to find just what you need.
If you have something you would like help with organizing in your own kitchen, that we haven't covered here, let me know and I will work up some perfect how-to steps for your organizing question.
---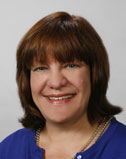 Author Lea Schneider, a columnist for What's Cooking America, is a freelance writer and organizational expert whose organizing ideas have been published in many magazines including Woman's Day, Better Homes and Gardens Kitchen and Bath Ideas, Family Circle, Parents Magazine, as well as numerous newspapers and websites.
She is a member of the Association of Food Journalists.  Getting organized is all about living simpler and making things easier.  The bonus is it often leads to saving money.  Lea Schneider's kitchen organizing columns tell you how to organize the many things that relate to kitchens, menus, meals, and special food events.
Check out all of Lea Schneider's helpful home and kitchen columns at Organizing Kitchens, Pantries, Menus and Meals.
Comments and Reviews