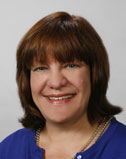 Author Lea Schneider, a columnist for What's Cooking America, is a freelance writer and organizational expert whose organizing ideas have been published in many magazines including Woman's Day, Better Homes and Gardens Kitchen and Bath Ideas, Family Circle, Parents Magazine, as well as numerous newspapers and websites. She is a member of the Association of Food Journalists.
Getting organized is all about living simpler and making things easier. The bonus is it often leads to saving money. Lea Schneider's kitchen organizing columns tell you how to organize the many things that relate to kitchens, menus, meals, and special food events.
Check out all of Lea Schneider's helpful home and kitchen columns at Organizing Kitchens, Pantries, Menus and Meals.
---
It is noon and I am hungry.  In fact, I think I will phone up my girlfriend, tell her I am starving, and see if she wants to head out to lunch at the local deli.
The truth of the matter is that I am not THAT hungry nor am I starving.  I had dinner last night and breakfast this morning.  If you are like me, you probably toss out the terms hungry and starving without contemplating what they really mean.
Last month, I had a back scene tour of a local food pantry.  The tour led me to imagine having to ask for a bag of food and living off that bag for 5 days.
It would certainly challenge your organizing skills. Here is what you would get to survive for 5 days.
5 cans vegetables
1 can fruit
1 pound rice (or pasta)
1 bread
1 protein
1 quart of dry milk
"It is just barely enough for five days and you have to be very, very careful to stretch that for five days," said Cathy Sowell, program director for Manna Food Pantries in Pensacola, Florida.
The waste was enough to make me want to cry.  There were tubs filled with donations like poppy seed tart filling, steak marinade, cherry pie filling, taco seasoning packets, boysenberry jelly and all the other oddities that we toss in our bags without a thought.  It was a pile of food yet that food would not fill the belly of a crying, hungry child.
These are the kinds of things all of us have tossed in a bag at one time or another, never stopping to picture the real need for a bag of rice or a can of peas.
"We are seeing more families and larger families that are hungry," she said about the current economy.  "People are losing their jobs and people are hurting.  We are averaging 15 percent more that last year and it will probably only get worse."
Shoot!  I am starting to get sticker shock at the grocery store.  Yesterday evening, my husband came in from the shopping and said "Are groceries getting more expensive or is it me?"
You want statistics, I ask?  Milk is up 26 percent.  Eggs are up 40 percent.  You bet they are more expensive.  No wonder people are running out of food before the next pay check arrives.  Combine the rising cost of food and the gas prices and it is harder to live on your paycheck. Food prices are expected to rise about 4 percent this year, according to the US Department of Agriculture forecast.
I bet you feel like I do….that it is hard to make a difference if you are just one person.  But, you can do so.
Lea's Old Method of Donating:
Go to pantry. Rummage around in the back. Grab anything that has become pushed to the back that we didn't eat.
Grab a few things that I have extra of. Then look at bag and feel guilty and throw in a box of cereal or other item.
Lea's New Method of Donating:
Imagine cooking a dinner from what is in that bag. Is there anything remotely healthy in the bag?
What if I was the one who had to eat from that bag for a week?  
---
What to donate from your pantry:
To learn what to donate, I am turning to the expert.  Cathy Sowell has spelled out the kinds of things that hungry people in this country really need and the things they don't need.
Dry milk- one of the first things to run out
Canned vegetables
Canned fruits
Protein – canned meat, canned fish, dry beans, peanut butter
Soups
Canned dinners – such as canned ravioli
What not to donate from your pantry:
Don't send your sweets, like cake mixes. Don't send your salty snacks. Concentrate on nutritional foods. As Cathy says "If I need to give someone food, I need to give them some food that will stick to their ribs."
Don't send flour, sugar and other ingredients. Most of the hungry that come to the food pantry don't know how to cook from scratch.
Don't send anything that you opened. If it is opened, they have to throw it out.
Don't send your old stuff. If those cans are older than 2 years, they will have to throw them out. The same with cans that are bulging, rusting, or leaking.
Cathy was great to show me how each bag is loaded with a combination of nutritional ingredients.  One bag is prepared for each hungry person and the pantry is very careful to make sure the bags contain different items.  This way, each member of a family of four receives a different bag so the family as a whole would not receive four jars of peanut butter.
The food drive is May 10.  Each time you shop this month, make it a plan to buy extra nutritional food for your food pantry.  Grab some rice, some beans, and a box of dry milk.
Wondering what happens to all those oddities that people donate. After a bag of nutritionally sound food is prepared, one odd item is dropped on top – sort of an unhealthy bonus.  The food that is expired opened or not useable to the hungry goes to a pig farm.
Nothing goes to waste.  That should be the same motto you use for your pantry.
As for me, I have decided to get a cup of coffee and keep on working.  I don't think I am hungry after all.
Comments and Reviews