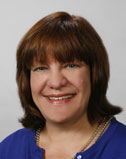 Author Lea Schneider, a columnist for What's Cooking America, is a freelance writer and organizational expert whose organizing ideas have been published in many magazines including Woman's Day, Better Homes and Gardens Kitchen and Bath Ideas, Family Circle, Parents Magazine, as well as numerous newspapers and websites. She is a member of the Association of Food Journalists.
Getting organized is all about living simpler and making things easier. The bonus is it often leads to saving money. Lea Schneider's kitchen organizing columns tell you how to organize the many things that relate to kitchens, menus, meals, and special food events.
Check out all of Lea Schneider's helpful home and kitchen columns at Organizing Kitchens, Pantries, Menus and Meals.
---
Beautiful table settings or tablescapes, which combines the words table + landscape, begins with a bit of organization.  Organization and creativity go hand-in-hand.  Nearly every creative project begins with some kind of planning, organizing or gathering.  A beautiful holiday table is no different.  The basic rule of organizing applies to planning a tablescape.  That rule, that like items go together, helps you set the theme.Pull out your box of decorations and see what kinds of like items you own.  It could be based on color, such as a grouping of blue items or red items.  Or, it could be a grouping of things, such as angels or elves.  This is the time to showcase what you collect.
A big part of your table dor will be the table covering.  If you do not own a tablecloth in the color you need, consider if you have a sheet, quilt or piece of fabric that works.
Snowballs Theme:
On the first table, is a theme built around snowmen, which I collect.  This also means white is a theme too.  Snowballs are not only white but are round so shapes helped set the theme.  I began to gather things that were, white, round or snowy.
Different heights add to the appeal of a tablescape.  This way, the eye is not bored as it roams.  I add a bit of height by planning a few vases in the scene.  I use evergreens plucked from my yard and some carnations, which are white and round so as to repeat my theme's tone.
For this table, I used a white tablecloth and white napkins tied with white ribbon.  I added various snowmen I have collected over the year, a garland of "ice," white glass ornament balls and the small vases of greens and carnations.  To add to the effect, I dug through my Christmas ornaments to find some snow-related ornaments such as the green ice skate pictured or a tiny sled.
Bright Red Holiday Theme:
On the second table, I wanted to make use of some cute holiday statues or figures.  As I set them out, I realized that they all had touches of red.
I began with a traditional red poinsettia tablecloth and topped it with a puddle of red satin.  The satin is a remnant from fabric store.  It is un-hemmed so the raw edges were just tucked under the puddle.  Puddling the fabric gives you a variety of heights.
After the satin was puddled some small vases of red carnations were added.  The figurines were grouped about the table so that each place setting had a few to look at.  Then red glitter pine cones and beaded garland were tucked here and there for added effect.
Napkins were tucked into napkin rings featuring Santa.  You can easily replicate this look by tying napkins with ribbon and attached a small ornament to the ribbon.
---
Want to organize a tablescape – Here is a planning checklist:
Decide on a theme.
Decide on a color.
Choose a tablecloth or other table toppings
Plan on tucking in some greens or flowers in a vase for height.
Go tall for a buffet tablescape – but low for a conversational dinner table.
Arrange tallest items first.
Add medium height items next, spreading them down the table.
Add short items to the front last, so they are sure to show.
Comments and Reviews