Organizing Snacks in the Pantry
Quick quiz:
How can you tell it is summer?
Someone is standing in front of the pantry door yelling, "There is nothing to eat in the house!"
You reach for a box of snacks you love and find they are empty but the box is till in the pantry.
You settle on another snack, pop some of your mouth and discover they taste as stale as the bottom of your flip-flop.
All of the above.
The correct answer is of course 4.
---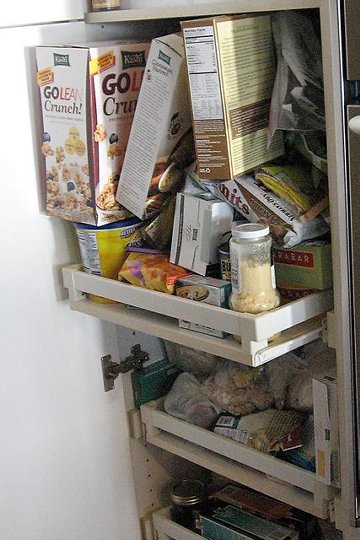 If you have a houseful of children, or even a houseful of adult company, you probably feel like the snack cabinet should have a revolving door.  If your pantry looks like this one, then that could be the reason for the quiz numbers 1, 2, and 3.
Clearly, trying to find a snack in this pantry would make you think there was nothing to eat.  Some of it is hidden.  Some of it is empty boxes.  Some of it is stale.  After all, who could see what  there is to eat?
With a large family, like the one that owns this pantry, you have many people getting in and out of the snack cabinet.  One person opens something and another comes along and opens something else.  Then a third person comes in and opens a duplicate box, because they did not see the first one was open.  With grocery prices going up and up – and snacks are an expensive indulgence – who can afford to have to pitch them out after only a serving or two has been eaten?
One great organizing solution is to split your snack shelf.  Have a shelf for open snack packages: cookies, crackers, chips, granola bars and so forth. Have a separate area for new, unopened snacks.  Label both areas.  Then, take the time to ask family members to eat from the opened snack shelf first.  If they finish a package, then they may open a new one.
Not only does this prevent waste but it makes shopping easier.  A glance at the new snack shelf will show if you need to replenish supplies.
Tips to Maximize your Snack Dollars:
Place opened packages in zippered plastic bags, which can be reused for the next snack.  The snack bags can be stored in see-thru plastic containers or baskets.
If you find your snacks have become stale, try crisping them in the oven.  This especially works with crackers and tortilla chips but it does not hurt to try it with other goodies.  Spread them on a cookie sheet and place in a preheated 300 degree oven.  Bake 5 to 10 minutes, keeping a close watch so they do not burn or over-brown.  Allow to cool completely and then store in an air-tight container.  Wait to sample the item until it is completely cool.  It is often difficult to tell if the item improved if you sample while it is hot.
Already tried to crisp the stale snack but it did not work?  Throw them back in the plastic bag and crush with a rolling pin.  Add a few spices, like lemon pepper and garlic salt, then use it as a coating to bake chicken, fish or pork chops.
Sometimes, if there are only small amounts of this bag or that snack, it is hard to get someone to eat that little bit.  Gather those bits of Goldfish crackers, pretzels, cheese crackers and so forth in a clear container.  Add a few raisins or chocolate chips, thus creating your own trail mix.  Put it back in the snack cabinet and watch it disappear.
---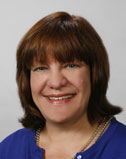 Author Lea Schneider, a columnist for What's Cooking America, is a freelance writer and organizational expert whose organizing ideas have been published in many magazines including Woman's Day, Better Homes and Gardens Kitchen and Bath Ideas, Family Circle, Parents Magazine, as well as numerous newspapers and websites.  She is a member of the Association of Food Journalists.
Getting organized is all about living simpler and making things easier.  The bonus is it often leads to saving money.  Lea Schneider's kitchen organizing columns tell you how to organize the many things that relate to kitchens, menus, meals, and special food events.
Check out all of Lea Schneider's helpful home and kitchen columns at Organizing Kitchens, Pantries, Menus and Meals.
Comments and Reviews