Get ideas for maximizing your space
Boy, do I ever admire my client's new kitchen cabinets!  Sure the cabinets are gorgeous on the outside, but what I love is the inside.  Her cabinet purchase came after the water heater in the attic burst, raining down in the house and ruining the kitchen and several other rooms.  As much as I admire them, I am certainly not willing to endure that catastrophe and expense to get those fancy pull-out drawers in my older kitchen.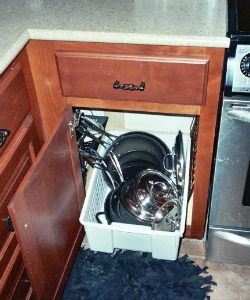 If you are like me, and have an older kitchen, then you have probably experienced frustration with lower cabinets.  When trying to find something, it means getting on your hands and knees, banging your head and rattling around in a dark hole.  By the time you have found it, you have muttered a few choice words!
There are some wonderful inexpensive kitchen solutions that you can install in lower cabinets.  When I say "you," I really mean you.  If I can do it by myself, you can do it too.  The installation usually only involves three screws.  Two solutions for older lower cabinets are turntables and pullout drawers.  The turntables require no installation.  They are available in some very large sizes.  These are great for bottles, such as cleaning supplies, or even small appliances, like the mini-chopper, electric knife and so on
My favorite organizer in my older kitchen is the pull-out drawer. They are made by several manufacturers and because of this; they come in a variety of sizes. They are great for just about everything. I have them in my lower pantry shelves. One contains my baking supplies, another contains my side dishes of noodles, pastas, rice and dried beans and still another is full of baking mixes. Use them for plastic ware, pots and pans, tea towels….just about everything.
The cost varies among the wood, metal and plastic varieties but you can find some starting around $15. You can find these pull-out drawers in department stores in the kitchen section and in home improvement stores in the organizing section. If you don't find the right size locally, look on the Internet and in catalogs.
The drawers usually feature two parts – a runner that installs on the cabinet bottom and the drawer itself. Normal installation requires you to screw a couple of screws through the runner and into the cabinet bottom. Slide in the drawer and you are done.

Some tips for this project:
Measure – measure each cabinet before shopping. The eye can fool you and all lower cabinets may not have the same width. Measure the length, width and height. The height is important if there are any shelves in that lower cabinet that may get in the way of your storage plan.
Mark – Place your runner for the drawer into the cabinet in position.  Check to make sure that your cabinet will close properly. Once your runner is in the correct position, use a pen to mark the screw holes.
Install – it takes a lot less energy to screw in the screws if you start the hole first.  You can do this with a small drill bit or simply with a hammer and a nail – which is often my quick and easy trick.  Hammer a nail partway into the spot marked for the screw.  Use the hammer's claw to remove the nail.  Now it will be easy to get that screw started.  Place the runner back over the holes you have made and attach it with the screws. Simple as that.
Organize – No more banging your head in that dark hole!
---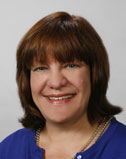 Author Lea Schneider, a columnist for What's Cooking America, is a freelance writer and organizational expert whose organizing ideas have been published in many magazines including Woman's Day, Better Homes and Gardens Kitchen and Bath Ideas, Family Circle, Parents Magazine, as well as numerous newspapers and websites.  She is a member of the Association of Food Journalists.
Getting organized is all about living simpler and making things easier.  The bonus is it often leads to saving money.  Lea Schneider's kitchen organizing columns tell you how to organize the many things that relate to kitchens, menus, meals, and special food events.
Check out all of Lea Schneider's helpful home and kitchen columns at Organizing Kitchens, Pantries, Menus and Meals.
Comments and Reviews