Cooking more puts a squeeze on kitchen space
Making the Best of Hard-to-Use Lower Cabinets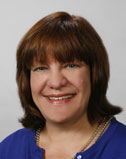 Author Lea Schneider, a columnist for What's Cooking America, is a freelance writer and organizational expert whose organizing ideas have been published in many magazines including Woman's Day, Better Homes and Gardens Kitchen and Bath Ideas, Family Circle, Parents Magazine, as well as numerous newspapers and websites.  She is a member of the Association of Food Journalists.
Getting organized is all about living simpler and making things easier.  The bonus is it often leads to saving money.  Lea Schneider's kitchen organizing columns tell you how to organize the many things that relate to kitchens, menus, meals, and special food events.
Check out all of Lea Schneider's helpful home and kitchen columns at Organizing Kitchens, Pantries, Menus and Meals.
---
With things heating up on Wall Street, they are probably getting hot in your kitchen too.
Economic conditions are driving more of us to cook more often.  The more you are in your kitchen, the more you probably wish for more space. The more you watch the news, the further away a new house and larger kitchen looks.
So just what do you do with your increasing supply of staples?  If you are like me, you are trying to save money both at the grocery and from not eating out.  This means you have a larger quantity of ingredients on hand than ever before.  You have also taken advantage of bulk buying or bought multiples when a favorite product is on sale.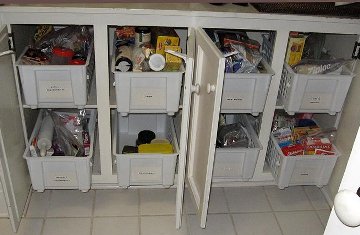 Make the kitchen you do have really work for you:  Take advantage of every square inch and that means adapting those lower cabinets to function.  The typical lower cabinet has a lot of wasted space.  You cannot see what is back there and use it so it is not often the first choice for food storage.  It most often contains kitchen clutter.
For one growing family, I found a solution by making use of existing cabinets in the adjacent laundry room.  The cabinets stored household essentials like light bulbs, candles, placemats, holiday dishes, dog treats and so forth.  While they were household essentials, none of the items had to be stored in the laundry room or even in the kitchen.  Re-purposing this space for food storage was essential.  All of the items formerly kept in the lower cabinets were distributed throughout the house to other storage areas – light bulbs to a shelf in the garage, placemats to a linen closet, holiday dishes with decorations and so forth.
Foods that were grabbed all the time, like breakfast cereal and snacks, were left in the kitchen cabinet for easy use.  Items that were only used for dinner preparation or seldom used, like dessert items, were moved to the laundry room.
Rubbermaid's Slide N' Stack baskets made this deep dark cabinet work.  Each basket was labeled.  For this family, the main categories are Rice/Beans, Pastas/Noodles, Mixes, Nuts, Beverage Mixes, Teas, Dessert Ingredients and Asian Ingredients.  Besides creating order, sorting into these baskets makes grocery shopping easier.  It is very simple to see that you are low on pasta or rice by checking that basket.  It is also good for your budget.  It is also easy to see, as in this case, that you have way too much tea and do not need to spend any more money on that.
How to Make this Work for You:
Clear out lower cabinets.  These often contain seldom used items.  Ask yourself if you really need to keep that item and if so, could you keep it in another location.  Be sure to ask yourself if you have too many of that item.  Just exactly how many skillets does a home need?
If you are like me, you don't have a new kitchen with pull-out lower shelves.  Adapt your cabinets by adding something that will slide out.  You could use plastic totes, wicker baskets, cardboard boxes covered in pretty paper or you could install plastic or wire baskets on runners that are found at home improvement stores or online.  Be sure to measure each cabinet.  They may look the same but be an inch or two different!
Sort your food items into basic categories into your bins.  Label everything!
Comments and Reviews