Salmon Rillettes, also know as Rillettes aux Deux Saumons, are a perfect make-ahead classic French dish to serve as an appetizer or a first course before dinner.  The combination of two different types of salmon are perfect in this dish.  The result is a lovely, buttery, smooth spread dotted with chunks of melt-in-your-mouth salmon.  A very elegant way to serve salmon to your guests.  One bite and everyone will be completely blown away by the taste!
These Salmon Rillettes can be made ahead of time of your event or party and refrigerated.  Make the rillettes up to 3 days ahead and store it in the refrigerator.  Serve at room temperature for maximum smoothness.  Makes an easy appetizer to serve your family and friends.  Everyone will want this recipe.
This outstanding French dinner menu using Salmon Rillettes was generously shared with my by Linda Sandberg of Newberg, OR.  Linda belongs to a Gourmet Dinner Group that delights in making wonderful foods that they share together.  Check out French Bistro Dining which includes this recipe.
Sources:  This recipe is by Thomas Keller and his cookbook, Bouchon.  Photos taken at the Bouchon Restaurant in Yountville, CA.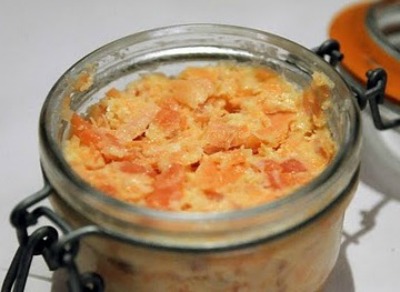 Salmon Rillettes Recipe - Rillettes aux Deux Saumons
Keyword:
fillettes aux Deux Salmon Recipe, Salmon Rillettes Recipe
Servings
:
10
to 12 servings
Ingredients
1

pound

salmon

(center-cut, wild-caught), skin and pinions removed, trimmed and dark flesh removed

2

tablespoons

Pernod

8

tablespoons

butter,

unsalted

1/2

cup

shallots,

minced

1

tablespoon

creme fraiche

8

ounces

smoked salmon,

unsliced, chilled*

2 1/2

tablespoons

lemon juice,

fresh-squeezed

1

tablespoon

olive oil,

extra-virgin (high-quality)

2

egg yolks,

lightly beaten

1

tablespoon

chives,

fresh, finely chopped (optional)
Instructions
Trim and discard any dark flesh from the salmon fillet. Place the salmon fillet in a shallow baking dish and sprinkle each side with 1 tablespoon Pernod, 1/2 teaspoons salt, and 1/4 teaspoon white pepper. Cover with plastic wrap and refrigerate 30 to 60 minutes, turning the fish over halfway through the marinating time.

Bring some water (just enough to cover the salmon) to a simmer in the bottom of a poacher/steamer.

A fish poacher/steamer is typically used to cook fish in an oven or on a stove. Poaching is a technique that cooks food delicately and evenly in a barely simmering liquid

Remove the salmon from the marinade and place in the steamer, cover with the lid. Gently steam for approximately 5 to 8 minutes. If you see steam pouring out the sides of the steamer, lower the heat. Check the salmon by separating the flesh with the tip of a knife and looking at the center. The center should be medium-rare. When the salmon is cooked, remove from the steamer to a large bowl.

While the salmon is steaming, melt 1 tablespoon butter in a medium sautor frying pan over low heat. Add the shallots and cook, stirring occasionally, for 2 minutes. Season with 1/4 teaspoon salt and continue to cook for approximately 3 to 4 minutes or until the shallot have softened, but not browned. Remove from heat.

In a small bowl, place 7 tablespoons butter. Beat with a rubber spatula until the butter is smooth and look somewhat like mayonnaise in consistency. Stir in the creme fraiche and set aside.

Break up the cooked salmon into large chunks (checking for and removing any small bones). Because you will be stirring in the remaining ingredients, you do not want to break up the pieces too much. Stir in the smoked salmon pieces, shallots, lemon juice, olive oil, and egg yolks. Season assertively with 1/4 teaspoon salt and 1/2 teaspoon white pepper, since this dish will be served cold. Fold in the prepared butter/creme fraiche mixture.


Transfer the salmon rillette to two (2) ceramic ramekins, glass serving bowls, or large terrine, leaving at least 1/2-inch of space at the top. Smooth the top of the rillettes and wipe the inside rims clean. Refrigerator for approximately 1 hour or until cold. Pour an 1/4-inch thick layer of clarified butter over the top of the rillettes to seal. Learn how to make Clarified Butter.

Cover the bowls with plastic wrap and refrigerate for at least 3 hours or as long as overnight.

Serve at room temperature for maximum smoothness. If it is cold, the butter will be hard and it will not spread well.

To serve, break through the butter layer and remove it. Spread the Salmon Rillettes on toasted baguette bread slices or crackers. NOTE: Once the butter is removed, the Salmon Rillettes must be used within two (2) days.

Storage: The Salmon Rillettes can be refrigerated for up to 3 days. Pack into a crock and press a sheet of plastic wrap onto the surface. They can also be frozen, well-wrapped, for up to two months.

Makes approximately 10 to 12 servings (about 3 1/4 cups).
Recipe Notes
* Can also substitute any smoked fish of your choice.
Comments and Reviews