What is great about this Green Beans with Balsamic-Shallot Butter Recipe, besides being so delicious,  is that the dish can be prepared ahead of time, making it so easy to heat and serve just before your dinner.  I personally love the balsamic vinegar and shallots with the green beans.
This delicious Green Beans with Balsamic-Shallot Butter Recipe and dinner menu were generously shared with my by Linda Sandberg of Newberg, OR.  Linda belongs to a Gourmet Dinner Group that delights in making wonderful foods that they share together.  Check out Prime Rib (Standing Rib Roast) Christmas Dinner which includes this recipe.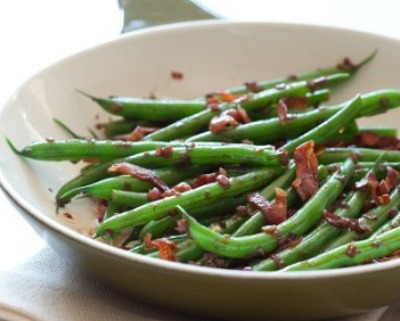 More of Linda's great Bean Recipes, and learn about Green Bean Hints, Tips, and Information.
Green Beans with Balsamic-Shallot Butter Recipe:
Keyword:
Green Beans with Balsamic-Shallot Butter Recipe
Ingredients
1/2

cup good-quality

Balsamic Vinegar

2

large

shallots,

finely chopped

4

tablespoon

butter,

room temperature

2

pound fresh

green beans,

ends trimmed*

Coarse salt

and freshly-ground black pepper to taste
Instructions
In a small heavy saucepan over medium heat, combine balsamic vinegar and shallots. Bring to a boil, stirring frequently, and boil until most of the vinegar is absorbed by the shallots and the liquid is reduced to approximately 1 tablespoon, about 6 minutes. Remove from heat and transfer mixture to a small bowl. Add butter, mixing with a fork until blended. Set aside and let cool completely. The Balsamic-Shallot Butter can be made 1 day ahead. Cover and refrigerate until ready to use.

Wash fresh green beans thoroughly in clear, cool water. Lift beans from the wash water and leave garden debris behind. Rinse again.

In a large pot of broiling salted water, partially cook the prepared green beans for 4 to 5 minutes (depending on the degree of doneness you want). Remove from heat, drain, and refresh under cold water. Drain and pat dry with paper towels. Green beans may be cooked 1 day ahead. Cover and refrigerate until ready to serve.

Important To Remember: The beans will continue to cook after you remove them from the heat source. Either take them out just before they are cooked the way you like or plunge them in ice water immediately to stop the cooking process.

When ready to serve, combine the partially cooked green beans and Balsamic-Shallot Butter in a large non-stick frying pan. Toss over medium heat until the green beans are heated through, approximately 5 minutes. Season to taste with salt and pepper. Transfer to a serving platter.
Recipe Notes
* Fresh green beans are available year round, with a peak season of May to October.  Green beans are also called string beans and snap beans.  Green beans were once called string beans.  Today's green beans have no strings.
Sources:  Green Beans with Balsamic-Shallot Butter Recipe adapted from Bon Appetit magazine, October 2001 and the Epicurious.com website.  Photo from the Chatelaine magazine web site.
Comments and Reviews