Tomato, Mozzarella Cheese, and Basil Lasagna
This Caprese Lasagna reminds me of my favorite summer salad, Insalata Caprese Salad, because of the fresh tomatoes, fresh mozzarella cheese, and basil. This lasagna dish is a definite winner for my family as it is a delicious and light version of regular lasagna.  Serve this lasagna with a big salad and some crusty bread for an outstanding meal.
I adapted this delicious Caprese Lasagna by Rachael Ray and her Rachael Ray television show.  Photos also from the Rachael Ray show.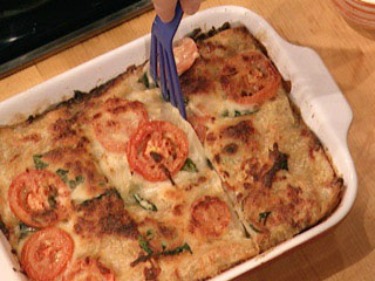 Check out Linda's Pasta Hints and Tips and Pasta, Rice, and Main Dish Recipes.
Caprese Lasagna Recipe:
Keyword:
Caprese Lasagna Recipe
Ingredients
2

tablespoons

butter

2

garlic

cloves, finely chopped

2

tablespoons all-purpose

flour

2

cups

milk

Few

grates of fresh

nutmeg

Salt

and freshly-ground black pepper

1

box of No-Boil

lasagna

pasta*

4

Roma tomatoes,

thinly sliced**

1/2

bunch

basil

leaves (about 30 leaves), chopped

1

cup (4-ounces) fresh

Mozzarella Cheese,

shredded***
Instructions
Preheat to 375 degrees F.

Prepare Sauce: In a large saucepan over medium heat, melt the butter. Add the garlic and cook until aromatic, approximately 1 minute. Sprinkle the flour over the butter and garlic and cook, stirring, for an additional 1 minute. Lower the heat to medium-low and whisk in the milk and bring to a simmer. Add the nutmeg, salt, and pepper; simmer until thickened, approximately 3 to 4 minutes; remove from heat.

To assemble the lasagna: Ladle a small amount of the sauce (about 1/4 cup) onto the bottom of a 9-inch x 13-inch baking or lasagna dish. Place three (3) lasagna noodles over the sauce. Top the lasagna noodles with approximately 1/3 of the sliced Roma tomatoes, 1/3 of the basil, 1/4 cup of sauce, and 1/3 of the shredded mozzarella cheese. Repeat until all ingredients, except basil, are used up, topping the lasagna off with a final layer of sauce and shredded cheese.

Cover the baking dish with aluminum foil and bake for 20 minutes. After 20 minutes, remove the aluminum foil and bake an additional 15 minutes or until the cheese is melted and the sauce is bubbly.

Remove from oven and let stand for 15 minutes before cutting and serving. Sprinkle remaining basil leaves over the top before serving.
Recipe Notes
* No-boil lasagna noodles (also called oven-ready) are so much easier to use as they are much thinner than regular lasagna noodles, and therefore absorb enough liquid from the sauce to "cook" them completely without parboiling.
** Roma tomatoes are used in this recipe because they are not as juicy as regular tomatoes. These tomatoes also have fewer seeds.
*** Mozzarella cheese was originally made from water-buffalo milk in Italy and is called "mozzarella di bufala".  Most fresh mozzarella now comes from cow's milk, both in Italy and here in North America.  In Italian, fresh mozzarella cheese made from cow's milk is called "Fiore di Latte."  If a recipe specifies Fresh Mozzarella Cheese, please only use Fresh Mozzarella Cheese - You will be sorry if you don't.  Learn more about fresh Mozzarella Cheese.
Comments and Reviews