Feta Cheese Pasta Primavera Salad is always a popular salad at gatherings and potlucks. Be sure to make plenty of the this delicious salad because it goes fast!
This soothing Feta Cheese Pasta Primavera Salad is perfect for a hot summer meal. Sometimes I leave out the broccoli – it just depends on my mood! I also like to substitute other fresh summer vegetables such as pea or cucumbers. This is a recipe that you can be creative in making – so have fun making this pasta salad
Pasta Hints and Tips, Pasta Recipes, and more delicious Salad and Salad Dressing Recipes.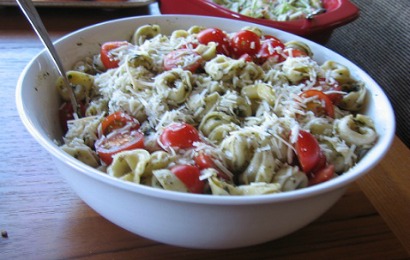 Feta Cheese Pasta Primavera Salad Recipe:
Keyword:
Feta Cheese Pasta Primavera Salad Recipe
Ingredients
1

(9-ounce) package

cheese tortellini,

refrigerated

1

cup

hot water

2

cups small

broccoli

flowerets*

1

cup

cherry tomatoes,

quartered

1

cup

carrots,

thinly sliced

1

cup

Feta Cheese,

crumbled

1

cup

Italian salad dressing,

prepared

1/4

cup

green onions,

sliced

Parmesan Cheese

(Parmigiano-Reggiano), freshly grated
Instructions
Small broccoli flowerets - Using a sharp knife, cut the individual florets off of the stalk of a head of broccoli. Cut each floret in half, and then cut in half again. Gather together the two halves and then cut the into quarters.

In a large saucepan (with a steamer rack) over medium-high heat, place water and heat until boiling. Add broccoli flowerets, cover, and steam 2 to 3 minutes or until bright green but still under cooked. Remove from heat and cool.

Remove cooked tortellini from refrigerator.

In a large bowl, combine tortellini, broccoli, tomatoes, carrot slices, feta cheese, Italian salad dressing, and green onions; stir gently until blended. Refrigerate until ready to serve.

Before serving, sprinkle the top with the parmesan cheese.
Comments and Reviews