This is the truly old-fashion type of homemade mincemeat that is actually made with meat in it.  This is my grandmother's recipe for mincemeat.  My mother always made this homemade mincemeat every Christmas.  This is my favorite holiday mincemeat to use in our homemade mincemeat pie.  During the Depression in the 1930s, my grandfather used to call venison "land salmon" because the deer that he killed were out of season.  He hunted deer all year long to feed his family.  My mother said that he always shared it with their neighbors.
Learn more about mincemeat and check out another Mincemeat Pie Recipe.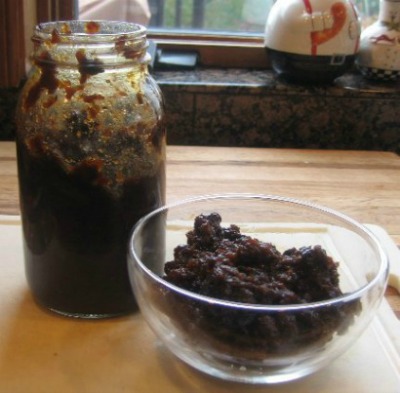 Grandma Myer's Homemade Mincemeat Recipe:
Keyword:
Grandma Myer's Homemade Mincemeat Recipe
Ingredients
4

pounds

venison,

elk, or beef

Water

2 1/2

cups

suet,

finely chopped or grated*

7 1/2

cups tart

apples,

chopped

3

cups

liquid

(from meat of your choice it was cooked in)

5

cups granulated

sugar

3

cups

apple cider

1

cup

molasses

1/2

cup

cider vinegar

3

cups

raisins

2

tablespoons

cinnamon,

ground

1

tablespoon

cloves,

ground

2

tablespoons

allspice,

ground

2

tablespoons

nutmeg,

ground

Juice

of 2 lemons

Juice

of 2 oranges

1

cup

brandy

or sherry
Instructions
Trim fat from meat of your choice and discard.

In a large heavy pan over medium heat, place meat; cover with water and simmer until the meat is tender. Remove from heat and refrigerate meat in the cooking liquid overnight.

Remove from refrigerator and remove meat from liquid. Remove all fat from top of liquid; discard the fat and reserve the remaining liquid. Separate meat from bones, discard bones. Chop cooked meat into small cubes.

In a large pot, combine meat cubes, suet, apples, reserved liquid, sugar, apple cider, molasses, cider vinegar, raisins, cinnamon, cloves, allspice, nutmeg, lemon juice, and orange juice; simmer for 2 hours. remove from heat. Add brandy or sherry and mix together.

It's best to let mincemeat stand at least a couple of weeks before using. I store mine in the refrigerator. Freeze in air-tight containers for longer storage.
Recipe Notes
*  Suet is a solid while animal fat. The best Suet comes from the fat that grows around the kidneys in cows and sheep. You can purchase packages of suet from your local butcher or from the meat department of your local grocery store.  It then needs to be coarsely grated to make it ready to use. It also must be kept refrigerated prior to use and used within a few days of purchase, just like meat.  You can also substite lard, shortening, butter, or bacon fat.
Comments from Readers:
When I researched origins of mincemeat, your site come up and my heart started to beat faster as I read the recipe.  My recipe comes from MY grandmother Myers' mother (I believe) and it is so similar to yours.  I couldn't help wonder if there was a family connection.
My recipe has everything yours has with the addition of spiced peaches and grapefruit juice.  Other than that, it is very similar. except mine calls for venison and/or beef.  I LOVE the mincemeat, and have been a type of Johnny Appleseed giving out samples and talking about it to restore the bad reputation mincemeat has gotten as the result of the indelible stuff in jars.  My mother and I used to make 24 pints of the mincemeat at a time, and just this week, I made a 1/4 batch that yielded about 6+ quarts.  I also like to use Creme Sherry in my mincemeat.
I read where originally the pie had more meat than fruit, was probably less sweet too.  I wonder, with the citrus, it must have made for safer, longer preservation of meat through the winter.  Of course, I also wonder how available citrus was to the early pioneers of mincemeat. – Suzi Conklin (11/3/15)
Comments and Reviews