This delicious Risotto Recipe with Chives and Truffle Oil dish is so good.  The truffle oil makes this amazing risotto sinfully delicious and so decadent!  Give it a try.
Learn How To Make Risotto Ahead of Time – With this technique, described when clicking on the link, that is used by restaurant chefs, you never have to stand at the stove, stirring, for 20 minutes while your guests wonder where you have gone.  You can make any kind of risotto recipe you want using the below method.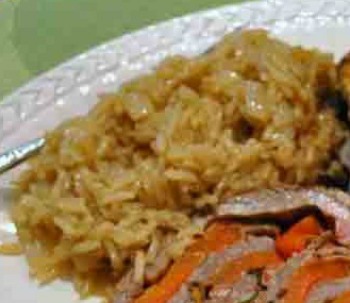 Risotto with Chives and Truffle Oil Recipe:
Keyword:
Risotto with Chives and Truffle Oil Recipe
Instructions
When preparing risotto, use the Mise en Place technique and assemble and measure out all the ingredients before starting your risotto.

In a medium saucepan over medium-high heat, bring chicken broth/stock to a slow, steady simmer.

In a small pan with boiling salted water, cook the chives and parsley 15 to 20 seconds. Drain in a colander and rinse under cold water. Pat the herbs dry with paper towels and mince; set aside.

In a large heavy 4-quart pan over medium heat, heat olive oil; add onion and saute for 1 to 2 minutes or until soft (be careful not to brown the onions).

Add the rice. Using a wooden spoon, stir for 1 minute, making sure all the grains are well coated (toasting the rice in melted butter keeps it from getting mushy). Add the hot chicken broth (1/2 cup at a time), stirring frequently. Wait until each addition is almost completely absorbed before adding the next 1/2 cup, reserving about 1/4 cup to add at the end. Stir frequently to prevent sticking.

NOTE: Risotto does not need constant attention during its 18 minute cooking time. You will just need to check on the pan every few minutes, give the rice a stir to keep it from sticking, and add more stock.

After approximately 18 minutes, when the rice is tender but still firm, add the reserved broth. The rice is done when it is tender, but firm to the bite. Turn off the heat and immediately add butter, herbs, 2/3 cup Parmesan cheese, and 1 tablespoon truffle oil, stirring vigorously to combine with the rice. Add salt and pepper to taste.

NOTE: To test the risotto for proper consistency, spoon a little into a bowl and shake it lightly from side to side. The risotto should spread out very gently of its own accord. If the rice just stands still, it's too dry, so add a little more stock. If a puddle of liquid forms around the rice, you've added too much stock. Spoon some liquid off, or just let the risotto sit for a few more seconds off the heat to absorb the excess stock.

Transfer risotto to warmed serving plates and serve immediately, garnished with the remaining cheese, truffle oil, and truffle slices (optional).
---

Risotto Etiquette:
In Italy, risotto is serve mounded, steaming hot, in the center of warmed individual shallow bowls.
Unlike pasta, risotto tastes better when it has rested on your plate a minute or so.  When Italians are served risotto, they often spread it on their plate from the center toward the rim, to dissipate some of the steam.
Using a fork or a spoon, push the grains of cooked rice out slightly toward the edge of the bowl, eating only from the pulled out ring of rice.
Continue spreading from the center and eating around the edges in a circle.  This will keep the risotto hot as you enjoy your risotto.
Comments and Reviews