This Grilled Pork Loin with Blackberry Wine Sauce is so easy to make and so delicious!  You can not go wrong serving this delicious and outstanding grilled pork loin with this savory sweet blackberry wine sauce.  The Blackberry Wine Sauce is so outstanding that you will find yourself using this sauce recipe for other recipes.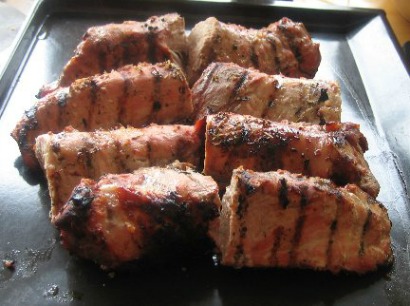 Photo below shows the grilled pork loins before the Blackberry-Wine Sauce was added.
Grilled Pork Loin with Blackberry-Wine Sauce Recipe
Keyword:
Grilled Pork Loin with Blackberry-Wine Sauce Recipe
Servings
:
8
to 10 servings
Instructions
Grilled Pork Loin with Blackberry-Wine Sauce Instructions:
Prepare Blackberry-Wine Sauce; set aside.

Trim the tenderloin roast of fat and silver skin (see photo on left). Silver skin is a silvery-white connective tissue. It does not dissolve when the tenderloin is cooked, so it needs to be trimmed away. If the silver skin is not trimmed off, it will cause the tenderloins to curl up into the shape of a quarter moon.

A heavy-duty plastic tube, stainless-steel bowl, or re-sealable plastic bag can work as a brining container, as long as the pork is fully submerged. Weight with a plate, if necessary, to keep the meat fully covered by the brine. To determine how much brine you will need, place the meat to be brined in your chosen container. Add water to cover. Remove the meat and measure the water.

Dissolve salt and sugar in the boiling water. Add it to the cold water. Dissolve salt and sugar in the boiling water. Add it to the cold water; add pepper and stir to combine. Place pork roasts in the water; cover and refrigerate 6 to 12 hours.

Remove the pork from the brine. Rinse pork twice after removing it from the brine solution; discard brine. If you are not ready to cook at the end of the brining time, refrigerate until ready to use.

When ready to grill, bring roast to room temperature. Rub olive oil over the entire roast before grilling.

Preheat Barbecue grill. Bring roast to room temperature before cooking. Place pork roasts onto hot grill; close the lid and grill for 7 minutes. Turn the pork over, close the lid, and grill for another 6 minutes. Turn off the heat (keep the lid closed) and continue to cook the pork for another 5 minutes. After 5 minutes, insert an instant-read meat thermometer into thickest part of the roast, temperature should read 145 to 150 degrees F. (if not, close the lid and let the pork continue to roast). Once brined, the pork cooks faster so be careful and use a thermometer inserted into the thickest part of the meat. The meat will remain pink from the brine.

Remove from grill and transfer onto a cutting board; let pork roasts stand 15 minutes before carving (meat temperature will rise 5 to 10 degrees after it is removed from the oven). Cut the pork across the grain into 1/2-inch slices.

To serve, spoon some Blackberry-Wine Sauce onto each individual serving plate. Place pork slices on top of the sauce like dominos (overlapping each slice). Sprinkle parsley over the dish to add some extra color.
Blackberry-Wine Sauce Instructions:
In a saucepan over medium-high heat, add red wine. Bring to a boil, stirring frequently until sauce is reduced to the consistency of heavy cream. If it is reduced too much, use more wine to make sauce the desired consistency.

Remove from heat and add the minced hot pepper. Just before serving, whisk in blackberry jam and butter until blended.

I get many readers asking what cooking/meat thermometer that I prefer and use in my cooking and baking. I, personally, use the Thermapen Thermometer. Originally designed for professional use, the Super-Fast Thermapen Thermometer is used by chefs all over the world.  I only endorse a few products, on my web site, that I like and use regularly.
You can learn more or buy yours at: Super-Fast Thermapen Thermometer.
Sponsored Content
Comments and Reviews