Slow Cooker and Instant Pot Pressure Cooker Instructions
Hawaiian Lau Lau Pork is to islanders what barbecue is to Southerners.
Hawaiians consider Lau Lau their soul food that effects them deep to their core.  My youngest daughter and husband love Hawaiian cooking and especially Hawaiian Lau Lau Pork.  On their last trip to Kauai, they stopped at a small family diner called Ohana Diner in Kapaa for lunch and decided to try all the local specialties.  It was a small family run diner which had a sign on the door.  The sign read "Closed on days when the surfs up."  You gotta love that island spirit!
At the restaurant, they ordered this fantastic Lau Lau Pork.  The pork was so tender, moist and had a wonderful saltiness wrapped in these steamed taro leaves that could easily break it apart with a fork!  When they asked the owner how it was prepared, they learned the pork was wrapped in taro leaves, then ti leaves and steamed for hours.  A lot of preparation and cooking time went into the pork, which led to further appreciation of the dish.  My daughter was happy to find a crock pot version of Lau Lau Pork that she could make at home and was not disappointed.
This wonderful Hawaiian Lau Lau Pork slow cooker recipe was generously shared by Beth and her website, Cooking and Crafting 101.  Beth grew up and still lives in Oahu, Hawaii.  Making Lau Lau helps connect her to her family roots.  Beth says, "My dad used to be the one to make us all our Lau Lau.  We would get together and make an assembly line and make 50 at a time.  He would pressure cook them while we sat around talking and eating and when they were done, we got to take our Lau Lau home.  He is gone now, so it is nice to know that I can still have my Lau Lau and remember the good times."
Check out Beth's YouTube step by step video for making Lau Lau Pork:  http://youtu.be/hbjS2QARuuI.
In this recipe, my daughter has shared her cooking pictures.  She even took the left over pork, cooked taro leaves, broth, rice and added some onions and garlic to made a wonderful soup the next evening.  Traditional Lau Lau Pork includes a piece of salted cod fish in the meat bundle to add an additional salty flavor.  In this recipe, soy sauce will take the place of the salted fish.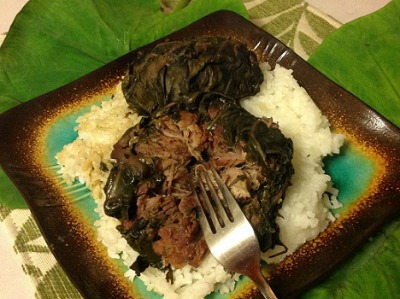 The History of Hawaiian Lau Lau Pork:
Lau Lau translates to Leaf, leaf.  The kalo plant (taro) is so central to Hawaiian culture that Hawaiian origin stories place kalo as the elder brother of man.  Both the leaves and the corm (root) were central to the Hawaiian diet, and the plant was intricately woven into every part of Hawaiian culture.  The taro (luau) leaf is the essential Lau Lau ingredient which is very healthy and full of vitamins, minerals, and antioxidants.  The Lau Lau wrapper is a ti leaf which is a tough waxy leaf that can withstand high temperatures.  In Hawaiian culture, ti leaves hold ceremonial and medicinal importance as they are regarded as having protective powers and believed to ward off negative energy.  Lau Lau is essential to any lu'au gathering. Islanders may judge your feast by the quality of your Lau Lau.  Did it have a true island flavor?  Enough saltiness, fatty or meatiness to it?
Traditional Lau Lau is known as a form of cooking and not a specific dish.  The cooking method involves chunks of a fatty meat (usually pork) and a piece of salted fish (salted cod – also called butterfish) and some sweet potato wrapped in taro (luau) leaves.  It is then tied up in a ti leaf packet and steamed in an underground imu.  An imu oven is a large pit dug into the ground with a layer of hot rocks over a fire (wet banana leaves are layered over the hot rocks).  The Lau Lau packets are placed on top of the banana leaves for steaming and another layer of banana leaves are covered on top.  Then everything is buried with a layer of dirt to slowly steam for hours.  Now days, many Hawaiians will also cook Lau Lau in a pressure cooker, rice cooker, or bake in an oven to reduce the need for an underground oven.  Other types of meat used could be any fresh-caught fish of the day, turkey tails, chicken thighs, or corned beef to add a fatty content.  It is a personal preference for most islanders and everyone has their own special technique for Lau Lau.
Alea Salt- Hawaiian Sea Salt History and Uses: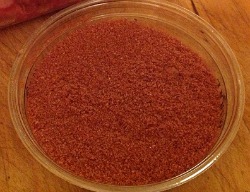 Alea Salt is also known as Alaea, Alae, and Hawaiian Red Salt.  Salt making has been performed in Hawaii for over 1000 years.  The waters off the coast of Hawaii are considered some of the purest in the world.  These waters are used to make the sea salt in Hawaii which yields very pristine salts.  Traditionally the salt was evaporated through a series of small ponds.  As the water evaporates the salt concentrate increases.  Alea Salt is sea salt that has been mixed with red alea volcanic clay which can only be found in Hawaii.  Alea clay gives the salt a pinkish brown color which is also rich in iron oxide and up to 80 additional minerals.
Alea sea salt is commonly used in Hawaiian rituals to purify and bless their tools, canoes, homes and temples as well as healing rituals for medicinal purposes.  Alea salt is also used in several traditional Hawaiian food dishes such as Kalua Pig, Poke, Hawaiian Jerky, and Lau Lau Pork adding a bold, earthy flavor.  Alea salt can be used as a finishing salt, cooking salt, or a rub for meats.  When rubbed on meat, the mineral clay hardens which helps to seal in the natural juices of the meat.  Other great pairings with food include salads, barbeque, fish, meat dishes, soups, and stews.  True Hawaiian sea salt is very expensive to purchase.  This is why you will find most Alea sea salts sold in the U.S. are produced in California.
Hawaiian Lau Lau Pork Recipe:
Keyword:
Hawaiian Lau Lau Pork Recipe
Ingredients
4 to 6

pound

boneless pork butt roast

or country-style ribs (cut into 1 1/2 inch chunks)

2

pounds fresh

taro

(luau) leaves, cleaned, washed and stems removed*

3

tablespoons

Hawaiian Sea Salt**

3

tablespoons

soy sauce

(also known as shoyu sauce) - can use low sodium if desired

6

Ti leaves

or Banana leaves, cleaned and thick rib removed***

1

cup

water
Instructions
Rinse and pat dry pork with paper towel.  Cut pork into 1-1/2 inch cubes. In large bowl, add pork, Hawaiian Alea Sea Salt, and soy sauce.  Toss until all the meat pieces are covered evenly.

Remove stems from taro leaves.  Stack 2 large taro leaves on top of each other or 4 to 6 medium to small taro leaves.  Place 2 to 3 chunks of seasoned pork in the center of the taro leaves.

Wrap taro leaves around the pork chunks creating a bundle.
Slow Cooker Instructions:
Line a 5-quart crock-pot bottom and sides with 4 Ti leaves or banana leaves (shiny side up – facing food), forming a slight basket all the way up the sides of the crock pot.  If unable to purchase the Ti or Banana leaves, lining crock pot with aluminum foil and covering top of pork snugly with aluminum foil can be substituted to create a steamy environment.

Place bundle in crock pot seam side down.  Repeat this step until crock pot is full of wrapped pork.  Pour water over the pork bundles.

Place remaining Ti or Banana leaves over top (shiny side down, facing food), tucking in edges.  Cover the top of the crock pot with aluminium foil and place the lid on top.

Cook on low for 8 hours or until Taro Leaves are fully cooked (dark green and soft).

Not recommended to cook on high setting.  The author of Cooking and Crafting 101 received the following feedback:  "I received feedback that the fast 4-hour version caused their mouth to itch.  Luau leaves need to be thoroughly cooked so that this does not happen, so I encourage you to do the 8-hour version."

Serve pork and cooked taro leaves with steamed white rice and enjoy!

NOTE:  Do not eat the Ti or Banana Leaves as they are not edible.
Instant Pot Pressure Cooker Instructions:
Follow the above instructions to prepare and wrap the pork in taro leaves to create the bundled packets.

Next you will want the wrap either ti leaves, banana leafs or foil around the pork bundles to create individual steam packets.  You can wrap 2 pork bundles in a ti or banana leaf.  Cross 2 leaves over each other (shiny side of leaf faces in) and wrap around the pork bundles.  Tie the ti or banana leaf bundle closed with kitchen twine.

Add 2 cups of water to the inner pot and place a steamer rack inside (this will prevent the pork bundles from sitting in the water while steaming).  Stack the Lau Lau bundles inside the pot to no more than 2/3 full.

Cover with the lid and close to seal the lid.

Make sure the pressure valve is also closed (handle turned to Sealing) to lock in the steam while cooking.

Select Manual cooking setting at High Pressure, then adjust cooking time to 1 hour (60 minutes).

When cooking time is finished, open the pressure valve to Quick Release the steam. Once the pressure has been released, the lid can be opened.

Cooking Tip:  Open one of the bundles and check the pork to see if it is tender enough to your liking.  If not, rewrap the bundle and place back in pressure cooker and cook for 10 minute increments (checking the pork each time) until you are satisfied with the tenderness.

Remove the ti or banana leaves and discard as they are not edible. 

Serve the pork and cooked taro leaves with steamed white rice and enjoy!
Recipe Notes
* Taro Leaves (Luau Leaves) need to be purchased fresh and can be found at local Asian specialty markets.  If unable to find locally, Swiss Chard, Beet Greens, Collard Greens, or large spinach leaves can be substituted.  I personally think the Swiss chard or beet greens would have the closest flavor to cooked taro leaves.  Taro leaves are edible when properly cooked.
** Hawaiian Sea Salt can be found at most gourmet or local Asian markets or ordered online.  Coarse kosher or sea salt can be substituted.
*** Ti leaves or Banana leaves can be purchased frozen at local Asian or Latin specialty markets, and also online.  Allow frozen leaves to thaw, rinse and pat dry before using.  If unable to purchase, lining crock pot with aluminum foil and covering top of pork snugly with foil can be substituted to create steamy environment. Both Ti Leaves and Banana Leaves are not edible.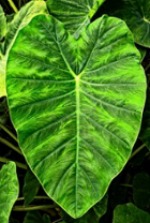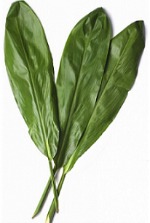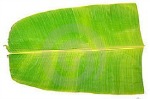 Taro Leaf                                Ti Leaf                                       Banana Leaf
Comments and Reviews