This is a delicious Puerto Rican pork roast recipe (Pernil al Horno) that makes a wonderful change-up for the holidays.  My sister's mother-in-law, Regina Perez of New York, introduced our family to this wonderful Puerto Rican pork roast.  The pork roast is roasted slowly in the oven until the meat is tender and the skin on top is crackling and crisp.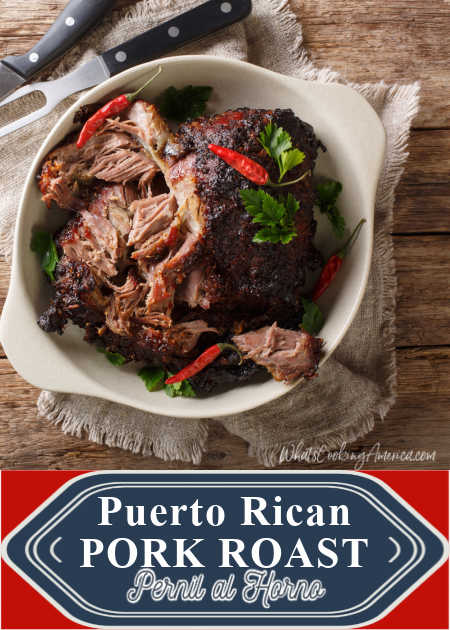 During the Christmas holiday season, Pernil is often made in Latin-American homes.  In fact, Pernil is at almost every Puerto Rican wedding, anniversary, birthday, or large party event.  Every family seems to have their own recipe version of this Puerto Rican pork roast recipe.  If there is no Pernil at the party there is no party!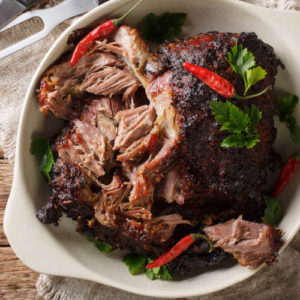 Puerto Rican Pork Roast Recipe - Pernil al Horno Recipe:
Ingredients
1

large

onion,

finely chopped

1

green

bell pepper,

cored, seeded, and finely chopped

3/4

teaspoon

oregano,

dried and crushed

1/4

cup

green olives

with pimentos, chopped

1/2

teaspoon

garlic

powder or garlic salt

1/2

teaspoon

basil,

dried and crushed

1 1/2

teaspoons

Recaito*

1/2

package

Sazon Goya seasoning*

2 to 3

tablespoons

capers,

drained

1

teaspoon

Sofrito***

White vinegar

1

(10-pound)

pork shoulder roast

with bone and skin****

1

teaspoon

paprika
* Recaito is a cilantro cooking base that can be purchased at markets that stock Latin American ingredients

** Sazon Goya Seasoning is a Puerto Rican seasoning.

*** Sofrito the base for many Puerto Rican dishes.  The blend of aromatic ingredients often includes recaito (Mexican cilantro) and aji dulce peppers.  It can be made at home or purchased.

.**** The Pork Picnic Shoulder is a versatile cut of meat as it consists of the lower shoulder and upper forearm of the animal.  The arm and shank bones run through it and it is usually sold with a portion of skin still attached.  Pork shoulder (picnic) roast is the preferred cut because of the thick layer of fat (cuerito) surrounding the meat.
Instructions
Recaito, Sazon Seasoning, and Sofrito can be found in Spanish stores or large supermarkets. Look in the spice section.

In a medium bowl, combine onion, bell pepper, oregano, green olives, garlic powder or garlic salt, basil, recaito, sazon seasoning, capers, and sofrito; add just enough white vinegar to cover the ingredients; mix and crush together until well blended.

Preparing the fat (cuerito): To make this roast pork shoulder recipe, you peel back the fat (skin) and make incisions in the meat, which allows the garlicky marinade to seep in.

With a sharp knife cut the fat away from the meat, leaving an edge attached and keeping it all in one piece. Start at the wide end and go to the narrow end with your knife. Do not separate it completely, but leave just enough still connected so that you can flip the fat back over to the side while you season the meat itself. The fat will be placed over the seasoned meat and will cook over the meat giving it more flavor. Season the side of the fat that goes over the meat with a bit of the seasoning.

Using a small sharp knife, cut 1-inch deep slits on all sides of the pork roast (the more cuts the more taste). Using a spoon or your fingers, stuff the prepared seasoning mixture into each slit. Place the fat (skin) back over the roast.

Place pork roast into a large dish or pan. Pour any extra seasoning mixture over the roast, cover with aluminum foil and refrigerate overnight. You can season the perníl a couple of days ahead and refrigerate, uncooked. Some folks season and freeze it until they need it.

Preheat oven to 325 degrees F.

Place the prepared roast, fat side up, onto a rack in a baking pan (with at least 1-inch sides). Place a little water in the bottom of the pan. Mix paprika with a little olive oil; rub over the roast.

NEVER cover the roast as you bake it as you will steam the fat (cuerito) to softness. This is considered a mortal sin in Puerto Rican homes.

Bake, uncovered, 4 to 5 hours or until a meat thermometer registers an internal temperature between 160 degrees F. (medium-well done)-180 degrees F.(well done). Baste with juice every 30 minutes (if roast starts to get too brown during baking, cover with aluminum foil). Do not turn the roast while cooking.

Remove from oven and transfer onto a large cutting board. When the roast is done, the pork should be just about falling off the bone and a thing of beauty, crisp and dark.

Let stand 20 to 30 minutes tented with foil before carving (meat temperature will rise 5 to 10 degrees after it is removed from the oven).  After carving, transfer onto a large serving platter.

Serves a large family gathering.

I get many readers asking what cooking/meat thermometer that I prefer and use in my cooking and baking. I, personally, use the Thermapen Thermometer. Originally designed for professional use, the Super-Fast Thermapen Thermometer is used by chefs all over the world.  I only endorse a few products, on my web site, that I like and use regularly.
You can learn more or buy yours at: Super-Fast Thermapen Thermometer.
Sponsored Content
Comments and Reviews