Chicken a la King is a rich chicken dish that uses lots of cream with pimentos and sherry.
It is served either on hot buttered toast, pastry shells, or in a nest of noodles.  You can serve this creamy chicken sauce over your favorite starch such as noodles, rice, biscuits, or buttered toast to soak up the good sauce.  This recipe is a great way to use leftover cooked chicken or turkey.
Recently, I had a reader looking for a good Chicken a la King recipe.  I decided to do some research and found that classic Chicken a la King is a creamy sauce using cream, pimentos, sherry, and mushrooms.  I played around with the ingredients to come up with this recipe that my family enjoyed and gave a thumbs up.
More great Poultry Recipes and learn how to Brine Poultry for a moister and tastier dish.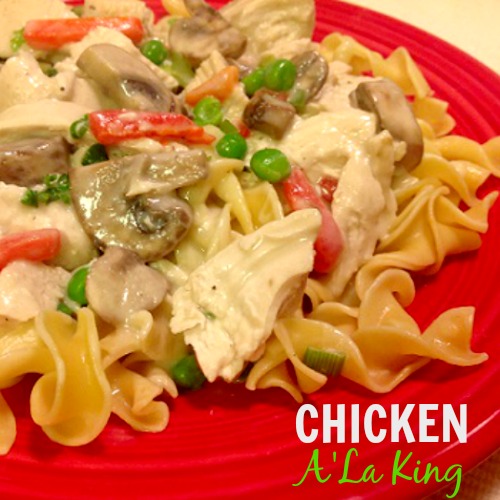 Chicken A' La King History:
There are several stories/legends as to who created this dish.  A few are as follows:
1880s – It is said to be created by the chef at the Delmonico restaurant in the 1880s after Foxhall P.  Keene, horse breeder and well-heeled son of Wall Street broker and horse breeder, James R. Keene (1838-1913), known as "Silver Fox of Wall Street."  Supposedly Foxhall dreamed aloud to him about a pimento-studded cream sauce.  The chef made the dish and called it Chicken a' la Keene.  This later evolved into the more regal-sounding Chicken a' la King. Charles Ranhofer, a French chef, was the chef at Delmonico's from 1862 to 1896.
1881 – It is also said that a chef at the famous Claridge Hotel in London, England created created this dish in 1881 for sportsman J. R. Keene (Foxhall's father from the story above).  His horse, named Foxhall, had just won the 1881 Grand Prix de Paris (3,000 meter race for 3-year old fillies and colts at Longchamp, Paris, France).  This was the first American horse to win this race.
1890s – Chef George Greenwald of the Brighton Beach Hotel, Brighton Beach, New York, created it in 1890s.  He was an excellent cook and liked to prepare new dishes for his favorite customers.  One summer afternoon, he prepared a special chicken dish for Mr. and Mrs. E. Clarke King and served it for supper.  Mr. King thought it was wonderful and told Greenwald to put it on the menu.  Chef Greenwald added to the menu and called it Chicken a la King after Mr. King.
Brighton Beach is a neighborhood in southwestern Brooklyn lying between Manhattan Beach and Coney Island.  William Engeman, an early real estate developer bought land in 1868 and named it Brighton Beach, after a famous British resort.  Engerman built the elegant Hotel Brighton went up in 1878.  In 1888, the hotel was moved inland in a spectacular feat of engineering with more than 120 railroad cars and six locomotives to save it from destruction from the eroding beaches.
1896 – In Fannie Merritt Farmer's 1896 updated version of the Boston Cooking School Cook Book, she has two recipes for Chicken a la King.
1901 – The 1901 Settlement Cook Book: Containing Many Recipes Used In Settlement Cooking Classes, The Milwaukee Public School Cooking Centers And Gathered From Various Other Reliable Sources, Compiled By Mrs. Simon Kander, Lizzie Black Kander (1858-1940) has a recipe for Chicken a la King.  This fund-raising cookbook traces immigrant history through ethnic food, especially Jewish.
Chicken a la King Recipe:
Keyword:
Chicken a la King History, Chicken a la King Recipe
Ingredients
4

cups

chicken, 

cooked and cubed*

4

tablespoons

butter

5 to 6

green onions,

minced and divided

1

medium

green bell pepper,

cored, seeded and finely chopped

1/2

pound

mushrooms,

stems trimmed and cut into 1/4-inch slices

1/4

cup all-purpose

flour

1/4

cup and 1 tablespoon

dry sherry,

divided

2

(14.5-ounce) cans

chicken stock**

4

tablespoons of

parsely,

freshly chopped and divided

1

tablespoon

thyme,

freshly chopped

1/8

teaspoon

cayenne pepper

1/8

teaspoon

nutmeg

1

teaspoon

salt

Black pepper to taste

1/2

cup

heavy cream

1

(4-ounce) jar

pimentos,

sliced

2

cups

frozen peas

Salt

and coarsely-ground black pepper to taste
Instructions
Poached Chicken Ingredients and Preparation:
If you do not have left over cooked chicken, then follow the ingredients and preparation below for making Poached Chicken:

4 chicken breasts
Salt and Pepper
1 cup dry sherry
2 cups chicken broth

In a large pot over medium heat, add chicken breasts, sprinkle with salt and pepper. Cover chicken with sherry and chicken broth. Add water if needed to make sure chicken is fully covered in liquid. Bring just to a boil, cover the pot, reduce the heat to low, and let simmer for approximately 15 to 20 minutes or until a meat thermometer registers an internal temperature of 165 degrees F. (juices will run clear when cut with the tip of a knife). Remove from heat.

Once the chicken is cooked, remove the chicken pieces from the cooking stock with slotted utensil, and transfer to a cutting board; cut chicken into cubes. Set aside and use as soon as sauce is ready.
Sauce Preparation:
While chicken is poaching, in a large saucepan over medium heat, melt the butter (do not let the butter brown). Add 4 tablespoons minced green onions, green peppers, and mushrooms; saute approximately 4 to 5 minutes (mushrooms should look golden brown). Slowly add the flour and stir until it is fully combined and bubbly in the pan, approximately 2 minutes. Slowly whisk in 1/4 cup sherry and chicken broth until fully blended. Bring mixture just to a boil and then lower the heat to medium low. Add the 2 tablespoons parsley, thyme, cayenne, nutmeg, salt, and pepper. Let the mixture simmer for approximately 20 to 30 minutes, stirring frequently.

When ready to serve, whisk in the heavy cream until combined. Add the cooked chicken cubes, 1 tablespoon sherry, pimentos, frozen peas, remaining parsley, and the remaining green onions. Stir together and bring back to a simmer. Salt and pepper to taste.

The sauce is ready when the peas are cooked through and tender.

Serve over egg noodles, white rice, biscuits or buttered toast and enjoy.
Recipe Notes
* The U.S. Department of Agriculture, as well as food agencies in the United Kingdom and elsewhere, advises against washing poultry.  Rinsing chicken will not remove or kill much bacteria, and the splashing of water around the sink can spread the bacteria found in raw chicken.  Cooking poultry to 165 degrees Fahrenheit effectively destroys the most common culprits behind food-borne illness.
** Learn how easy it is to make your own homemade Chicken Stock - Basic Chicken Stock.

I get many readers asking what cooking/meat thermometer that I prefer and use in my cooking and baking. I, personally, use the Thermapen Thermometer. Originally designed for professional use, the Super-Fast Thermapen Thermometer is used by chefs all over the world.  I only endorse a few products, on my web site, that I like and use regularly.
You can learn more or buy yours at: Super-Fast Thermapen Thermometer.
Sponsored Content
History References:
Bull Cook and Authentic Historical Recipes and Practices, by George Leonard Herter and Berthe E. Herter, Herter's Inc., Waseca, Minnesota. 1963 Edition
Chicken A La King, Feeding America, The American Cookbook Project.
Rare Bits: Unusual Origins of Popular Recipes, by Patricia Bunning Stevens, Ohio University Press, 1998.
The American Heritage cookbook: and illustrated history of American eating & drinking, by Cleveland Amory, Lucius Morris Beebe, Helen Claire Duprey Bullock and Helen McCully, Publisher: Distribution by Simon and Schuster, American Heritage; 1964.
Comments and Reviews